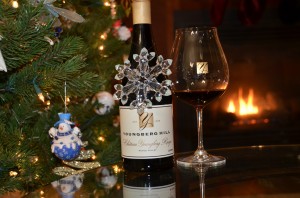 It's the holiday season again. This is the time of year when we all show our love and appreciation of each other through gift-giving. One thing we at Youngberg Hill love to give our friends and family is, of course, wine. But wine isn't the only gift we have to offer at our Willamette Valley vineyard and inn. Take a look at our list of wine gifts and wine-related gifts:
Gift certificate to the winery. For a very limited time, we are offering you the opportunity to give a gift certificate here at Youngberg Hill. This can't be ordered directly from the website, so give us a call at (503) 472-2727 or (888) 657-8668 or email us at info@youngberghill.com to purchase a gift certificate.
A membership to either our wine club or our Pinot club. This really is the gift that keeps on giving. You can purchase an entire year of wine for your friend or family member, plus all the perks that come with membership. Just a few of these perks include a discount on stays at the Inn, complimentary tastings, and access to our newest releases.
A stay at the Youngberg Hill Inn. We are a working Oregon winery and Inn, so a stay here not only includes wine, it includes local foods, fantastic shopping, and much, much more.
One of our specialty packages. We have several special packages here at Youngberg Hill. The Winter Wine Tasting packages is limited by season, and it is simply fabulous. You can also surprise someone who has a birthday near the holidays with our Birthday package. Explore all of our packages here.
This holiday season, we hope you are able to find the perfect gift for everyone on your list. Let us know if we can do anything to fulfill your gift-giving needs! Cheers!