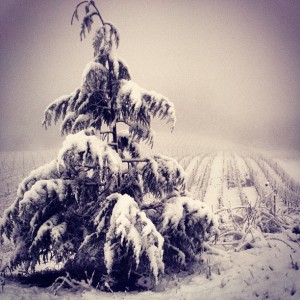 It's about holiday crunch time. You know, that time in December when shopping for presents, wrapping presents, and planning holiday get-togethers seems to take up every waking moment? How about taking a break for some holiday R&R here at Youngberg Hill?
We know you may not have a lot of time, but we have options to help you unwind this holiday season.  Here are just a few:
Come on up for a wine tasting. You deserve some holiday cheer! Come up and taste our wines, enjoy the incredible views of the Willamette Valley and relax. Feel like you're too busy? Well, Pinot goes very well with many holiday meals. How about coming up to pick out the wine to go with that special dinner? Just, be sure to give yourself a little time to taste, relax, and enjoy. We won't tell anyone.
Need to just get away from the stress? Come on out for an overnight stay! Winter in Oregon wine country is stunning. So, take a day or even a few off and let us take care of you.
Why not give yourself a little gift during your stay and sign up for one of our packages? There's the winter wine tasting package that will only be around for a limited time. Then we have the private breakfast, romance package, birthday package, or your particular special request.
You deserve a break this holiday season! Which option would work best for your schedule? Let us know!