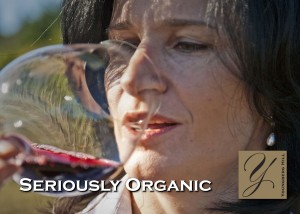 Flashback time: The year is 1956. The show? I love Lucy. Ricky and Lucy travel to Italy. Lucy finds herself stomping grapes in a vineyard to absorb a little "local flavor".  And like many who saw that episode, you might aspire to do the same (minus picking a fight with your fellow stompers!).
Well, wine making is a little different these days. While there are some wineries across the world that still stomp grapes the old fashion way, most commercial wineries use hand punches and automated equipment to break skins and extract flavors and tannins from the skins.
Fast forward to today: Our city girl, Nicolette, has continued to learn on the farm and it does not end in the vineyard. She has spent much time in the winery to learn the goings on there as well. She has her daily upper body workout by doing manual punch downs ( while falling in the tank), filling barrels ( while spilling wine all over herself), and sorting fruit ( while fighting away earwhigs and other natural critters).
And it doesn't stop there. She has learned to swallow, not spit, while doing barrel tasting such that by the end of a routine barrel tasting, she must be driven home. Oh, the perils of being in the wine business…
And what do Greeks know about wine? The Greeks have been making wine longer than anyone in modern history, keeping in mind there is evidence of winemaking thousands of years prior. Their tradition in wine was not lost on Nicolette as she learned to drink wine diluted by water at the dinner table as a child. Her passion for wine runs as deep as her Greek heritage, but she is always up for a good martini to cleanse her palate.
We have fun in this business and are enjoying teach our girls the farming and winemaking aspects of the business. None of them have been wine stomping… yet.
Have you ever stomped grapes? If so, share your favorite grape stomping experiences with us here!