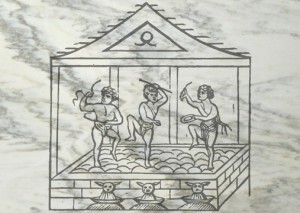 The image of people stomping grapes is as old as Pompeii.  The Greeks and Romans did it and people continue to do it to this day.  There is something primal and earthy about stomping grapes into wine that make people both young and old smile and up on Youngberg Hill we are no exception.
Even in today's modern world some winemakers still choose to go barefoot into the vat in order to break through the thick layer of skins, stems and seeds that forms at the surface of fermenting red wine during fermentation.  This "punch down" or submerging of the cap is done to extract color, tannins, flavor and aromas from the grape solids.
Known as "Pigeage à pied" in France, it is much rarer to see in the US as part of winemaking as most American winemakers prefer to forgo the foot, using instead a special plunger like tool for punch down.
Still other winemakers find neither method satisfactory choosing to simply pump the juice over the top of the grapes until the cap sinks down into the fermentation.
No matter how it is done, you can't make good red wine without using all the amazing parts a grape has to offer.
Last fall, just before harvest, Nicolette, our family's version of the Greek Goddess was  filled with the Dionysian spirit of her ancestors and decided to have a go ago at squishing grapes with her toes just as her people did so many thousands of years ago.
The result?  Well let's just say that the spirits of Plato and Aristotle are no match for good old Oregon Yellowjackets!  After a few minutes of dancing in the barrel and several painful stings Nicolette was running for the house at full speed, skirt still hiked up leaving a trail for purple footprints for the wasps to follow.