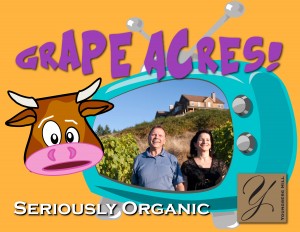 Remember the old TV show Green Acres? It's the one from the 60's with Eddie Albert and Eva Gabor as a couple who move from New York City to a country farm.
Well, we are living this show over and over again. While "green" fits with our sustainable farming and all that we are doing on the hill, "green" here applies more to the experiences of a Greek Eva Gabor (aka: Nicolette) who is 100% Greek and more importantly, born and raised a city girl in Chicago.
Needless to say, moving to McMinnville, Oregon where the closest city of Portland is a fifth the size of Chicago — and where shopping is a weekly excursion rather than a daily past time — has been quite an adjustment.
The other adjustments for Nicolette include:
Driving on gravel roads
Getting produce from a garden rather than a store
Driving a truck in the field rather than a sporty car on the freeway
Her closest pet being a cow rather than a dog
Mowing the field with a tractor rather than a mower in the yard
Owning more jeans than dresses or slacks
And cleaning the barn rather than the house
There have been plenty of funny (though not so funny at the time) mishaps that we share with guests and tasters. Nicolette talks about the time she slid the truck into the fence, the time she drove over vines with the tractor, watching the tractor slide slowly into the pond, sledding down the snow covered hill dodging vines, and the "cow therapy" she now has each day with our new "pets".
Certainly it has been an adjustment coming from the city to the country. But after 9 years on the farm, Nicolette is starting to drive a little slower, enjoy the quiet solitude in the country, and to appreciate other animals than just the common dog and cat.
 Have your own "green acre" stories? We would love to hear them via comments, photos or videos. You can share them with us below!