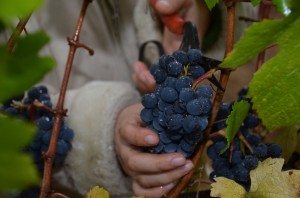 This is always an exciting time in wine country. It is also an anxious time.  There is the excitement of the plump grapes coming into the winery to begin their evolution to wine, but also the anxiousness of all that goes on during harvest to get the fruit safely into the winery in a timely manner.
When to pick? We are monitoring the sugar level, pH, total acidity, seed ripening, lignification of the stems, and flavor development. We continue to monitor the weather patterns, the vitality of the vines, and the timing of the astrological signs (biodynamic timing).
So, here we are, at 23 to 24 brix (percent by volume sugar content), 3.4 pH, 7 TA (titratable acidity), good brown seeds, brown stems, flavors coming in fully, and the stars in perfect alignment.
We will pick the fruit between 7:00 and 11:00 in the morning to get the fruit in the winery cool and give us the rest of the day (and night if needed) to de-stem the Pinot Noir grapes and get them into fermentation tanks to cold stabilize before fermentation begins. The Pinot Gris will be picked, taken to the winery, and immediately be pressed off the skins and put into stainless steel tanks to begin fermenting.
The weather has been great this fall with moderate temperatures and sunshine, much like 2008. The fruit has held up very well. The birds have not found the fruit yet.  And the fruit is ripening much more timely than the last couple of years.  Things are looking promising for a very fine vintage.