A picture is worth a thousand words, especially when it comes to your big day. As you begin your search through all of the best Oregon wedding venues, you'll want to imagine exactly what you'd like those photos to look like and how you'd like to remember your wedding or elopement. That's where Youngberg Hill Inn and Winery comes in; we are perfectly perched on a small hill above the vineyards and the lush rolling hills of the Willamette Valley. You can see as far as the Oregon Coastal Range on a clear day, and it's truly spectacular!
Another key component to choosing our vineyard venue is our Willamette Valley Bed and Breakfast. The Inn plays a big part in your day, serving as a place for the couples and wedding parties to get ready and lodging accommodations for the newlyweds and their closest family and friends. First thing's first, you'll want to book a tour at one of the most stunning Oregon wedding venues in the Willamette Valley and see what we have to offer. And we often suggest that the newly engaged couple come and stay for a romantic getaway weekend at the Inn to fully imagine what it might be like to get married here. Book a room today!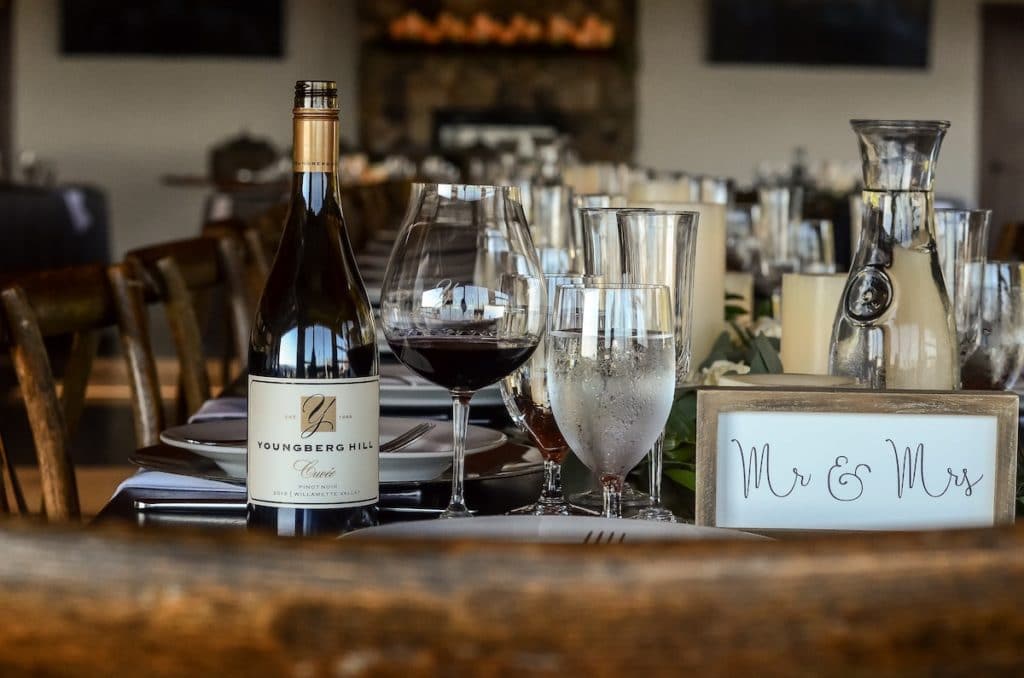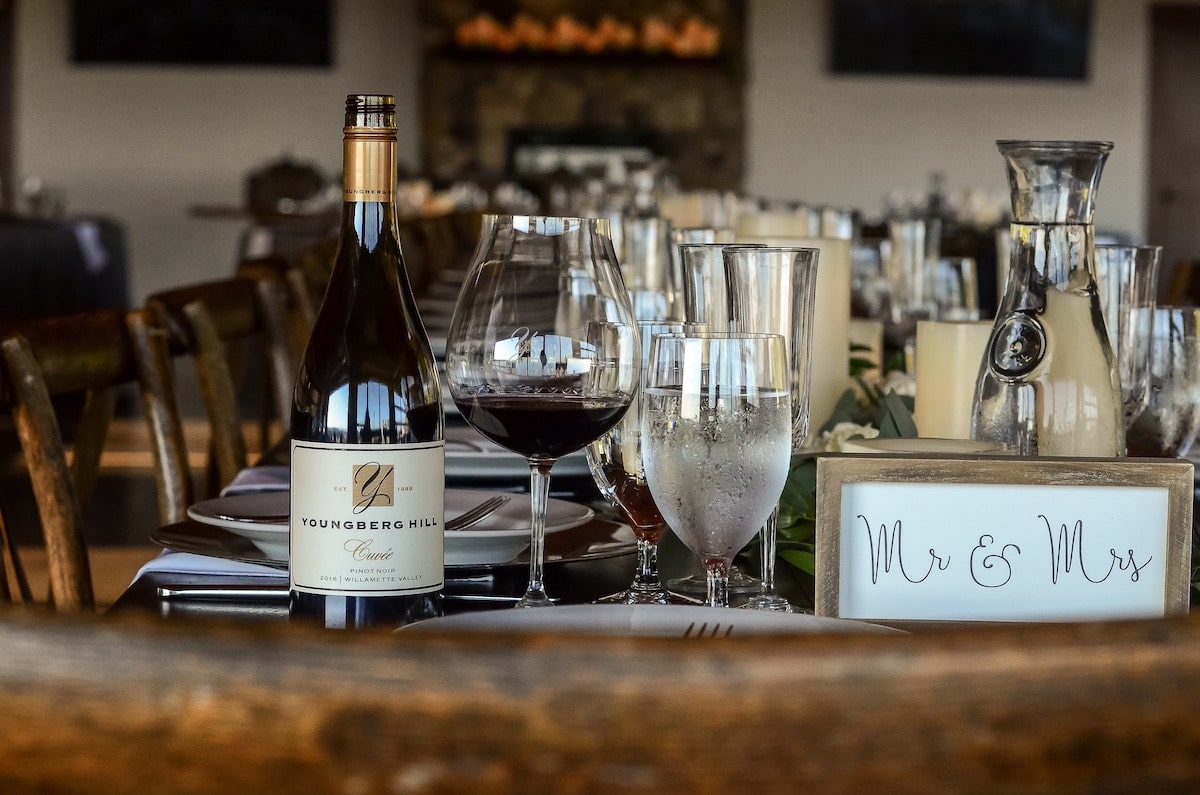 One of the Best Oregon Wedding Venues in Wine Country
We also understand that every wedding is unique with different personalities, opinions, and details. We have expansive indoor and outdoor event spaces that offer impressive vineyard views all year long. We can accommodate up to 350 guests at one of the most beautiful outdoor Oregon wedding venues or up to 200 guests inside—which can be personalized to represent any theme or decor. The stunning natural beauty of our vineyard setting creates a magical ambiance whether you're celebrating inside or out.
When you book our indoor wedding option, the decor and theme are all up to you, but our talented and professional staff will be available to help guide you through this process. The stunning views set the backdrop—so any choices you make will only add to the elegant setting. The indoor area has lovely garage doors that roll up to bring the outside-in. We're also very flexible when it comes to catering options, which is not the case at all of the Oregon wedding venues in the area.
Our all-inclusive wedding package includes some exclusive benefits: beverage charges that are based on actual usage rather than standard wine-purchases minimums, flexible culinary options and timeline, and onsite overnight accommodations for you and your party. And not to mention some of the best biodynamic and organic wines to enjoy with your guests. Of all the choices of Oregon wedding venues, you'll be blown away by our selection and attention to detail.
Youngberg Hill is more than just a ceremony and reception venue. We also can host bridal showers, elopements, engagement parties, and rehearsal dinners! Head to our wedding page to get more information and book a tour.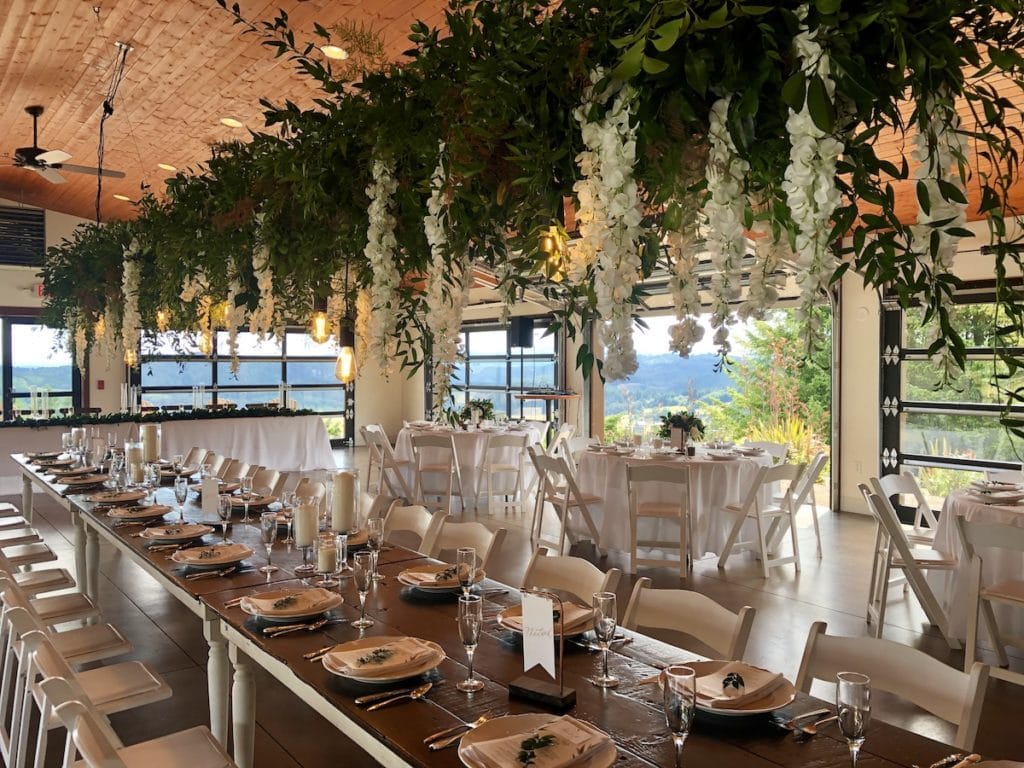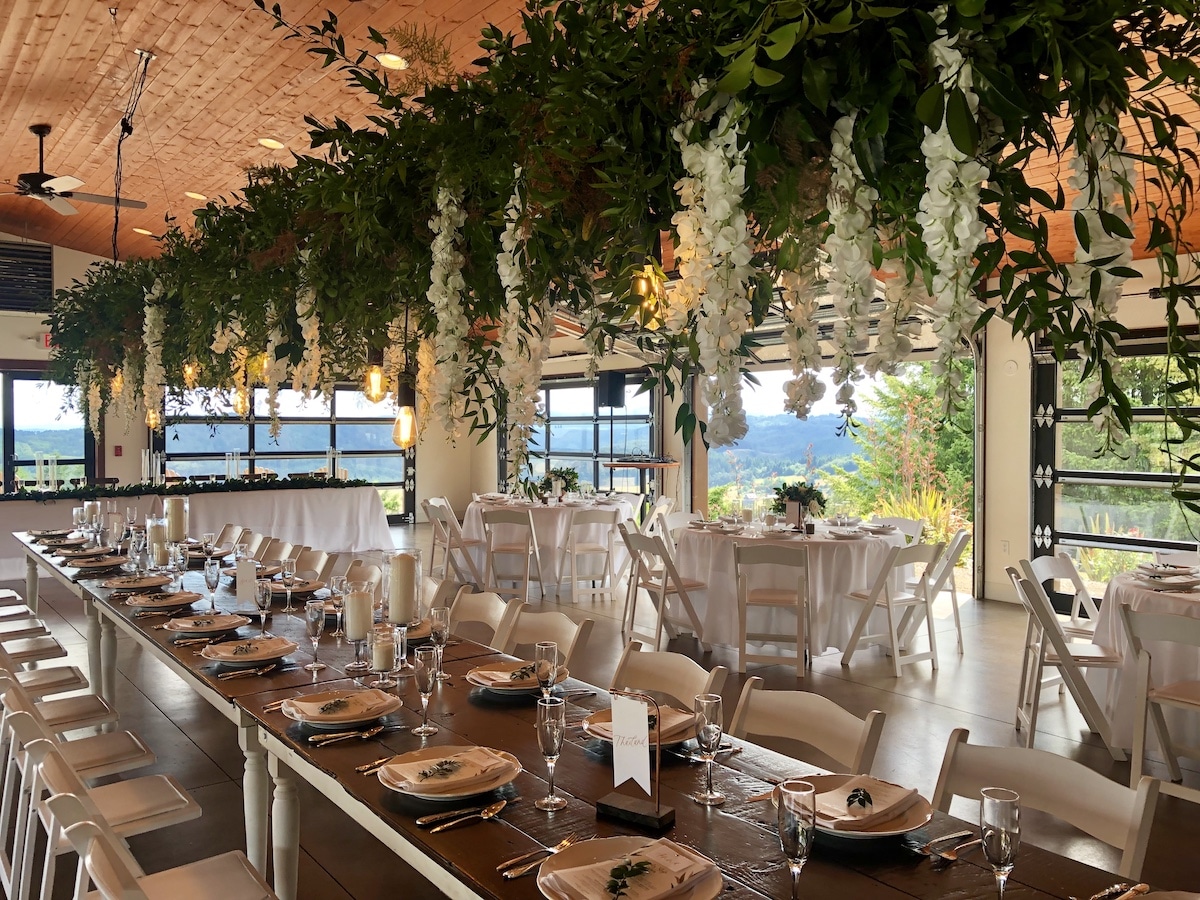 There are so many amazing Oregon wedding venues to choose from in the Willamette Valley alone, but sometimes it helps to hear how wonderful it is from a past customer's experience. Here's a glowing review from one of our recent brides:
"Perfect venue for a wonderful wedding. I was planning from out of the state, and this venue was so responsive. All emails were replied to quickly, and everything was simple with their package. This was one of the few Oregon wedding venues that allowed me to bring in any caterer I wanted. Their wines were so wonderful, and my family & friends were wowed the whole time." 
The Innkeeper made sure everything was perfect, and the mimosas were ready when we arrived. The Inn onsite made everything super simple, and the rooms were beautiful, clean, and updated. The venue is breathtaking, and the views are even better in person. They made our day so very special. Thank you so much!" –married on 08/07/2020
As you search your options of the Oregon wedding venues, keep this review in mind! We pride ourselves in our warm hospitality, prompt service, and the area's beauty speaks for itself.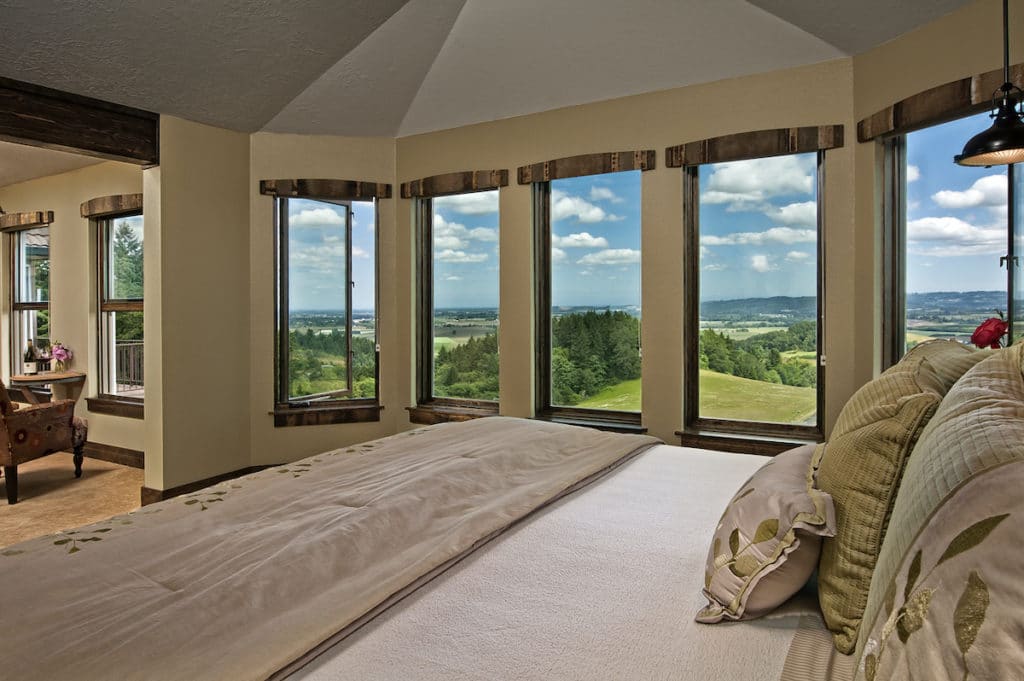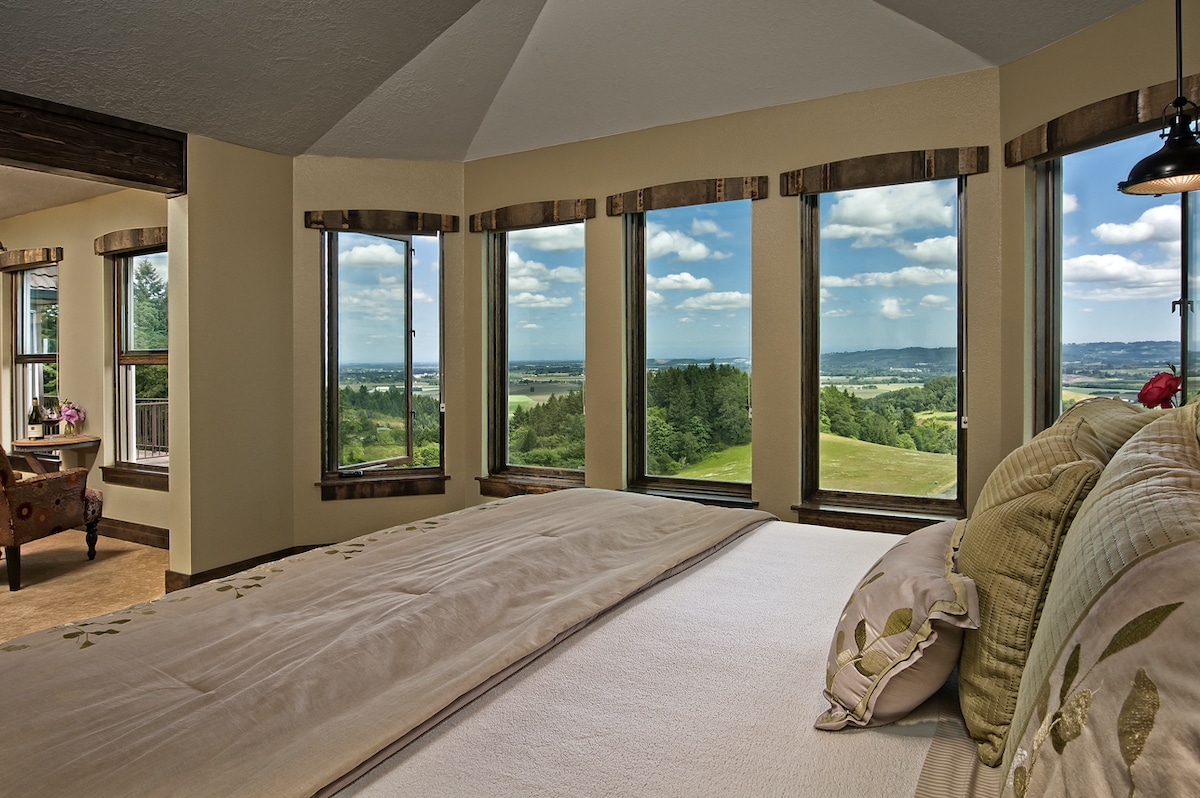 The Perfect Lodging for your Wedding Night and Honeymoon
Our Willamette Valley Bed and Breakfast is truly an immersive escape where newlyweds can fully relax and take a deep breath after a busy and exciting day. You'll love to soak in one of our jacuzzi tubs and rehash the entire event from start to finish. We aim to make your stay as private and comfortable as possible—our nine guest suites are spacious with ample windows to take in the beautiful view. We often have the newly married couple stay on for a few days longer for a mini-moon.
Our Inn and Winery is the whole package for your wedding; you'll quickly see an unparalleled blend of hospitality, amazing views, fantastic food and drink, and beautiful guest spaces. Visit us in the Willamette Valley and book your next stay today!