Whether you're planning a trip to the Oregon Coast or are looking for a day trip from Portland, the Willamette Valley should absolutely be on your list of places to stop along the way. While certainly known for its wine country, there's much more to discover in this picturesque valley. Take a look below at some of the best things to do on your trip from Portland to the Willamette Valley!
What to Include In Your Trip From Portland to the Willamette Valley
Wine Tastings
No trip to the Willamette Valley is complete without trying a few different wines. The Willamette Valley AVA is famed for it's Pinot Noir that rivals Burgundy's. There are several different tasting rooms to choose from. You can enjoy the scenery as you bike between vineyards, or switch it up and travel between them on horseback.
You may find that a visit to Oregon's Wine Country is more relaxed and unpretentious than other regions. Maybe it's something about the serene landscapes, or perhaps the wineries here are confident in the quality of their wines. In any case, a tour of the beautiful vineyards and tasting rooms that populate this region will not disappoint.
Food
The Willamette Valley is just as rich in cuisine as Portland. For example, among the restaurants in McMinnville Oregon, you'll discover exquisite fine dining, farm to fork eateries, casual brewpubs, and excellent spots serving international dishes.  
In addition to restaurants, there are plenty of places where you can find local fruits and vegetables for sale, and sometimes, you can pick it yourself! If you visit in season, there are several farmers markets and pick-your-own farms where you can meet the people who so carefully raise these crops while enjoying spectacularly fresh produce!
Hiking
The Pacific Northwest is known for its natural beauty. Rugged mountains, emerald, misty forests, and sparkling streams and waterfalls greet you when you venture outside. As such, there are many ways to explore the great outdoors here. For example, Willamette Valley state parks preserve and showcase some of the most beautiful regions of the state. We recommend visiting Silver Falls State Park, where hiking trails wind through the forests and by several glittering waterfalls.  
If you're not in a hurry, there are stunning state and national forests within an hour or two of the Willamette Valley well worth a visit. If you are an outdoor enthusiast, you may want to make time to visit the Oregon Coast, which radiates its own distinct beauty.
Stay In a Luxurious Inn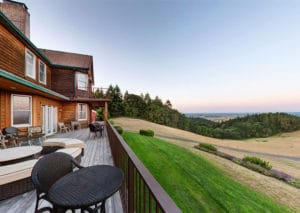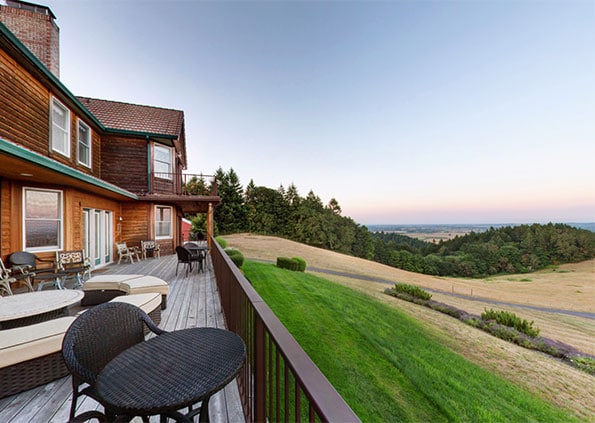 At Youngberg Hill, you'll discover a beautiful inn and vineyards nestled among the rolling hills of the Willamette Valley. Our well-appointed nine-room inn sits atop a 50-acre hilltop, overlooking sweeping views of surrounding vineyards and valley.
We farm our vineyards using organic, sustainable, biodynamic practices. You can taste the difference in the exquisite wines we produce, and you can see the positive effects on the land by seeing its beauty.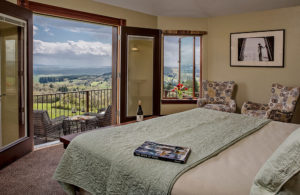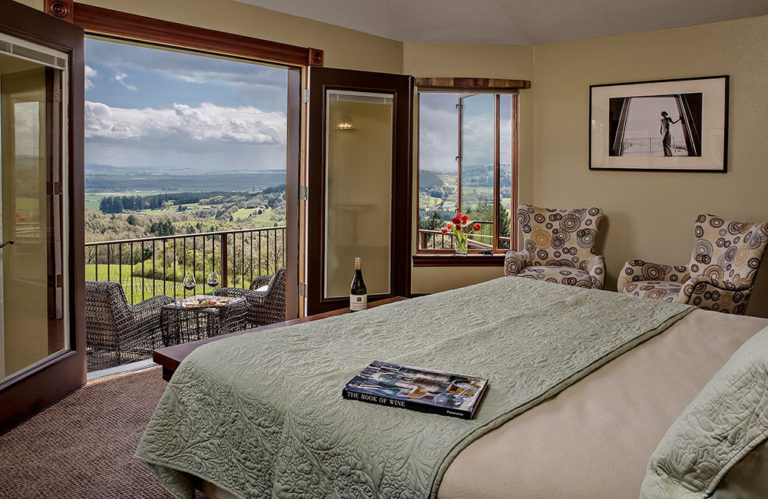 Whether you're looking for a relaxing escape or an adventure, Youngberg Hill is the perfect destination on your trip from Portland to the Willamette Valley.
Be sure to take a look at everything our inn, vineyards, and tasting room have to offer as you plan your trip! You won't find anywhere quite like us during your travels.
Check Availability | Visit the Tasting Room