Oregon has amazing hiking opportunities for both the beginner and the experienced enthusiast. Whether you are visiting Oregon from another country or state or you are a local who is looking for new places to explore, we've got suggestions for some of the best hikes around. We've listed some of our favorite Willamette Valley hikes as well as hikes in other parts of Oregon. Take a look!
Willamette Valley Hikes: McMinnville, Portland, the Columbia River Gorge, and Salem
If you're starting at our perch atop Youngberg Hill, there are many directions that you can go and places you can explore from here.
McMinnville
Located on the north end of McMinnville, the Rotary Nature Preserve at Tice Park has a forested boardwalk trail along the banks of Baker Creek, with views of two ponds and wetland wildlife.  There are benches along the path, and the mile-long loop is perfect for a romantic afternoon or early evening walk.
Another great hiking haven, Our Lady of Guadalupe Trappist Abbey, can be found in the opposite direction, north of McMinnville and just a couple of miles west of the fun and artsy town of Lafayette.  
The Trappist Abbey is open to visitors and has a number of hiking trails for guests to explore.  Maps of the hiking trails, along with information about the lives of the monks who live at the abbey, are available at the visitor center.  
Near Portland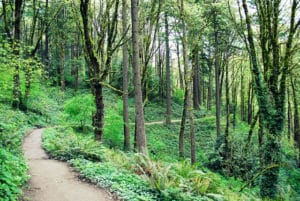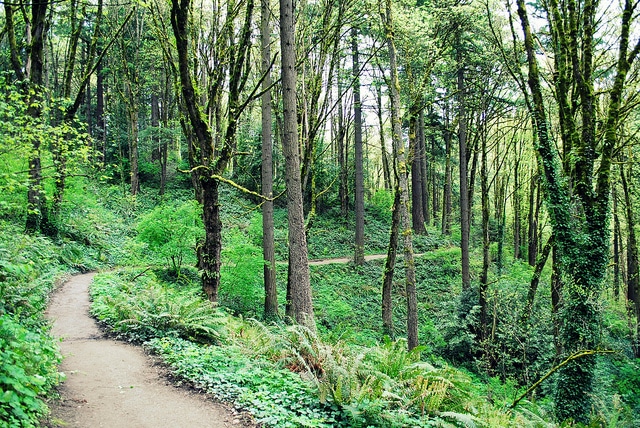 Portland has a number of walking and hiking options within city limits, and it's also close to many beautiful forests and natural landmarks.
The Hoyt Arboretum in northwest Portland is a great destination for those who want to walk through the woods without having to commute out of the city. The arboretum has a well-marked trail system, with each trail showcasing different trees from around the world. These include Holly, Magnolia, Maple, Oak, Ginko, Pine, and Sequoia, just to name a few.  
An added bonus is that parking and entry into the arboretum are free to the public! Once you've completed your tour of the Arboretum, you'll also be close to the Japanese Garden and, International Rose Test Garden.
Just a short drive from the Hoyt Arboretum and accessible from a number of locations in NW Portland is the famed Forest Park. With over 80 miles of trail systems, Forest Park is one of the largest urban forests in the United States. It's a northwest paradise that is literally right in Portland's backyard! With wide, level jogging trails, towering douglas fir trees, winding forested hiking trails, and paved areas with wheelchair access, a visit to Forest Park is a must.
If you are looking for recreation outside of town, the Gifford Pinchot National Forest and Mt. Hood National Forest both offer stunning natural beauty. From old-growth forests to alpine backdrops, there's a world of adventure waiting for you.  
Another great destination that will take you out into nature but not too far from Portland is Bagby Hot Springs.  You can hike to the historic hot springs and relax in rustic hot tubs that were hand carved out of cedar logs—a perfect way to enjoy a day in the wilderness.
Columbia River Gorge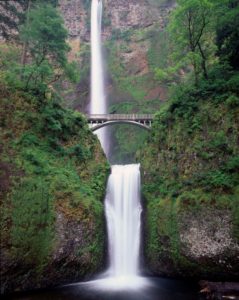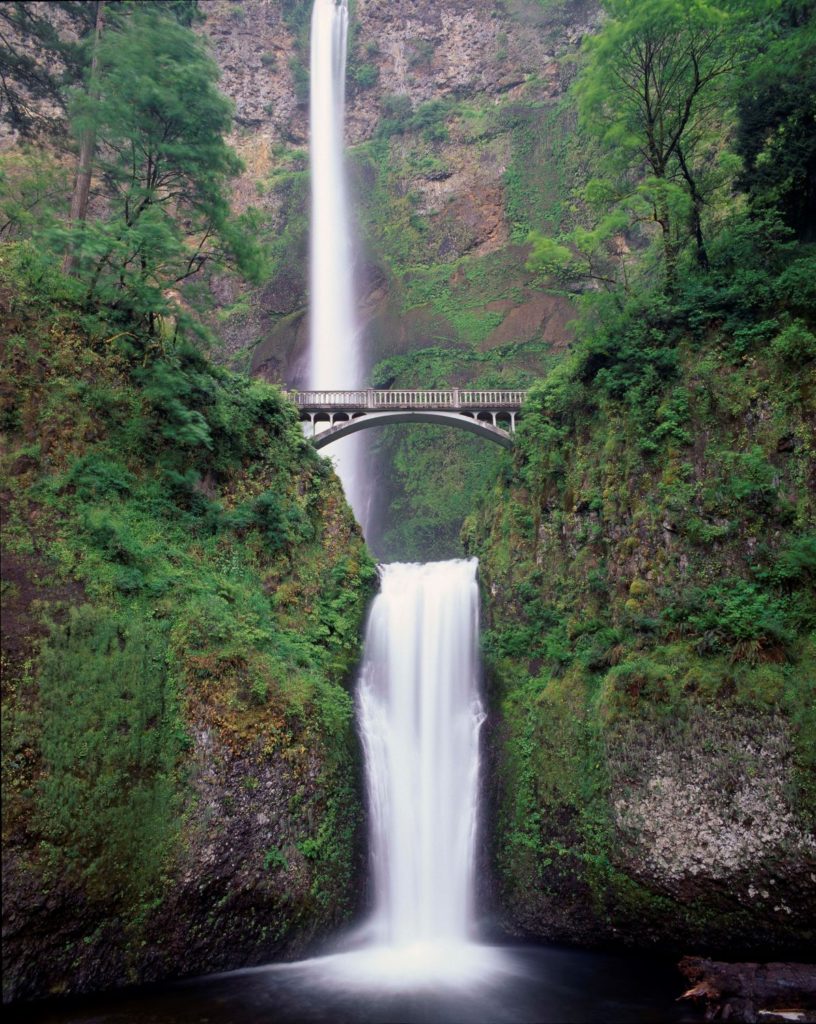 Moving on to other regions of Oregon, the Columbia River Gorge is one of the most frequented and beautiful hiking areas in the State.
On the Oregon side of the Gorge, Multnomah Falls is one of the most popular attractions.  Located just off of highway I-84, it is easy for travelers to access. There is a very nice visitor center as well as a walking area near the creek at the bottom of the falls for those who just want to stretch their legs. It is just a short hike on a paved trail up to the top of the majestic falls. If you are looking for a slightly longer hike, you can take the beautiful loop trail that starts at nearby Wahkeena Falls.
There are many hikes on the Washington side of the Gorge as well.  Beacon Rock, for example, is a short, easy hike, and in our opinion, it is one of the most unique hikes near Oregon. Beacon Rock juts out over the edge of the Columbia, a tall monolith of hardened magma that was once the center of a volcanic crater.
The trail, which changes from dirt path to a concrete sidewalk with a guardrail, scales the north face of Beacon Rock in a series of switchbacks up to the top. Reminiscent of the Angel's Landing hike in Utah's Zion National Park, but at a much smaller scale, this hike is not to be missed.
Our hike in the Columbia Gorge is Hamilton Mountain. This is a longer, day hike that ranges from moderate to difficult. The views of the Gorge from the summit are excellent, and the different ecosystems that the trail passes through on this loop hike are impressive.  
This hike is great for the avid, experienced hiker who wants to summit a mountain in one day.  There are shorter hikes to the Pool of the Winds and Hardy Falls along the way, for those who don't wish to do the entire Mountain loop.  Be sure to take plenty of water, a camera, and a good lunch!
Salem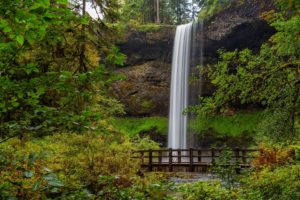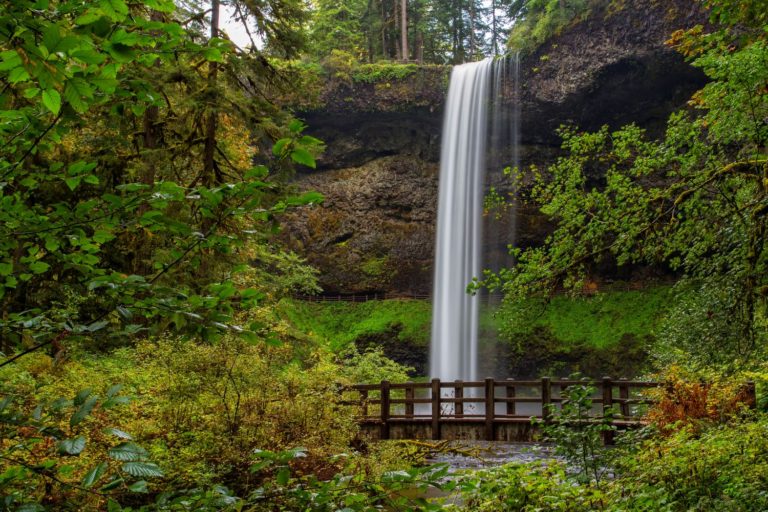 In the Salem area, there are two hiking sites that we highly recommend:  Silver Falls State Park and the Opal Creek Wilderness in the Willamette National Forest. Silver Falls has ten cascading waterfalls (some over 100 feet tall), beautiful lookout points, and paved pathways for your convenience. Opal Creek is home to an ancient forest center, historic mining claims, and scenic hiking trails that run alongside creeks, pools, and waterfalls.
Central Oregon Hikes
Bend / Sisters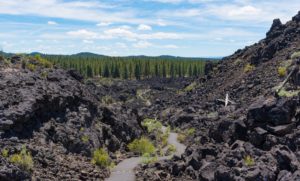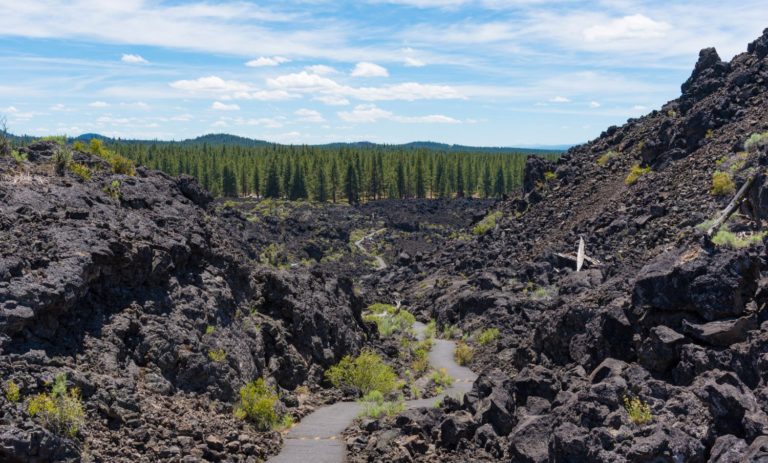 For hiking in the Bend area, we recommend visiting the Dee Wright Observatory near Sisters, Oregon. It is a mystical historic monument built atop a volcanic obsidian flow.  Pilot Butte State Park is another great destination that lies within the Bend city limits.
Just outside of Bend is the Deschutes National Forest, which holds a plethora of natural wonders including lakes, rivers, mountains, and volcanic sites, like the Newberry National Volcanic Monument. Hiking options in the Deschutes are extensive, and any path that you choose to take is guaranteed to be magnificent.  
Smith Rock State Park offers some of the top hiking and wall climbing around.  People travel from all around the US to hike and climb this wonder! The Canyon Trail is a great trail to start with at Smith Rock State Park.
Southern Oregon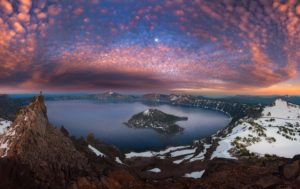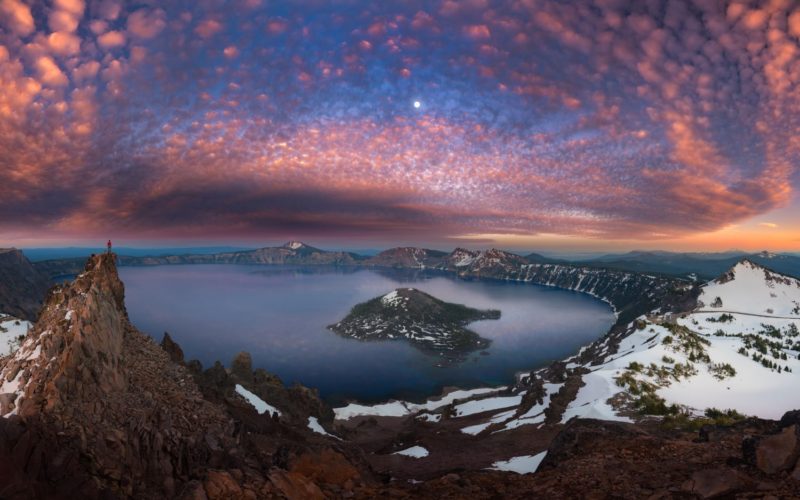 Southern Oregon is home to one of Oregon's most famous natural attractions: Crater Lake.  There are many hikes around the Crater Lake area. Visit Wizard Island to explore a volcanic cinder cone. Or, head to the Watchman, which is a hill overlooking the lake that features one of the best views of Crater Lake.
Hikes on the Oregon Coast
The beaches of the Oregon Coast are all open to the public, so visitors can walk and play on the beach as they take in the stunning views.  Some areas along the coast have longer hiking trails as well.
The Tillamook area offers hiking on Tillamook Head. Ecola State Park offers sweeping views of the Pacific. Between Lincoln City and Pacific City is the beautiful Cascade Head hike. A little further down, you'll find the Siuslaw National Forest—we recommend the Drift Creek Falls hike here. Along the southern part of the coast, the trees of the Oregon Redwoods ascend, dense and majestic.
Relax at Youngberg Hill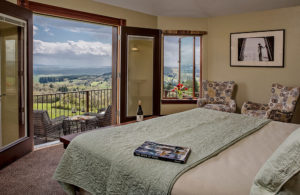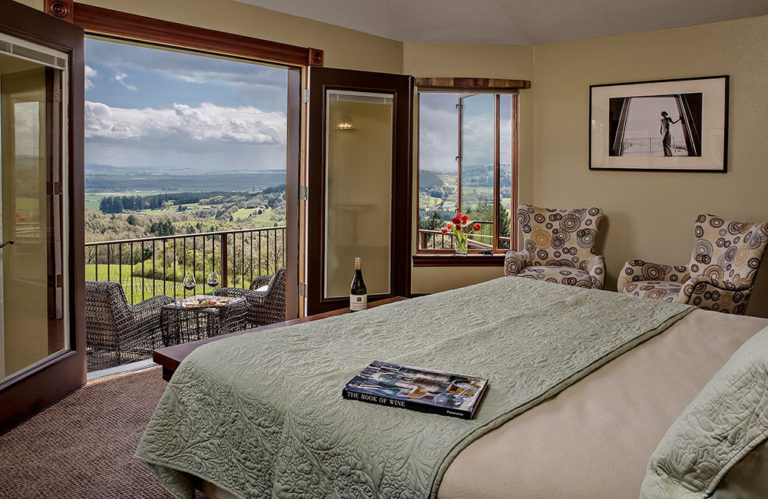 Wherever you may roam in Oregon, there is a hike that is perfect for you. After your day filled with long hikes, there is nothing better than relaxing on the deck of our inn with a bottle of wine and watching the sun go down. Afterward, you can head up to your room and soothe sore muscles with a soak in a whirlpool tub or under the steaming water of a rain shower.
We hope that you'll visit Youngberg Hill to share your hiking plans, photos and stories with us! Even if you're just passing through, we'd love for you to enjoy our wine and panoramic views for a little while.