Doesn't the idea of sitting in these chairs with a glass of rosé, your favorite person, and this spectacular view look like one of the most romantic things to do ever? Us too. We can attest that it's a billion times better in person, too! At our Willamette Bed and Breakfast, you can soak up this panoramic view from nearly every inch of our elegant Inn.
If you're searching for romantic things to do in the Willamette Valley, first and foremost, you should look no further for lodging. Our guest suites are intimate and tasteful, rich with high-end amenities, and designed specifically with romance in mind. And let us not forget the wine!
Our Willamette Valley Bed and Breakfast is surrounded by our vineyards for our classic Youngberg Hill wines, as well as our sister vineyard label Bailey Family Wines. A stay at our Inn gives you an opportunity to try both of these biodynamic and organic wine labels. As a thanks to our guests, our sit down wine tasting experiences are half off to those who choose to stay with us. The first romantic thing to do for your getaway is book your room at our Willamette Valley Inn!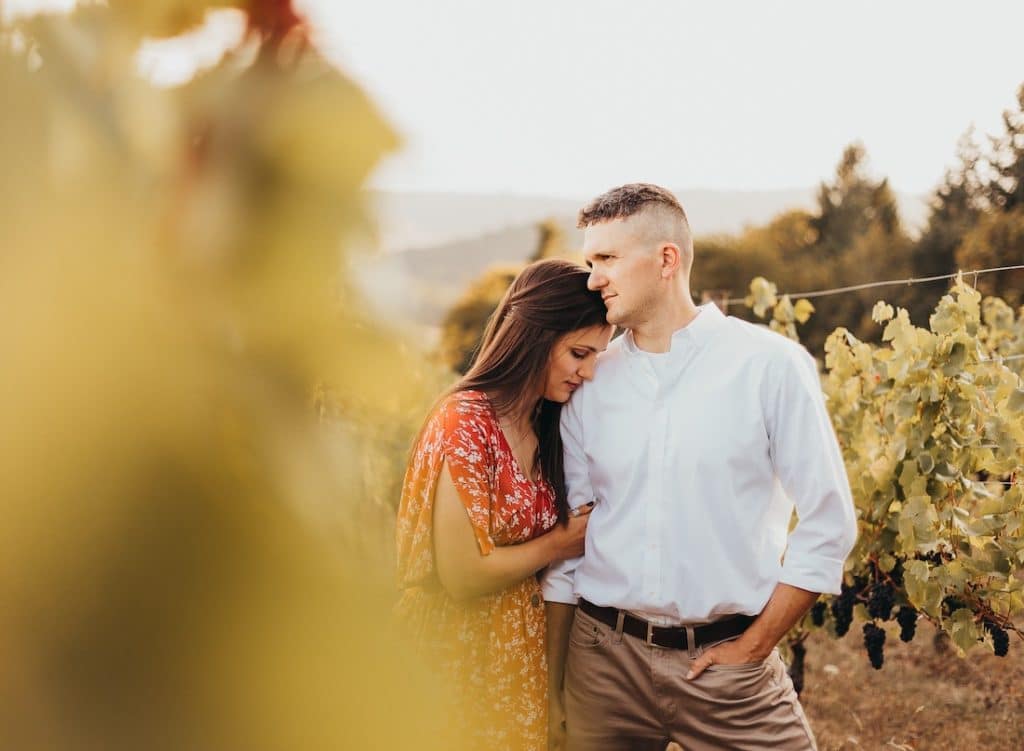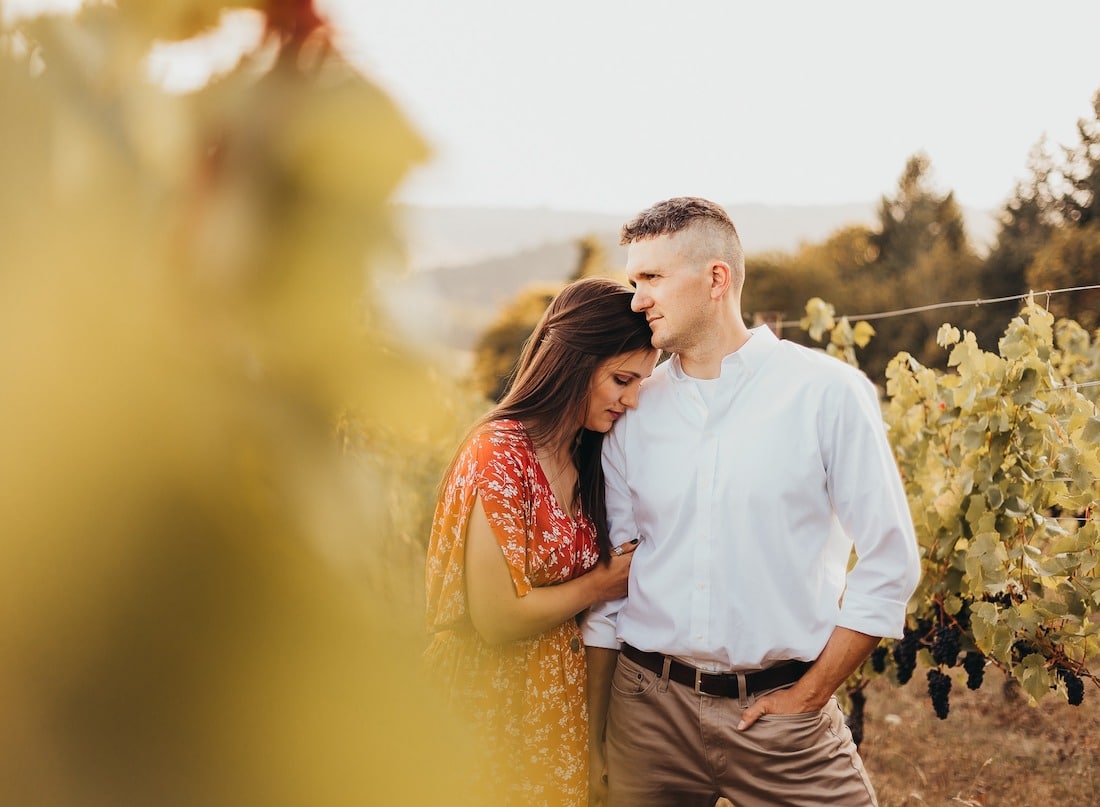 The 8 Most Romantic Things to do in the Willamette Valley
Of course, the Willamette Valley is well known for its wine. After all, it's home to more than 500 wineries, making a wine country tour one of the very most romantic things to do in the Willamette Valley. Parsing through which wineries to visit can be tough, so we have some suggestions for you and a list of other romantic things to do on your special getaway.
For most, wine tasting will be the main activity on your romantic Willamette Valley vacation. Those staying at our Bed and Breakfast will have a prime location only 10 minutes from downtown McMinnville and many amazing wineries right nearby in the McMinnville foothills. As you set out for an adventure of tasting you could do a lovely loop: start with our friends at Brooks Winery, pop by downtown McMinnville for some Pinot at Brittan Vineyards and Eyrie Vineyards, and then head back to us at Youngberg Hill Winery and tasting room for a close to the Inn tasting to finish the day.
A scenic drive out to the coast is an excellent addition to your itinerary. Pacific City, only an hour from our Willamette Valley B&B, has stunning sand dunes perfect for a windy walk hand and hand making this one of the most romantic things to do in Oregon. Plan for a tasty lunch at the Pelican Brewery, before you head back for a flight of our Youngberg Hill wines.
Downtown McMinnville has a ton of nice places for a romantic dinner and many are offering outdoor areas for dining or food to go at this time. We suggest a fancy French dinner at Bistro Maison as a romantic thing to do for an evening. If you prefer to take it to go, head on back to your guest suite and enjoy your French feast in private, pair that with a gorgeous sunset and a bottle of Youngberg Chardonnay.
A hot air balloon ride is definitely one of the most romantic things to do in the Willamette Valley. Take in the rolling hills of vineyards, the Willamette Valley River and, on a clear day, 10 different mountain peaks are visible. Vista Balloon Adventures has been touring for more than 30 years and they depart from nearby Newberg, Oregon only about 30 minutes from our Willamette Vally Bed and Breakfast.
Explore downtown McMinnville's historic 3rd Street for shopping, dining, and sightseeing. This charming 6-block tree-lined stretch is a great way to spend an afternoon on a leisurely stroll absorbing the small-town vibe. Starting in the Spring, you'll find the local Farmer's Market here and every Third Saturday is an Art and Wine walk.
The grounds of the historic Linfield University has towering trees, large grassy fields, and historic buildings dating back to the late 1800s for a romantic setting for a morning outing. It might even stir up some nostalgic memories of your co-ed days.
It's always nice to add a little hit of whiskey to wake up your palate, and just outside Dayton, Oregon about 20 minutes from our Willamette Valley Bed and Breakfast, is Branch Point Distillery. With an expansive outdoor patio, pull up a bright orange Adirondack and sip some locally made rye while looking out over the vineyards.
Last but not least, another of the most romantic things to do in Willamette Valley is hiking in Silver Falls State Park. It's a hidden gem that will add some romance to your outdoor adventure with spectacular waterfalls. The Trail of Ten Falls weaves you through the classic Northwest landscape, the 7.2-mile hike is considered moderate in difficulty but there are many ways to shorten the loop, too. Make sure not to miss the famous South Falls, a 177-foot waterfall that you can walk behind and grab a kiss.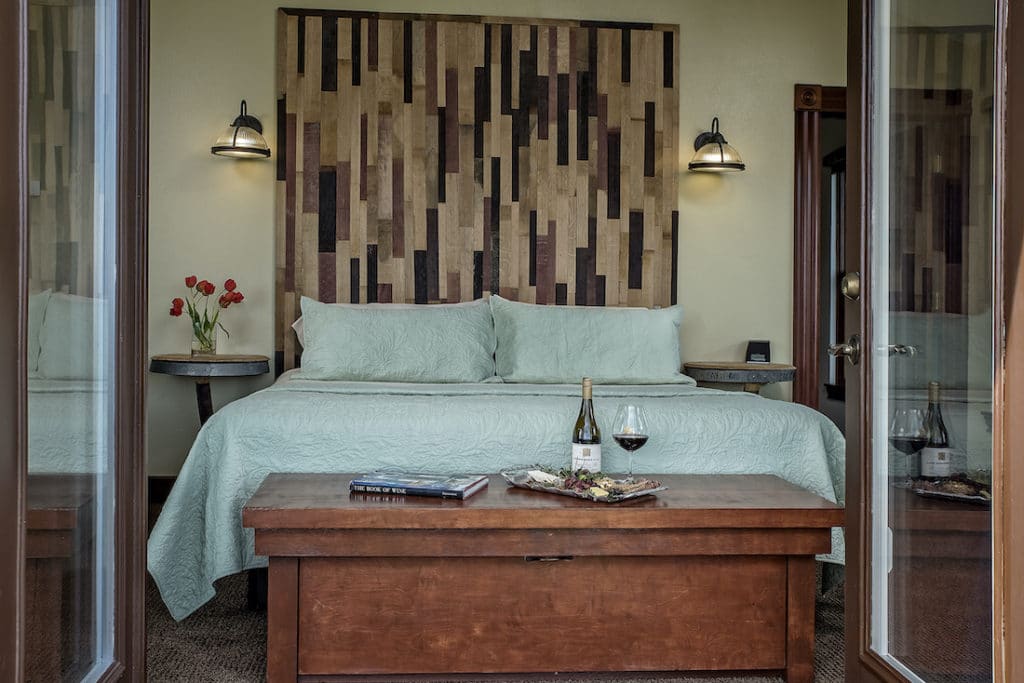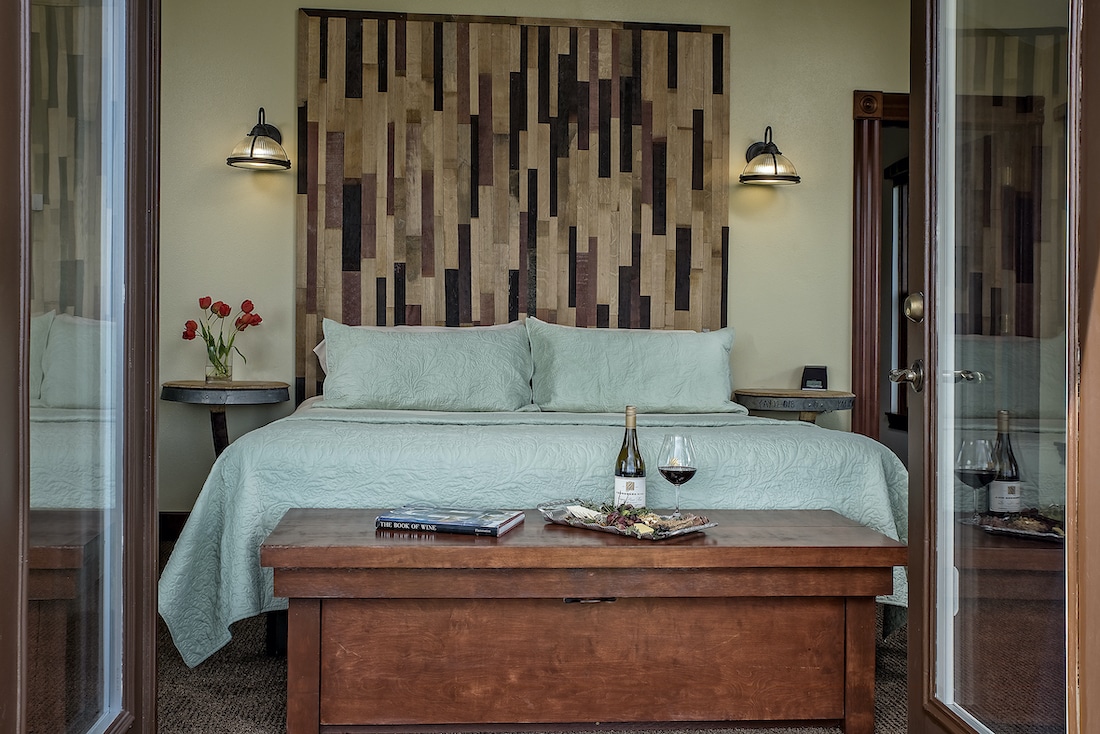 One of the Most Romantic Things to do? Stay with Us!
Our Willamette Bed and Breakfast will be one of the most romantic things to do on your trip to the area, after all, doesn't most of the romance actually take place in the privacy of your own guest suite? For the most intimate of stays, we recommend our Martini Master Suite. This grand room has a king bed, gas fireplace, jacuzzi tub in an extra spacious bathroom, and a private balcony with panoramic views that are extraordinary.
Let us pamper you in the morning with our 2-course breakfast service. We use seasonal and as local as possible ingredients to create dishes like salmon hash, Pinot-poached pears, and pancetta tarts. The menu changes frequently, but always expect something a little sweet, something a little savory and everything delicious.
Though it feels like we've turned a corner this year, we're still following every protocol to ensure your visit is safe and comfortable. Our tasting room and outdoor areas offer ample space for social distancing. This means you can fully relax and enjoy your romantic getaway to the Willamette Valley with us at Youngberg Hill. This is truly one of the most romantic things to do in Willamette Valley. Let the magic begin and book a room with us today.