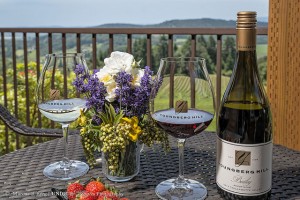 Pinot Noir is one of the earliest varieties of grape cultivated and used for making wine. Pinot has been grown in the "Slope of Gold" in Burgundy, France for many hundreds of years. There are many factors that make Burgundy an amazing place to grow Pinot Noir. These include:
Gentle sloping hills

Longer spring and fall seasons

Soil that drains well

Cooler temperatures
Fortunately, the Willamette Valley and Yamhill Valley have very similar growing conditions. We have the cooler temperatures, the longer spring and fall seasons and unique soil. The terroir here in the Willamette Valley imparts specific tastes to our Pinot Noir that makes it very uniquely our own.
One aspect of our land allows us to really bring out specific and unique tastes in our wine. That is: the soil. Each block here at Youngberg Hill has very specific soil types, and you can taste this in the wine itself.
For example, the Bailey block is composed primarily of volcanic rock and shale while the Natasha block features mainly marine sedimentary soil. When you taste Pinot Noir created from each of these distinct blocks in the same year, you can tell they are distinct.
To compare the different soils in another way: the 2012 Jordan Pinot Noir pairs well with red meat and game, while the 2012 Natasha Pinot Noir pairs with duck, salmon, and pork. Both are created from Pinot Noir grapes, but they have distinct flavors.
We are very lucky to have such a perfect climate for Pinot Noir here in the Willamette Valley. It's much like living in a little slice of Burgundy, France.
Don't believe us? Come visit and enjoy our lovely rolling hills, temperate climate, and fabulous wines for yourself!