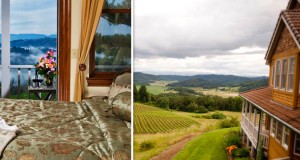 Youngberg Hill isn't just a working winery and vineyard, it is a B&B as well. We know there are many places to stay throughout the Willamette Valley, but recommend staying at a Bed and Breakfast for many reasons. Here are a few thoughts on why you should choose a B&B when visiting Oregon wine country:
1-Personalized service. Hotels often can't give you the one-on-one attention a Bed and Breakfast can provide. We love getting to know our guests and helping them have a wonderful trip. Additionally, our guests may have the opportunity to participate in one of our winemaker dinners – like the upcoming harvest dinner on October 17th!
2-Unique location. Bed and Breakfasts are placed in interesting and unique locations. For example, Youngberg Hill overlooks our active vineyard in the middle of Oregon Wine Country. You can see the Coast Range, Mount Jefferson, Mount Hood and the Willamette Valley from here.

3-Local knowledge. Because of the one-on-one relationship the innkeeper is able to have with her guests, our B&B can provide personalized and local information that a hotel wouldn't have the time to give. For example, we know all of the best Willamette Valley restaurants and can notify you about upcoming festivals and other local events.
4-Delicious breakfast. Breakfast is always an event here at Youngberg Hill! We have a fabulous chef that will get your day started out right with a fantastic breakfast.
5-Wonderful rooms. We are constantly working to improve our accommodations. Currently we have four suites and four luxurious guest rooms along with a library, salon, and large dining room.  
We think B&Bs have a certain air of romance and give you wonderful service. Be sure to check out our Bed and Breakfast when planning your next visit to the Willamette Valley!