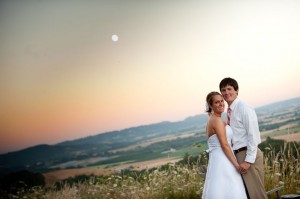 It's January, and romance is in the air.  Couples all over the country are planning special dates, anniversaries, and romantic weekend getaways near and far.  With so many newly engaged couples, now is the perfect time of year to start planning your wedding, particularly when it comes to choosing the perfect location to say your vows.  Vineyards have become an increasingly popular location for weddings, especially in Willamette Valley, the very heart of Oregon's beautiful wine country.  Imagine uttering those vows and beginning your lives together as the sun sets on our beautiful hill in the heart of Oregon's wine country, overlooking our vineyard and the breathtaking views of Willamette Valley.  Youngberg Hill Vineyards & Inn, situated atop a 50 acre hill in Willamette Valley, is the perfect location for an intimate vineyard wedding.
Our Willamette Valley Vineyard Wedding Venue
At Youngberg Hill Vineyards & Inn, we specialize in exclusive, romantic, and personalized vineyard weddings.  We have everything you need to create the wedding of your dreams, from the views to the award-winning wines.  Youngberg Hill has received numerous bridal industry awards from Oregon Bride over the past three years, and that is something we take a tremendous amount of pride in.  In 2011, 2012, and 2013, we were named the "Best Sunset Wedding Location," "Best All Inclusive Wedding Venue," and the "Best Oregon Destination Wedding Site Statewide".  This is a huge honor for us, as we only host approximately 20 weddings each year, as apposed to other venues that host 75-150 weddings each year.  For a venue such as ours to be extended this award speaks volumes about the quality of our wedding destination.  When you choose Youngberg Hill Vineyards & Inn as your Oregon wedding destination, you're not simply renting out a space; you're gaining a partner in your wedding planning experience.  We work together with you to make the planning as easy as possible, so you can relax and savor the special time spent with loved ones at our beautiful willamette valley vineyard.
Our venue can host weddings of all sizes; from simple elopements, all the way to 350 guests in our exlusive outdoor event site.  For indoor weddings, we can accomodate up to 50 guests.  Since each wedding is as unique as the couple, we look forward to working closely with you to make your dreams become a reality.  Please contact us now, and help make your dreams of a vineyard wedding in the stunning Willamette Valley a reality.