The Willamette Valley is arguably one of the best known regions in Oregon.  The fertile soils of the Willamette Valley are known to produce some of the world's most exquisite Pinot Noir wines, and it is Oregon's leading wine-producing region.  Willamette Valley is home to two-thirds of Oregon's wineries and vineyards, making it an ideal wine tourist destination.  Enjoy a day spent touring a select few of the more than 150 Willamette Valley Wineries with our wine driving tour.  At Youngberg Hill Vineyards & Inn, we have 20 total acres with three distinct blocks of Pinot Noir and one block of Pinot Gris, all of which are organically and sustainably farmed.  The wonderful combination of soils and weather found in the Willamette Valley are perfectly suited for the growth of Pinot Noir, resulting in high quality fruit with rich, intense black fruit flavors, earthy minerality, and high acidity.  We take immense pride in the wines produced here.  Stop in to our tasting room, which is open 7 days a week, and experience the delicious complexity of Youngberg Hill wines.
There's More to Willamette Valley Than Wine
While the wine truly is spectacular and worth the visit, there is more to Willamette Valley than wine.  While many of us know of Portland's growing reputation as a major foodie destination–it is not the only place you can find great food in Oregon.  Throughout the Willamette Valley, you'll find that quaint historic towns, such as McMinnville, also feature a robust and renowned culinary scene. McMinnville has even recently been named the second best foodie town in America by Bon Appetit magazine.  Some of our favorite restaurants include authentic French dining at Bistro Maison, the fresh local cuisine at Thistle, mushroom and wine-centered dining at The Joel Palmer House, or the fine dining at nearby The Painted Lady.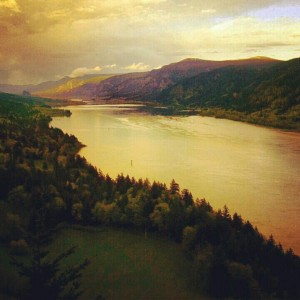 As with most other Pacific Northwest destinations, the Willamette Valley is also home to, or within easy reaching distance of, some truly beautiful opportunities for outdoor recreation, such as mountain biking, hiking, birding, fishing, boating and cycling.  Although not technically part of the Willamette Valley, the Columbia River Gorge is just a short drive away from us, and is one of the most frequented and beautiful hiking areas in the State.  If you head down towards Salem, a favorite spot is Silver Falls State Park or Opal Creek Wilderness, both filled with beautiful hiking opportunities.  There are hundreds of miles of biking trails that can be accessed directly from our driveway, and this can be a truly wonderful way to tour the beauty of the Willamette Valley.  If you're up for a little excursion, then head out to the beaches of the Oregon Coast, only 25 miles away.  The coast is a stunningly beautiful place to spend the day, whether you spend your time playing on the expansive beaches or taking a coastal hike along one of the many trails.
As you can see, it's easy to come up with reasons to visit the Willamette Valley.  Wine country is a beautiful place to take a relaxing winter getaway, and to spend the time relaxing and connecting with those around you.  Take advantage of our winter packages, and book your escape to Willamette Valley now.