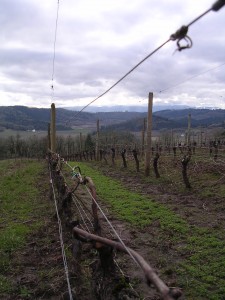 Now that winter is here in Oregon's Willamette Valley, the perception may be that the wine tasting and touring season is over. Nothing could be further from the truth. Many wineries and tasting rooms, like Youngberg Hill, are now open year round. Though the weather does not continue to be as perfect as during the summer, the weather in the Willamette Valley is much more pleasant than in much of the country during the winter. So come one, come all to Oregon and the Willamette Valley to tour and taste any time of year.
Where to go? The tendency has been for travelers to fly into Portland and make day trips down to the Valley for a few tastings closer to Portland. Many are now beginning to realize that going farther south beyond Newberg and Dundee opens up a whole new world of wineries, wines, restaurants and places to stay. While only an hour from Portland, McMinnville has all these and more; and at the same time one will feel like they are in Northern Italy without the language barrier.
The McMinnville AVA (American Viticulture Area) is the furthest west and generally higher in altitude than the other AVAs providing fruit characteristics and, therefore, wines that are distinctive in their depth and intensity of black fruit and earthy characteristics.  However, the McMinnville area is made up of the 7 wineries setting on vineyards in the Coastal Foothills and 10 wineries and tasting rooms in urban McMinnville.  One of these wineries is Eyrie Vineyards started back in 1965 by the legendary David Lett, the father of Pinot Noir in the Willamette Valley. Because many of these wineries source fruit from AVAs other than the McMinnville AVA, there is great variety in the wines and their characteristics.
So make McMinnville your next wine tasting and touring destination to enjoy great wines, beautiful and diverse scenery, fabulous restaurants, and welcoming Inns like Youngberg Hill to relax and enjoy the quiet times of this time of year.