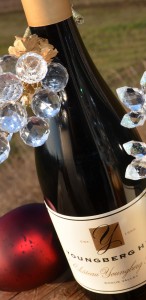 This is the time of year to reflect on all that we have been blessed with, to remember those we have lost, to share what we have, and to be thankful for all that is in our lives.
We are blessed by an interesting growing season in the vineyard that challenged our ability to grow the best fruit possible. In the winery that stretched our ability to make wine naturally and make the best wine we could with what nature gave us.
We were blessed with so many weddings where brides and grooms chose to begin their lives together at Youngberg Hill. We met families and friends who are now part of the Youngberg Hill family.
We have continued to be blessed with great reviews of our wines and to continue to gain more fans that love what we do and choose to share in our love for wine by helping during harvest, joining our wine club, sharing our wines with others, and continuing to order our wines.
We are so fortunate to be able to share this spectacular hill with all of our guests from around the world who stay as our guest at The Inn. Our guests are wonderful people who really appreciate the special place Youngberg Hill is and in sharing it continue to be reminded how blessed we are to be living on this special place.
When times are tough as they are for many of us, it is important to remember how great life is and what we do have, whether it be our health, family, loved ones, or good friendships.
Merry Christmas from everyone at Youngberg Hill.  From our family to yours have a joyous new year.