Well, 2010 in now behind us. What a season it was; a challenging growing season, great wines brewing in the cellar, increased tourism, and the signs that wine sales are on their way back.
Growing grapes – As you know, our winemaking philosophy is based on growing the best possible fruit. Mother Nature had different ideas this last year. She put us through an intensified graduate course in vineyard management. It was said that everything that could happen, did. Everything was predicated on the weather. The weather was cool and wet through June. This caused bud break and bloom to be 3 to 4 weeks behind normal (if there is any such thing). The late bloom and cool, wet weather during that time had three negative results; a long period for bloom and fruit set, botrytis in the blooms and fruit set that was incomplete. That in turn caused three issues; diseased fruit that would not ripen, fruit clusters with varied grape sizes, and irregular size and shape of clusters.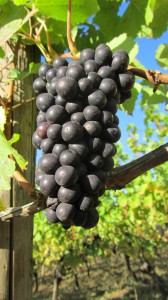 As the weather continued to be unseasonably cool throughout the summer we did not receive enough heat spikes to catch up on the growth cycle and conditions were right for powdery mildew. Going into veraison, we were still behind three weeks, and felt to get the fruit to ripen, we needed to reduce the amount of fruit the vines had to ripen. So we dropped approximately 25% of the fruit. That along with the fight against mildew and botrytis meant that we spent more time and money in the vineyard.
Because we were still three weeks behind, when the migratory birds arrived, most of us still had all our fruit on the vine. The birds were in heaven. But we weren't. Some have called this the year of the shotgun. The traditional ways of staving off the birds were not being effective, so everyone was out in the vineyard doing anything and everything they could to keep the birds at bay. Even with those efforts, most of us lost up wards of 25% to 30% of our crop. So on average, our crop yield was less than half of the "normal" two ton per acre we strive for.
But now for the good news. The fruit flavors came in ahead of the sugars (late September) and continued to develop until harvest. We also got a break in the weather, with major rain holding off until November, allowing us to harvest on the 28th of October, getting sugars closer to where they needed to be. What resulted was beautiful fruit with complex flavors, balance of fruit and earth, and balance of sugar and acids. The wines are looking very pretty in the barrel.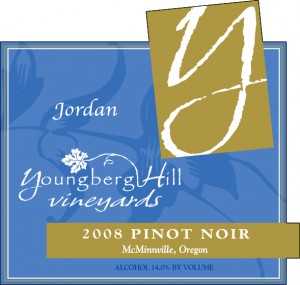 2008 Wine – The 2008s were released in November. The 2008 vintage has been tagged as being one of the best for Oregon Pinot Noir. Youngberg Hill is no exception. These wines have tasted great since they were first in the barrel and have only gotten better. Even though they are very drinkable now, they are just getting started and are going to be very age worthy wines. They are being very well received in the market place and tasting room.
The 2009 vintage may be Youngberg Hill's best vintage ever. These wines, like the 2008s, benefited from a beautiful October and going into the barrel were already more luscious and accessible than the '08s. We will be bottling the 2009s sometime in April or May, but probably will not release until sometime in 2012 to let them benefit from a little more time in the bottle.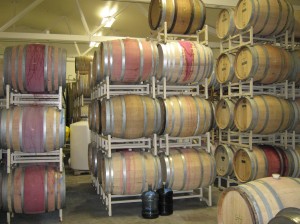 We released the 2009 Pinot Gris and Pinot Blanc in April of last year and got rave reviews. The Pinot Gris went so well that we are already sold out except for a couple of cases of half bottles. The Pinot Blanc is a restaurant favorite because it pairs with food so well.
The Hill – The Inn and tasting room continue to be busier than ever. More and more people are learning about Oregon Wine Country, The Willamette Valley, and more specifically Yamhill Valley. Guests from all over the world are stopping by or staying to explore the valley and enjoy our great wines. It is also rewarding when someone stops by or makes a reservation and tells us they were told by someone else that they had to come to Oregon and had to come to Youngberg Hill. That always makes our day.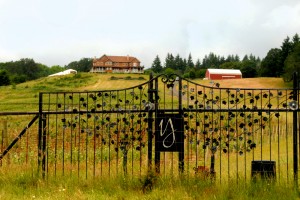 Here's to 2011. Cheers!