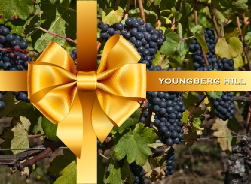 What was the funny word again, lagniappe (lan-yap)? It is a tradition in Spanish business trade for the seller to offer something beyond what is being purchased as a gesture of appreciation toward their customer.  We at Youngberg Hill have also adopted this tradition, to ensure that our wine club members receive a little something more than our wonderful wines with their membership.
It starts with no sign-up fees.  Ours is a pay-as-you-go membership and the shipments are fully customizable.  Care to pick up your shipments at the tasting room?  We throw two pick-up parties a year so you can save some cost on shipping and sample your latest acquisitions.
Additionally, the discount assigned to your wine club membership level is good for all Youngberg Hill purchases, including stays at the Inn.  Tasting fees are waived for you and your friends.  You can restock your cellar any time, again using your discount, and for those special occasions you might be able to talk us out of something from our wine library.
And for those in the Pinot Club, they also receive passes to two winemaker's dinner served at Youngberg Hill.
As an added token, if you as a wine club member bring an empty 375ml bottle with you on your next visit to Youngberg Hill, it will not leave empty.
It is time for you to join us!   Click on this link and you will soon be sipping some of the best wines in the Valley, and enjoying the royal treatment atop the Hill.