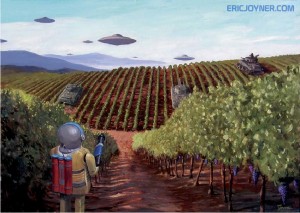 It was June of 1950 when the historic sighting of a UFO took place just outside of McMinnville, Oregon. Paul and Evelyn Trent took pictures of what appeared to be a flying saucer above their home in Dayton.  While it did not receive the national attention nor retention that other sightings in the '50s had, from an historical and military perspective, it was as important as any other. http://www.rense.com/general/mcmin50.htm
There are many to this day that recount this event, and many others that love to celebrate the possibilities from the outer realm, and within our own imaginations.  These folks come together every year for the UFO Festival sponsored by McMenamins Hotel Oregon http://www.ufofest.com/. Now in its 13th season, it's not only an event designed for fun, it's also meant to intrigue and educate those with a curiosity for our alien counterparts.  Or it may just be an excuse to have a good time, drink some wine or beer, and speculate.  But the stories of encounters remain alive either way, and isn't that the best part?
What peaks my interest is that there is a TV series on the History Channel 2 titled Ancient Aliens that provides hypotheses and proof that there were alien encounters thousands of years ago that have been instrumental in shaping who we are today. http://www.history.com/shows/ancient-aliens  And if there have been alien encounters throughout mankind's history, then local tales of encounters, like the Trents' experience in Dayton, do not seem so out of the realm of possibility.
 Do you believe?