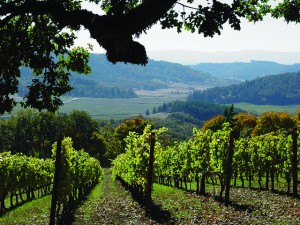 Summertime is the perfect time for biking and hiking in Oregon wine country — especially right here in the Willamette Valley and surrounding areas.  Flowers are blooming, birds are singing, and the vines are starting to produce.  This countryside is absolutely stunning in the summertime.
Hiking
There is hiking throughout McMinnville and the Willamette Valley.  You can head north to the Rotary Nature Preserve at Tice Park for a walk along Beaver Creek or travel over to Our Lady of Guadalupe Trappist Abbey for exploring and hiking.  There are a ton of parks in McMinnville proper that you can take advantage of as well.  Just a couple of these are: Joe Dancer Park and Wortman Park.
The area surrounding our fair city also gives visitors plenty of opportunities for hiking.  There are trails around nearby Erratic Rock in Sheridan, not to mention all the hiking and biking which can be done at Champoeg State Park.
Not only are there native wetlands, rivers, glacial rocks, and more to be seen in several of these parks, bird watchers can scope out the skies for local birds.  We work hard to keep our vineyard in harmony with nature – and our communities work hard to maintain the natural beauty and balance of these parks and spaces.
Biking
Not only do we at Youngberg Hill offer a fantastic bike tour package which covers bike rentals, a two night stay, breakfast, wine tastings, and a picnic lunch; our local community offers a ton of additional trails for the avid cyclist.
Oregon is bike country.  We take pride in providing spaces for bikes to cycle in our roadways and bike paths through a variety of parks – like Champoeg.  Additionally, the state of Oregon has created a variety of scenic bikeways, all of which are within a day's drive or less of our winery and inn.
Our area has at least 150 wineries within biking distance from Youngberg Hill alone.  This means you can take a day to conduct your own bike tasting itinerary – starting from the Hill and working out.
Red wine is heart healthy – and so are these activities.  We hope you have a chance to enjoy our beautiful valley in more ways than one!