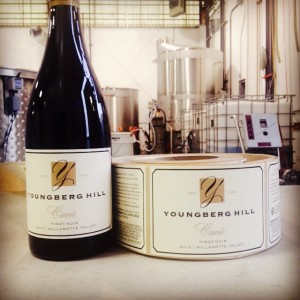 When do we bottle Pinot Noir in Willamette Valley? It's about this time of year when Oregon Wineries move the previous year's harvest from barrels to bottles. This is a great time to revisit last year's harvest, and explore this wine after it's spent some time in the barrel. 2014 was a rare year for Oregon Pinot Noir. Across the board, Willamette Valley vineyards harvested not only a large quantity of fruit, but more importantly the harvested fruit was of a high quality. All too often one is sacrificed for the benefit of the other, but not in 2014. That year began with an early spring that continued into warmer than normal weather throughout the growing season. This combination brought in a harvest two to three weeks earlier than normal, a time of year that saw very little precipitation. Often times, late in the growing season, vineyards are at the mercy of the weather, hoping for enough dry days to pick ripe fruit. As a combined result, the 2014 wines in barrel are showing ripe, voluptuous body and weight.
Bottling Pinot Noir in the Willamette Valley typically takes place right before harvest in late August and September. The machines used to bottle wine are large, and require specially trained operators. Because of this, a lot of smaller wineries hire a mobile botting unit. When it is time for bottling the mobile unit is pulled to the winery.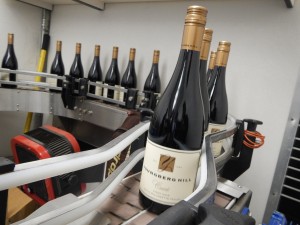 Once bottled, the wine is left to age in bottle for at least another 6 months before release. However, Youngberg Hill typically release our Pinot Noirs 2 years after the fruit was harvested, so don't expect to see these wines before November of 2016. At Youngberg Hill, our Pinot Noirs are bigger and bolder than most of the other wines produced in the valley. Because of this, we give them more time in the barrel. We normally keep our Pinot Noir in barrel for at least 12 months or more. With the 2014 vintage being special, we will hold the wine in our French White Oak barrels for 14 months. This additional time in the barrel will impart more of the oak flavor, complementing the bigger fruit flavor of the 2014 harvest. We believe this will ultimately create a superb and well balanced Pinot Noir.