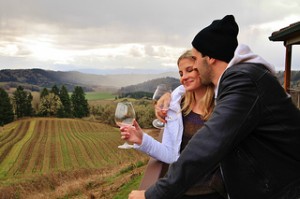 Have you thought about enjoying Willamette Valley wine country during February? True it rains much of the time, but what better excuse than the weather to snuggle up next to a warm fire with your loved one and enjoy a delicious Pinot Noir? There is a lot happening in the Willamette Valley during the month of February with many Valentine's events at different wineries with chocolate and wine pairings, new releases, and winemaker's dinners.   Don't forget about the local restaurants, which will be having spectacular dinner specials.
Wine tasting in the Willamette Valley
It is fun to taste throughout the Willamette Valley this time of year because of the unique and serendipitous experiences one might have. To start, it is typically not as busy in the tasting rooms so you can have a more intimate tasting experience, learn more about the wines and why they taste the way they do. This gives you the opportunity to meet the winemaker or owner hanging around who are willing to share their experiences with you and maybe even break out a library wine or take you to the barrel room. Many of us wineries are family operations and you may have the opportunity to meet other members of the family developing a more intimate relationship with the family, the winery, and the entire operation.
There are plenty of wineries open for tasting throughout the winter months which means that there is no lack of both old favorites and new experiences to enjoy. Visit Youngberg Hill's tasting room and relax next to the fire while tasting the newly released 2013 vintages, or join us on February 12th for our annual Valentine's dinner with outstanding chocolate charged menu items paired with some of our favorite Youngberg Hill wines.
And there nothing that puts a little heat back in the relationship than a couple of nights at our cozy intimate inn overlooking the vineyard. Snuggle up in front of your private fireplace and enjoy a glass, or a bottle, of your favorite Youngberg Hill Pinot Noir with the person you adore.