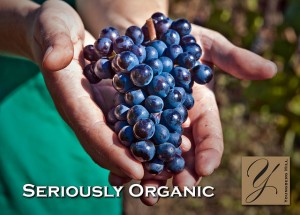 It's almost summer!  Farmer's Market is back up here in the Willamette Valley.  Local fruit, meats, and vegetables are available all around Oregon Wine Country and we are excited!  In celebration of this farm to table extravaganza, we wanted to give you some pairing ideas with local foods that are in-season so that you can make the most of your meals.
Southern-style collard greens: Who doesn't love a combination of bacon or ham hocks and collard greens? This delicious side pairs well with an earthy wine like Pinot Noir or Beaujolais.
Morel mushrooms with anything: Morels can be eaten with just about anything. They are delicious with chicken, pasta, in a wine sauce, or deep fried. Pinot Noir is the classic pairing with mushrooms, so we recommend a 2011 Jordan Pinot Noir pairing with morels.
Fava bean salad: We love a fresh bean salad with champagne vinaigrette. We recommend a bright, fruity white wine pairing with this salad. Try a Prié blanc or Pinot Blanc with this summery salad.
Baked asparagus: We are so happy that asparagus season has struck again! Simple asparagus baked in olive oil and lightly salted is a delicious snack or side. This treat needs a bright white wine like Pinot Blanc, Sauvignon Blanc, Verdicchio, or a light, dry rosé .
Brioche and goat cheese: What is better than warm, fresh-baked bread and a spreading of goat cheese? The classic pairing with this cheese is a high acid and fruity Sauvignon Blanc. Other nice pairings include Sancerre, Riesling, and Pinot Gris.
These are just a few of the delicious pairings available with local food here in the Willamette Valley.  What's on your table this week?