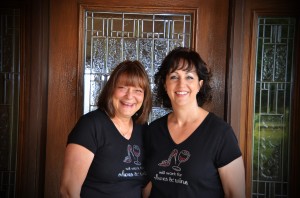 Most of our guests and everyone in the Willamette Valley will agree that our most distinguishing feature is our extraordinary panoramic views from atop the Hill. However, I suggest that our Innkeepers, Becky and Colleen, may be our most distinguishing feature. While our guests always leave mesmerized by their experience with us, it is the personal care that Becky and Colleen take with each and every guest that truly sets us apart.
Guests staying with us at the Inn and those visiting our tasting room comment on how much at home they feel while here. It is a tribute to Becky and Colleen that each guest feels so comfortable and relaxed. They work very hard behind the scenes to ensure that each and every detail is thoughtfully attended to, and they give their full focus to guests to ensure that they are well taken care of. Our innkeepers are cooks, making individual breakfasts for each guest each morning. If a guest has an allergy or other dietary concern, they will do everything possible to adapt the breakfast to their needs. They also assist in housekeeping, making sure that guest rooms and the rest of the Inn are clean and orderly. We have two very good housekeepers in Aracely and Lupe, who do the heavy cleaning, but it is Becky and Colleen's responsibility to ensure that everything is done properly. During the slow season there are occasions when our housekeepers do not come in, and on those days Becky and Colleen do the heavy cleaning along with their usual tasks.
Becky and Colleen are concierges, ensuring that our guests know what to do in the area, have directions to where they are going, make recommendations and reservations for dinner, and help them with any other requests they may have. Oftentimes they do this for people traveling through the area or calling to learn more about the area. They act as backup wine tasting room staff. They also do minor trouble shooting and repairs around the Inn. As with any small business, we all wear several hats, and Becky and Colleen have a closet-full to choose from.
Becky has been with us for over six years. She has become very good at taking care of our guests and is always looking to improve on their experience. We knew Becky at another business, experienced her customer service first hand, and knew she would be an excellent fit for us. It is wonderful to have her as part of our team.
Colleen has been with us for over a year with a little hiatus in between. However, we have known Colleen since we moved here ten years ago and knew her customer service skills from a caterer in the area and a restaurant downtown. Treating guests with the best possible customer service comes naturally to her. We are so glad that she is with us.
If you come up for a visit to Youngberg Hill, please be sure to say hello to Colleen and Becky-they will help to make your visit unforgettably special, and will make the wine and the views that much sweeter.