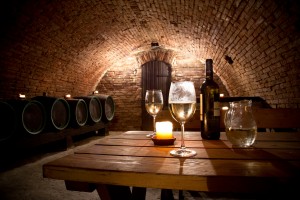 Do you "cellar" any of your wines? Almost 80% of wine that is purchased is consumed within 24 hours.  So, we can assume that most people might answer "no" to that question.  The main thing a lover of wine would normally have to worry about is keeping their wine in a cool-ish area (not in the trunk of their car in the height of summer) before opening and drinking it.
One of the reasons why folks don't often cellar wine is they believe they simply don't have the space for a wine cellar.  In fact, when many people think of a wine cellar, they often get images of a cavernous vault beneath a giant mansion.  This most certainly does not have to be the case.  Wines are best preserved by keeping them in a cool (55 to 60 degree), dark, relatively high humidity (60 to 80%) environment. It need not cost a lot. A perfect choice for all of us who do not own a mansion could be a corner area in the back of an unfinished basement, an old time root cellar or that old storage cave that your grandmother stored potatoes in.
This brings us to the question of: should you let your wine age, in other words, cellar your wine?
This really is a matter of personal taste – the "yum or yuk" factor we have mentioned in previous blog posts.
Do you most enjoy bright, flush, fresh fruit flavors that jump into your mouth and beg for the next sip?  You are more apt to find pleasure in drinking young, un-cellared wines for these characteristics. But, if you love the taste of bigger and softer tannins; if you enjoy fruit flavors integrated with savory components balanced throughout the time in your mouth – then lingering on long after the wine has trickled down your throat, you will like older (cellared) wines.  The more you enjoy the latter characteristics, the older (longer cellared) you will want your wines to be.
In the end, there really is not a "right" answer.  Should you let your wine age?  It's all about your personal taste.