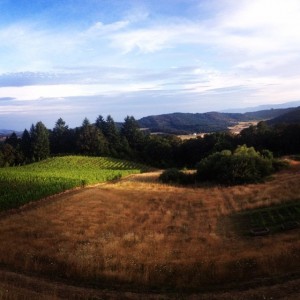 It is often said what grows together, goes together.  This idea is at the heart of Oregon's farm-to-fork movement.  The wine grown and harvested here in the Willamette Valley is perfect with fresh seasonal ingredients brought from farm to table. This time of year you will find Oregon wine country filled with seasonal foods like beets, cabbages, parsnips, carrots, celery root, chard, late-season corn and mushrooms, and winter squash.
As with the wine produced throughout the Willamette Valley, the good food found here is a direct result of the quality of each ingredient.  In Oregon, chefs and farmers work together, resulting in the modern day foodie paradise of Willamette Valley.  Choose to stay with us at Youngberg Hill Vineyards, and this rich abundance of farm fresh foods and handcrafted wines will be at your fingertips.
For a truly unique Oregon experience, dine at Thistle. There the chefs create seasonal menus based on what is available to them throughout their Willamette Valley network of farms. The chefs and owners of Thistle work closely with local farmers in an effort to develop sustainable agriculture and have been one of the innovative forces behind McMinnville's farm to table movement. When you're ready for something sweet, pick up some locally made chocolates at Honest Chocolates, located in downtown McMinnville.
You can also visit us at the Granary District Winery – along with a number of other local wineries – for a pre-Thanksgiving open house. You will have the opportunity to taste our 2012 Pinots as well as sample other wines made in the Willamette and Yamhill Valleys. This open house event will take place on November 22nd and 23rd from 11:00am through 4:00pm.
Oregonians produce all of this delicious food and wine in a sustainable and environmentally friendly way.  Oregonians have a long legacy of preserving the state's pristine ecology, first establishing their commitment to sustainable farming practices more than 100 years ago with the State's first environmental law.  At Youngberg Hill Vineyards, we value the beautiful land we live and work on, and are proud of our green approach to wine country living.
What is most import to you about the environment in which your food and wine was grown?  Let us know in the comments below.