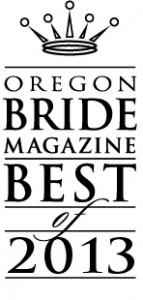 Youngberg Hill Vineyards, known for its divine wines and charming inn, is also a beautiful and award-winning location for your Oregon vineyard wedding!  We are truly grateful for the opportunity to host weddings and are glad to have had such supportive wedding guests and vendors over the years.  This year we owe our sincere thanks to all of them for voting for us in the 2013 Oregon Bride Awards.  We had the honor of winning the award for "Best All Inclusive Venue" this year, so thank you!
Wayne and I enjoyed our own vineyard wedding over 15 years ago, and the memories of that day still stir my soul.  When we think of the couples who have trusted us to take care of them for one of the biggest days of their lives, we know exactly how they feel and what they need because we've been there!  We pride ourselves on strong communications from the moment someone reaches out to us for information.  We help guide couples and feel the responsibility of preparing for that big chapter in their lives.  I personally haven't missed a Youngberg Hill Vineyward wedding and love serving our wines during the reception and getting to know all of the guests.  The total joy during the ceremony and reception is infectious.
We do an average of 25 weddings in our stunning vineyards each year.  Having won this award knowing that the other nominated wedding locations in our category do an average of 75-150 weddings a year in comparison means that all of our guests took the time to vote for us, which assures us that our aspirations for making weddings at Youngberg Hill a special experience for each individual in attendance are being accomplished.  To win this award, which was voted on by both the public and by vendors, means so much more to us than you can imagine.  Thank you so much for the honor of hosting your vineyard wedding, and for the joy that you have given us in showing that what we do at Youngberg Hill is of unrivaled excellence.
~Nicolette