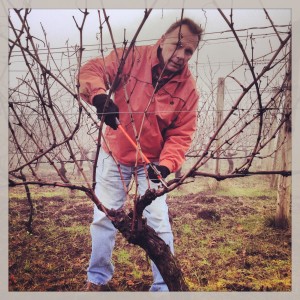 Its pruning time in Oregon and all the vineyards are hard at work.  Pruning is the most important function we do for the health of the plants and the production of wine grapes.  We are not pruning solely to obtain the highest yield or get rid of the old growth, although these factors are important.  Primarily we are pruning to provide the best flow of nutrients, water, and energy from the vine through to the shoots, the leaves, and ultimately, the fruit.
So what is pruning?  For most of us who are growing Pinot Noir in the Willamette Valley, it is cutting off almost all the vegetative growth from the previous growing season.  At the end of each season, all that's left is the stock, two fruiting canes – growing from and perpendicular to the stock, and about 14-16 shoots coming off the fruiting canes.  The beautiful canopy of leafy shade is gone, and all that remains is the skeleton of the plant.
On each plant, we will cut off both last year's fruiting canes with all the shoots leaving only two new fruiting canes that were new shoots grown last year. The selection of which shoots to leave as the next year's fruiting cane is critical. We choose these shoots based on how the energy and balance flow in the vine.  This may be an easy selection on one vine and a very difficult one on the next.  It is important for the health of the vine and its production to select the shoots that are going to do the best job of transferring nutrients and energy throughout the plant. This takes a trained eye and an understanding of the physiology of the vines.
Ultimately, we strive to help keep the plant in balance as it prepares to burst forth once again.  If your visiting an Oregon winery in the next few weeks ask them to show you.  We would love it!