The Yamhill Valley is in the heart of the Oregon Wine Country. It's filled with a rich history, compassion and great wine, of course. It is a huge part of our area's economic, agricultural and social landscape.
Oregon Pinot Noir is famous, and rightfully so! In the 1960s and 70s, a group of wine entrepreneurs settled in the Yamhill Valley with pinot grapes on their minds. Two of those winemakers championed setting aside a significant part of the area for vineyards. This partnership with the state of Oregon has led to over four decades of agricultural and economic success in the area, not to mention amazing Pinot Noir!
In Oregon, wine means more than just the bottom line, there is a lot of care and dedication taken into providing the best product the right way.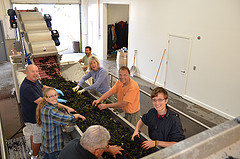 In 1991, 18 wine producers started ¡Salud!, a charity committed to providing comprehensive health care for migrant workers at the vineyards. It was the first organization of its kind in the entire country.
When you visit the Oregon Wine Country, you'll see how much pride is involved in what we do here. It is such a big part of our community that there are now multiple exhibits and archives keeping our rich history alive.
In 2011, Linfield College started the Oregon Wine History Archive, preserving the stories of our pivotal industry.

This year, the Oregon Historical Society established a temporary exhibit full of interactive displays and a tasting room. Clink! will be available through September 20.
For more information on the history of the Oregon Wine Country, we recommend this article from the Oregonian.