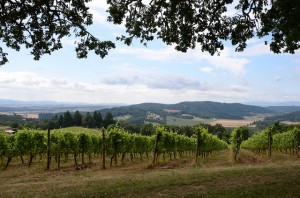 Founded in 1989, Youngberg Hill Vineyard and Inn has become a staple of the Yamhill Valley and McMinnville Winegrowers Association. We focus on premium Oregon Pinot Noirs and excellent service for all our guests.
The Vineyard
The vineyards at Youngberg Hill lie in the coastal foothills of Yamhill Valley, just 25 miles away from the coast. The unique location has given us rich and diverse soil to grow amazing Pinot grapes for the past 25 years. Our first two Pinot Noir blocks in the vineyard were planted in 1989, followed by our one block of Pinot Gris in 2006 and our third Pinot Noir crop in 2008.
We are on a mission to practice organic and sustainable farming at Youngberg Hill. In 2010 we were certified "Sustainable" by the Oregon Wine Board, after gaining certifications from other third party organizations. In an effort to leave the earth healthier than how we found it, we only employ soft pesticides, such as biodegradable soaps and oils, on our vines. The caution and care shown to the plants is evident in the quality of Youngberg Hill wines.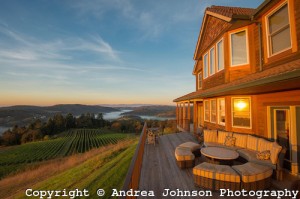 The Inn
With views from the deck overlooking the Coast Range, Mount Jefferson, Mount Hood, and of course the vineyards, the Youngberg Hill Inn offers a chance for a breathtaking getaway. Whether you stay in one of the five king suites or three queen guestrooms, you're guaranteed to feel comfortable and pampered. In the mornings you can treat yourself to a gourmet breakfast or relax in the first floor library or salon. In the evening there are complimentary wine tastings where you can enjoy a famous Oregon Pinot Noir out on our deck.
Whether you come for a tasting or an overnight stay, Youngberg Hill's goal is to provide high-quality service for a relaxing and satisfying visit.
Have you stayed with us before? Let us know about your experience in the comments!