Wintertime is such a relaxing time for a romantic getaway in Oregon, and the Willamette Valley is the perfect place to rekindle, nourish, or spark a loving relationship. As a bonus, spending time together tasting elegant wine, dining out, strolling among the vines, and then cozying up by a fire sounds like the best itinerary for an intimate vacation for two.
For the most romantic getaway in Oregon, you'll want to choose our Willamette Valley Bed and Breakfast as your wine country destination. Not only will you be surrounded by the vineyards of a working winery, but you'll also have access to taste some fantastic wines from our Bailey Family reserve label and our signature line of wines from Youngberg Hill.
Compare and contrast our Youngberg Hill single block Pinots: Can you taste the difference a bit of elevation makes? Or a slight change in the soil? Is it fruit-forward or very dry and tannic? What notes do your taste on your palate?
That's all part of the thrill of wine tasting with someone you love. It's a conversation starter and keeps things light and exciting, not to mention the serotonin that wine helps to release in your brain. It sounds like the ideal combination for the best romantic getaway in Oregon to us!
Our elegant Willamette Valley Bed and Breakfast serves as the perfect backdrop for a relaxing vacation. Check out our upcoming availability and book your next romantic getaway in Oregon today!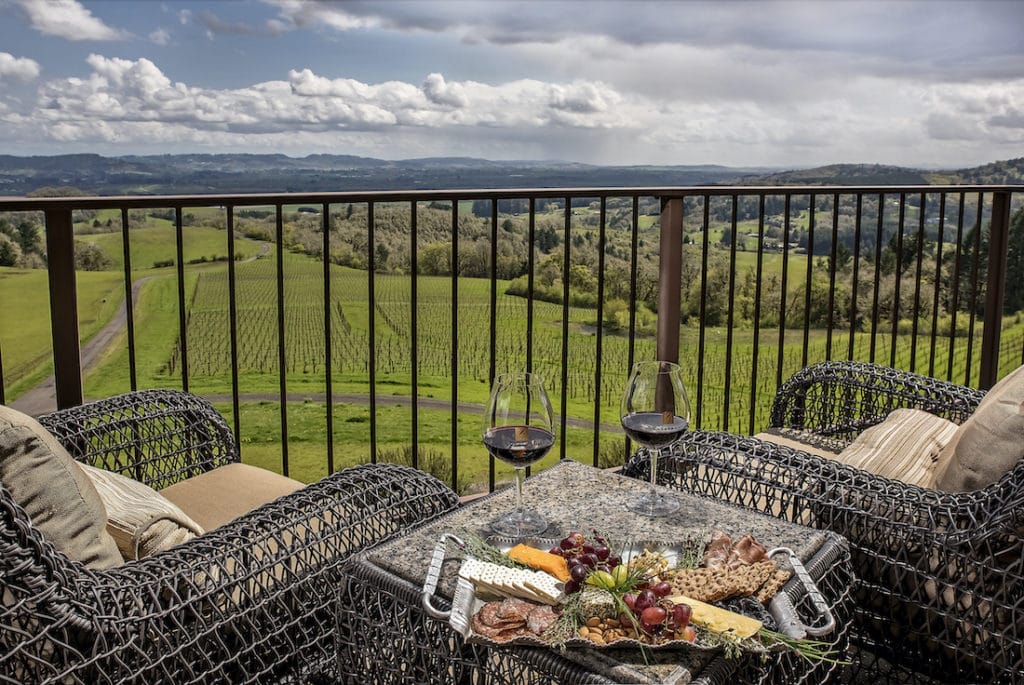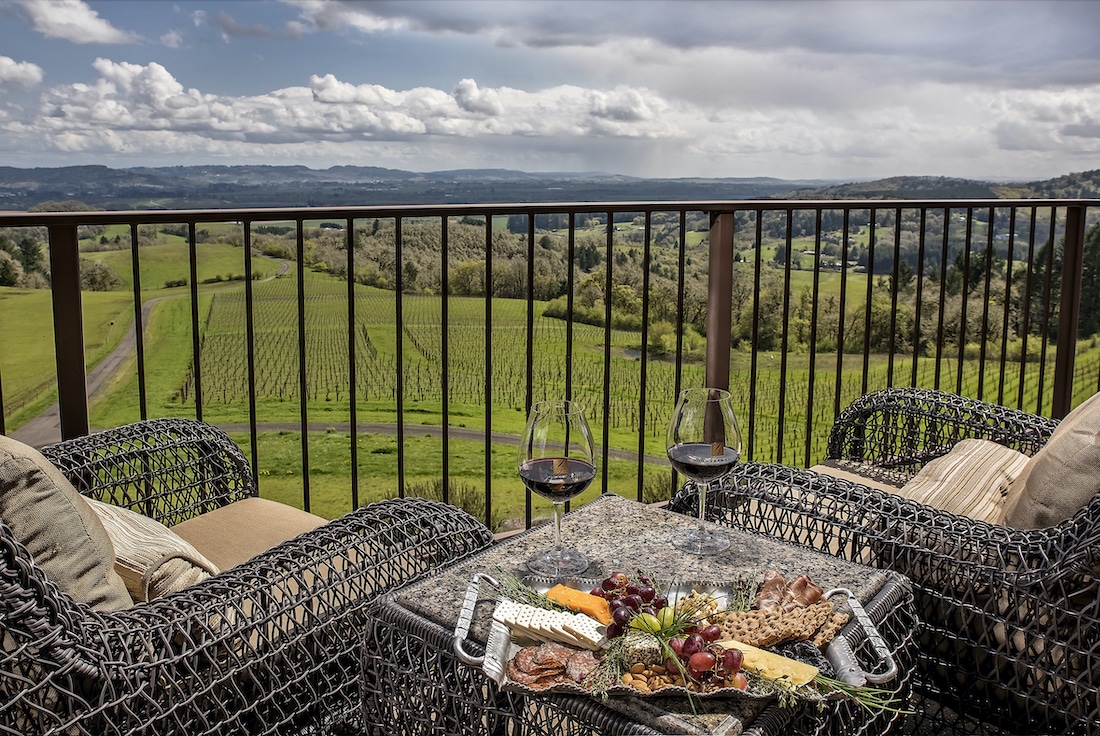 Enjoy the Best Romantic Getaway in Oregon at our Bed and Breakfast
When you begin planning a romantic getaway in Oregon at our Willamette Valley Bed and Breakfast, start by picking from one of our nine elegant guest suites. Each is unique in layout and decor, but all contain luxurious amenities, striking views, and spa-like bathrooms with high-end finishes and fixtures.
Here's a possible three-day itinerary for a romantic getaway in Oregon when you book your stay at our B&B:
Day 1: Afternoon check-in and the first night with us:
Arrive at our Willamette Valley Bed and Breakfast, first take a moment to appreciate one of the most spectacular views in all of Oregon. Let it sink in that this will be your home away from home for a few days!
Our welcoming staff will show you to your guest suite, and if you've planned ahead and added a Romantic Package to your room. A bottle of Youngberg Hill Pinot, cheese and crackers assortment, and chocolates will be waiting for you.
Cozy up by the fire or draw a bubble bath, don your plush robe, and sit back and relax in luxury.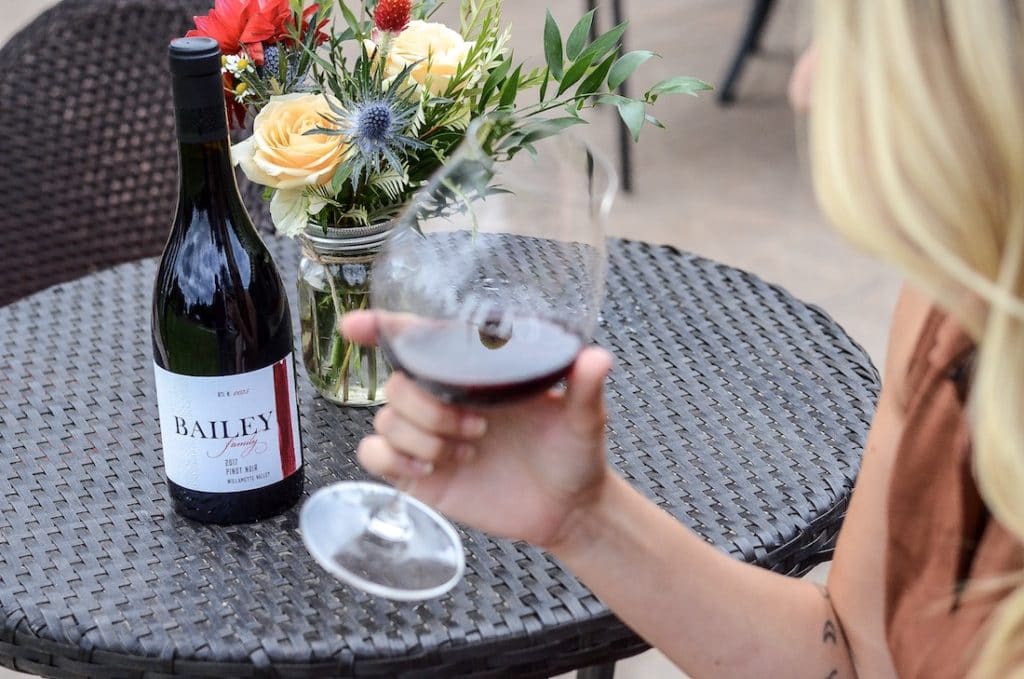 Day 2: Full Day exploring the Willamette Valley:
Wake refreshed and ready to start your first full day on your romantic getaway in Oregon wine country. We'll deliver a homemade gourmet breakfast to your suite for you to enjoy in private each day. Expect dishes like Cornish baked eggs and honey bacon or fresh baked white chocolate muffins and egg Florentine.
Book a wine tasting tour with one of our local touring companies. Taking a chauffeured tour of the Willamette Valley is one of the best ways to wine taste in style! Transportation is taken care of, and you can just sit back and sip. Most tours head to three or more surrounding wineries, often include a picnic lunch, and always drop you safely back at our Inn.
Time for one more tasting? Head to our Youngberg Hill and Bailey Family Wine tasting room to enjoy our estate-grown gems. On the right night, we'll have live music or fun activities like trivia to enjoy.
Day 3: Check out Downtown McMinnville and Nature:
After a quick breakfast, plan a stroll around the vineyards or head to the largest state park in Oregon, Silver Falls State Park, for a stunning waterfall hike.
Head back to the Inn to get ready to shop in downtown McMinnville, just 15 minutes from our Willamette Valley Bed and Breakfast. Start with a walk down the tree-lined Third Street to check out the charming boutiques, art galleries, and cafes. Grab a hearty lunch and a pint at the Golden Valley Taphouse, before heading back to the Inn for a much-needed nap!
Once you've freshened up, reserve a most romantic dinner for two at the Joel Palmer House in Dayton, Oregon. Choose from a 5-course or 10-course tasting menu featuring farm-to-table dishes with Northwest ingredients and a wine list with more than 400 bottle selections, including some rare vintages of Oregon varietals.
As a guest at our Willamette Valley Bed and Breakfast, our concierge service is always here at your disposal. Allow us to make reservations for wine tours or dinners at the best McMinnville restaurants for you. And if there's something special you'd like to add to your stay for your romantic getaway in Oregon, please let us know!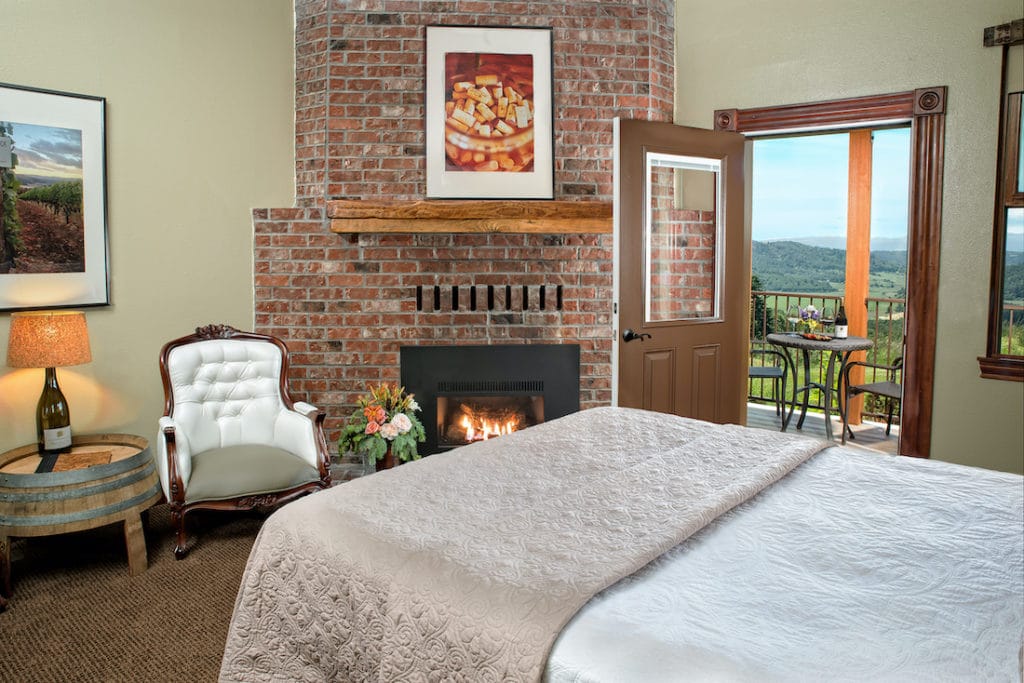 A Piece of Paradise in the Willamette Valley at our Winery and Inn
As you can see, it won't be hard to have the most romantic getaway in Oregon when you stay at our B&B. We'll take care of the details, and you both can focus on each other. Our elegant guest suites offer the perfect setting to thoroughly enjoy your time together as a couple without the stresses of everyday life, all while tasting our amazing Bailey Family Wine.
We can't wait to host you in the Willamette Valley. Join us and book your next stay in Oregon wine country today!