As the largest state park in Oregon, Silver Falls State Park is truly a magical place to explore. This is due in part to the beautiful waterfalls that pepper the 9,000 acres of the park. There are ten waterfalls in total and four of them have a natural trail that allows guests to traverse under the cascading water. The mix of wooded areas, moss covered cliffs, and sparkling waterfalls transports you to a different realm of the Northwest. Silver Falls State Park is a must-do for any trip to the Willamette Valley.
Silver Falls State Park is a bit over an hours drive from our winery and Willamette Valley Bed and Breakfast, but it's well worth the pretty scenery and time. In fact, our guests will often plan a full day out to Silver Falls State Park, packing up a picnic and a bottle of Youngberg Hill Rosé for the perfect mid-hike break. This park is known for its romance, so it's an especially sweet place to take time with your special someone and soak up the beauty of these natural water features.
Our Willamette Valley Bed and Breakfast is a lovely place to stay for a romantic getaway to wine country. The Inn sits atop a hill surrounded by our vineyards and rolling hills of the Valley. It's the perfect home base for outdoor enthusiasts—a luxury place to land after a day out in the wilderness. Upon your return from Silver Falls State Park, find a spot on our deck with a glass of our favorite in-house Pinot Noir and take in one of the most picturesque views in the Willamette Valley. Book your room today!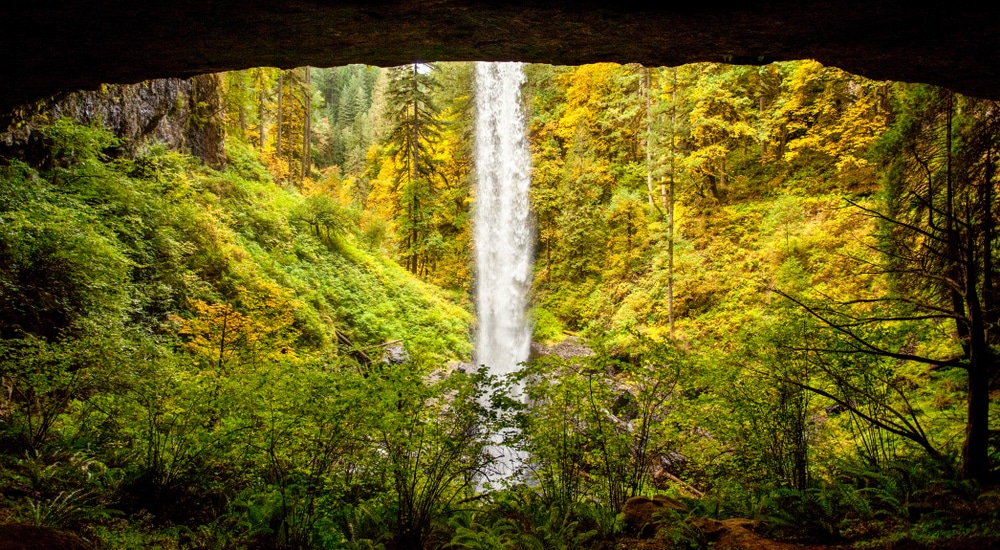 Beautiful Waterfall Hikes at Silver Falls State Park
Silver Falls State Park is known as the "crown jewel" of Oregon State Parks. It's not only the largest, but many would say the most picturesque in the Northwest. You really can spend a whole day here hiking, biking, picnicking, or swimming. The ten waterfalls are a sight to behold and you'll love the thrill of the search along the trails.
Here are five things to know about Silver Falls State Park before you visit:
First and foremost, let's talk the "Trail of Ten Falls," which is a 7.2 mile moderate hike, gaining 800 feet in elevation, and weaving through the dense and rich forest. The waterfalls appear around the bend in rocky canyons as you follow a winding creek. Four of these spectacular waterfalls can be checked out from under the cascading water, as the trail crosses beneath the streams.
The most well-known of the ten waterfalls at Silver Falls State Park is the 177-foot South Falls, one of which that can be viewed from underneath. It's the parks most visited and instagrammed waterfall and it's a perfect spot to feel the cool spray on a hot summer's day.
Aside from the nationally recognized "Trail of Ten Falls" there are more than 35 miles of back country hiking trails, for long walks, biking, and even horseback riding.
There's a beautiful day-use area at the South Falls, including a large grassy lawn for picnics, tables and covered shelters, barbecue stands, and horseshoe pits. This is a lovely space to reset and relax after your hike at Silver Falls State Park. Don't be surprised if you happen upon a wedding, as the South Falls is a popular backdrop for nuptials.
Since Silver Falls State Park is a very popular with visitors and locals alike, you'll want to head out early to avoid the crowds and for prime parking spots. Join us for an elegant breakfast at the Inn before you head out on your adventure!
On your way back to our Willamette Valley Bed and Breakfast, stop off in Salem to check out Oregon's capitol city. You could grab dinner at one of the many farm-to-table-style restaurants. We recommend Wild Pear for Northwest-Vietnamese fusion, up-scale diner fare at Ritter's Housemade Foods, or Rudy's Steakhouse for a fancy steak dinner.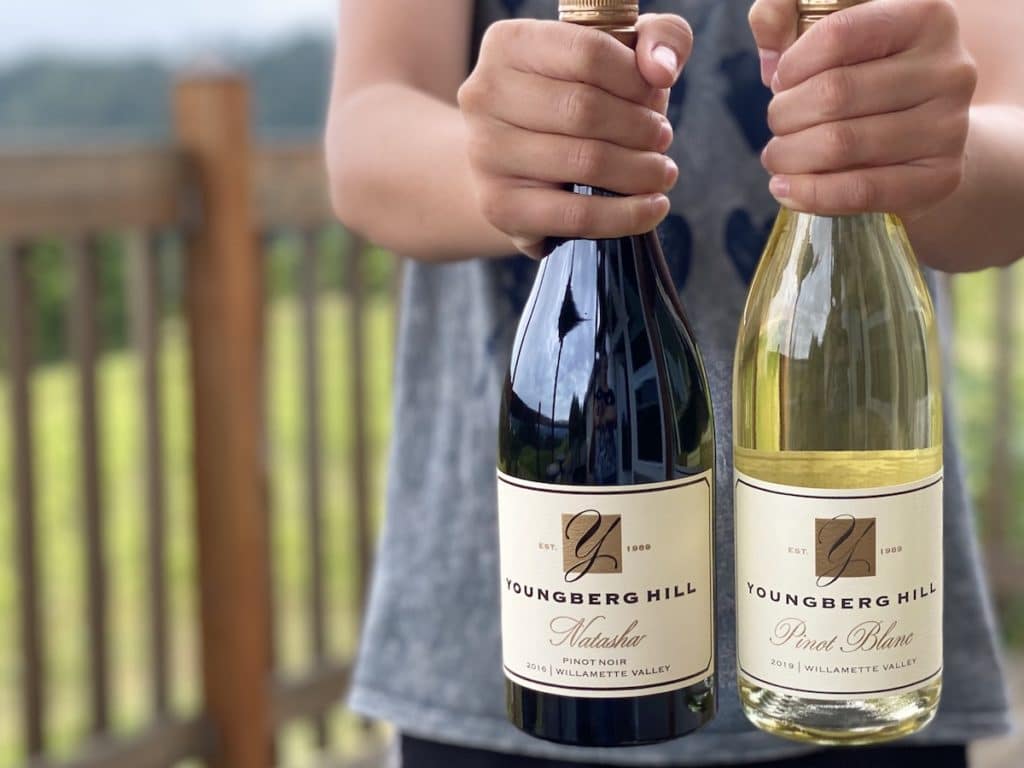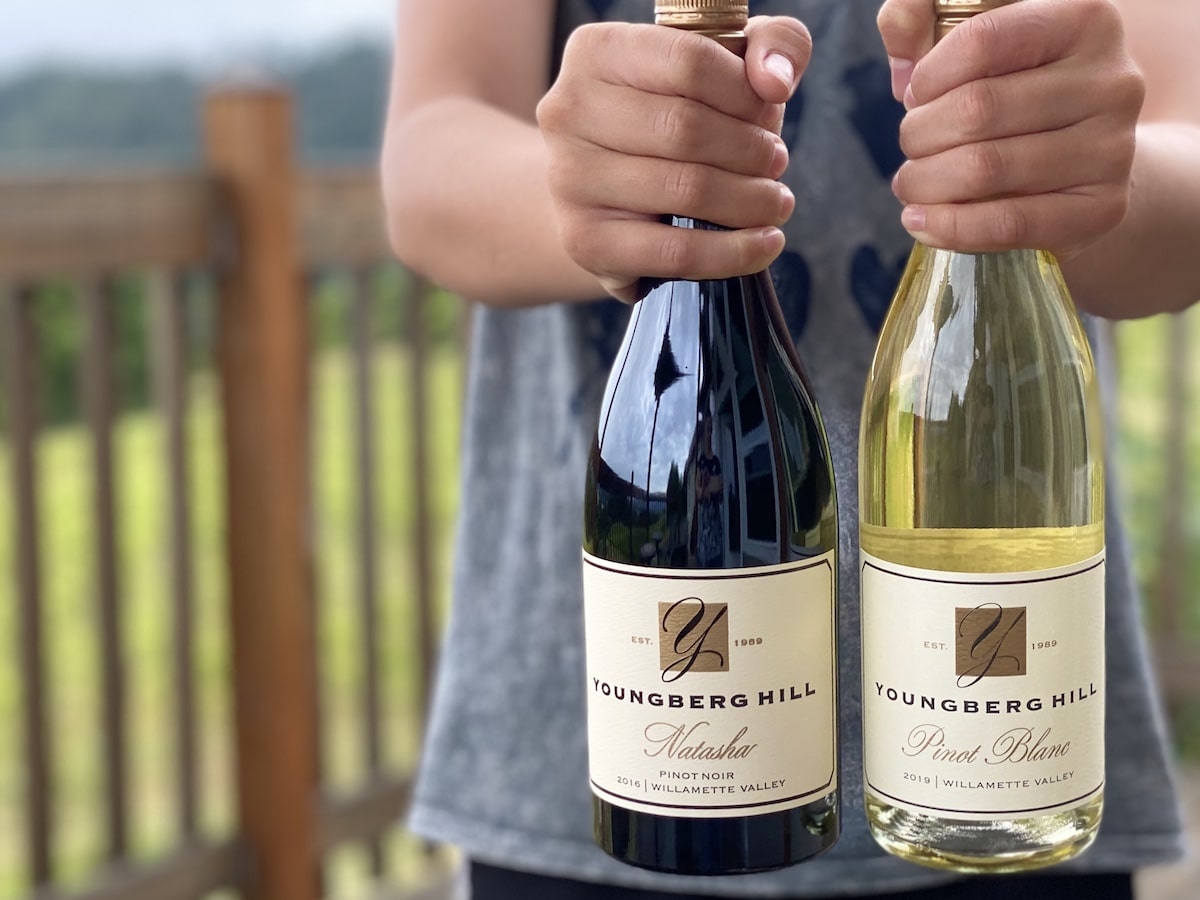 Enjoy Elegant Wine and Luxury Lodging at our McMinnville B&B
As a guest at our Willamette Valley Inn and Winery, you'll have access to some of the best Pinot Noir in all of Oregon wine country. Our detailed approach to the biodynamic wine making process shines in our Youngberg Hill wines, as well as our sister reserve label Bailey's Family Wines. There's no better to way to relax after a long waterfall hike out at Silver Falls State Park than with a glass of our Natasha Block Pinot by the fire in your private suite.
For those looking for the most romantic of stays, the newly renovated Jura Suite offers amazing panoramic views overlooking the vineyards. Inside, a luxurious king bed with seating area with gas fireplace, plus a spacious bath with air Jacuzzi tub and double shower. It's a complete mix of old world ambience with new and modern amenities. You'll be completely able to unwind and relax with your partner in the quiet-calm of our Willamette Valley Inn and Winery. Start planning your next romantic getaway and book in wine country today!