A bit off the beaten path, the Willamette Mission State Park is a beautiful gem for hiking, kayaking, and birdwatching, about 45 minutes from downtown McMinnville. The park encompasses 1,300 acres of woodland, wetlands, meadows, and farmland. Hikers and bikers will enjoy the miles of trails to explore—these are also popular paths for horseback riding. You'll also find access to the Willamette River and Mission Lake, two easily accessible waterways for kayaking and fishing.
Nature enthusiasts love this area of Oregon. While, of course, the Willamette Valley is most known for its vineyards and Pinot Noir—cultivated outdoor space like Willamette Mission State Park is just one fine example of what you can experience here. And wine tasting after a long day on the trails or kayaking on the lake is one of the ultimate rewards! You'll find the best of both worlds when you stay at our McMinnville Bed and Breakfast.
Youngberg Hill Inn and Winery is one of the best places to stay near McMinnville. Our luxurious Inn is set on a 50-acre hilltop with acres of organic vineyards and the most impressive views. We've been voted as one of Wine Spectator's favorite locations! You'll enjoy our luxury guest rooms and award-winning wines as an overnight guest, have a lovely breakfast each morning and soak up our warm and welcoming hospitality. Book your next stay today!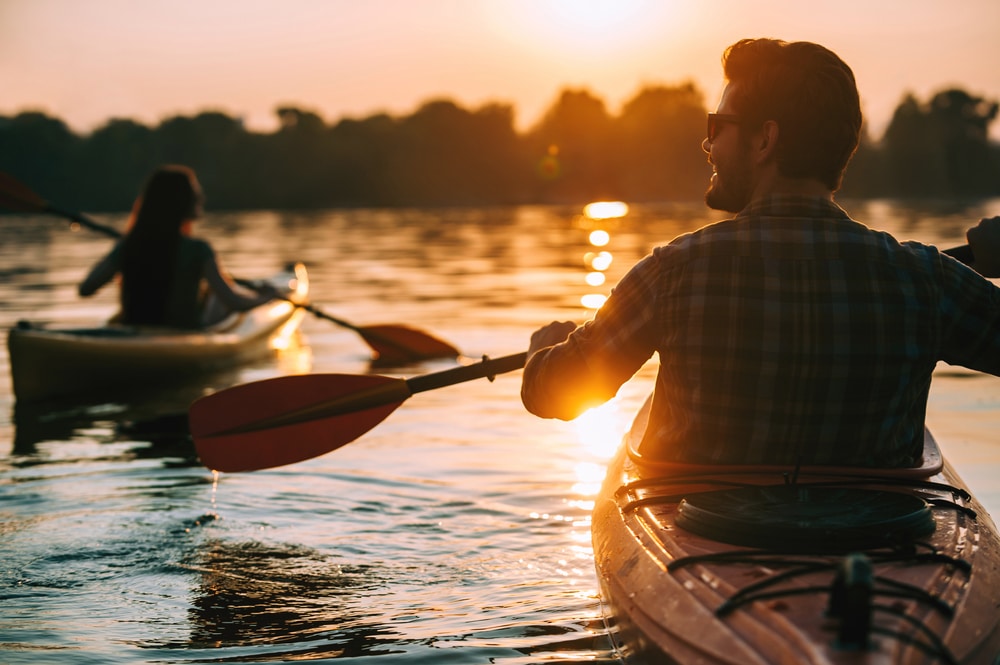 Head to the Beautiful Willamette Mission State Park
From McMinnville, the Willamette Mission State Park is a scenic drive through the valley. You might even feel like stopping off at a winery or two along the way back—we suggest Methven Family Vineyards or Brooks Wine for a tasting and a tour.
Here are five things to do at Willamette Mission State Park near McMinnville:
Parks Trails: The Willamette Vision Educational Trail is two and a half miles and begins at the wildflower garden area. This trail takes you through lush forests and wildlife habitats. A one-mile Historic Mission Trail also leads hikers to a viewpoint of the ghost structure of the original Willamette Mission, which was destroyed in a flood in 1861. There's a four-mile trail along the Willamette River for a leisurely bike ride.
Willamette Mission State Park's Waterways: Two easy trails lead from the filbert grove down to the Willamette River, where kayakers can easily launch their crafts. There are two lakes here, Mission and Goose. Mission Lake is much more accessible for fishing and boating, but for those who are up for the challenge, Goose Lake is accessed by an unmaintained trail and is known for its bluegill, crappie, carp, and largemouth bass. Don't miss the largest black cottonwood in the nation along the shores of Mission Lake—a 270-year-old tree that stands more than 155 feet tall.
Picnic Areas: You'll find three covered picnic areas at Willamette Mission State Park with rolling lawns, horseshoe pits, and volleyball nets. We'd be happy to pack up one of our fantastic charcuterie plates to take with you!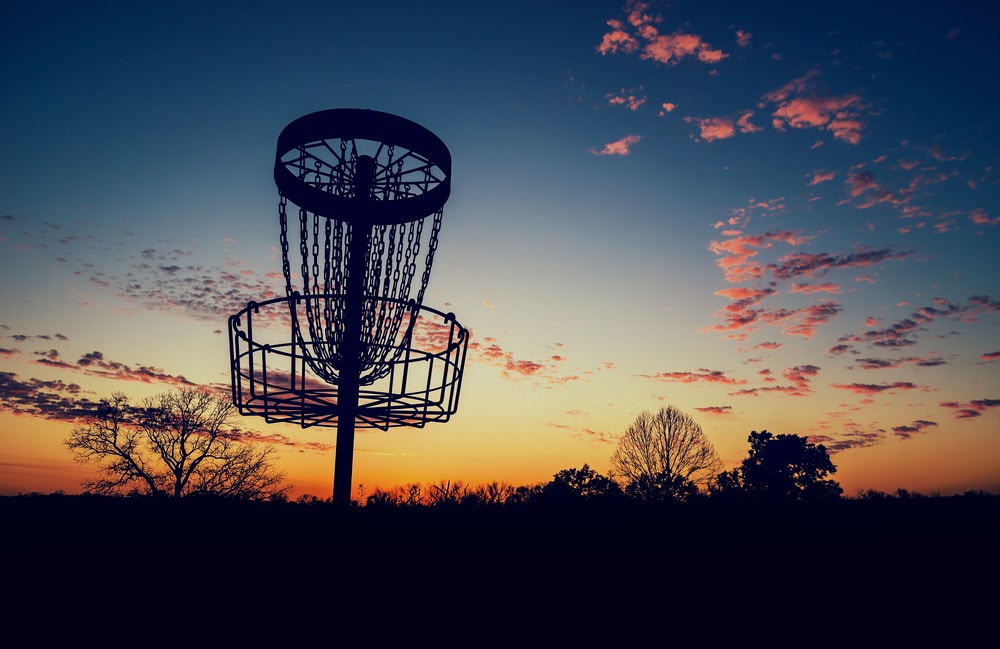 Play a round of Disc Golf: The Wheatland Disc Golf Course features 18-holes weaving through an old hazelnut groove. The landscape is primarily flat with open fairways, but the filbert trees create interesting obstacles and perfect shade on a sunny day.
Birdwatching: With the mix of river and lake shorelines, open meadows, and shady woodlands and orchards, you couldn't wish for better habitat for birdwatching. Keep an eye out for warblers, bluebirds, woodpeckers, raptors, and several species of waterfowl at this Oregon State Park.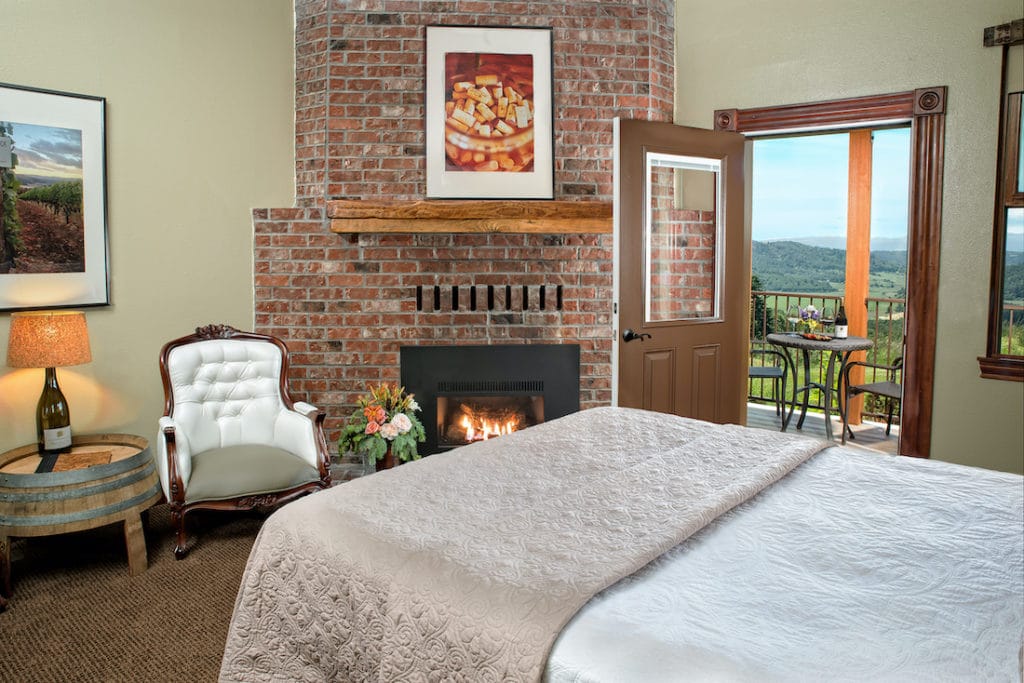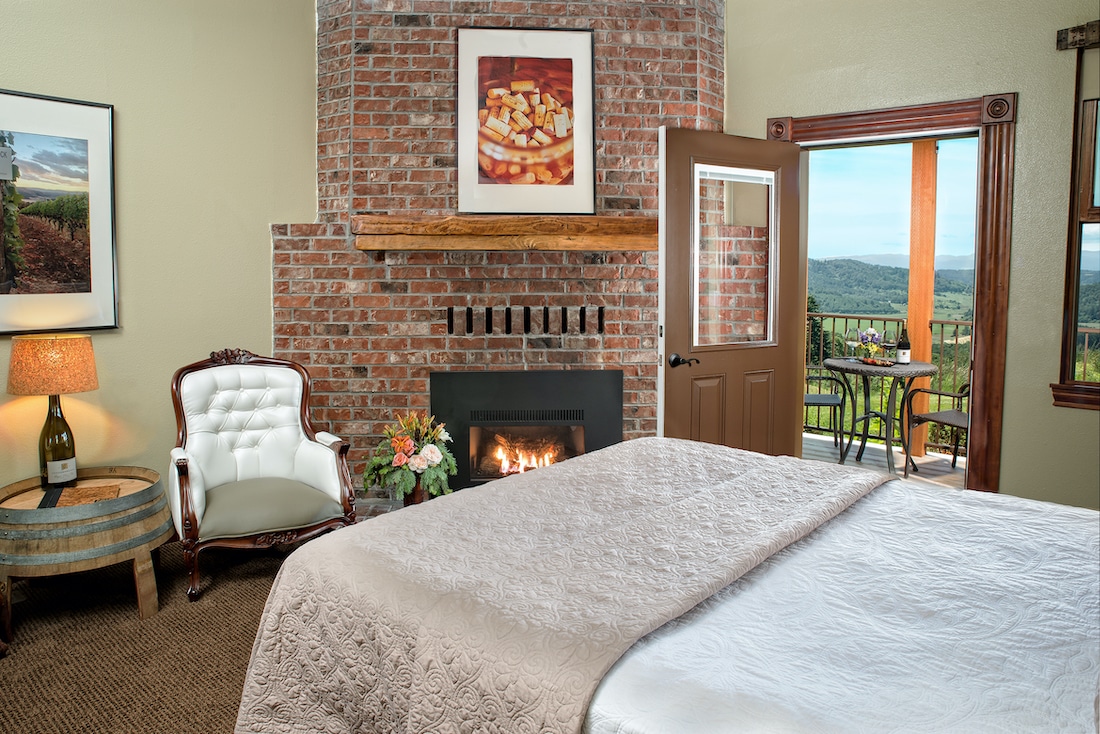 Romantic Lodging in Willamette Valley Wine Country
The Gamay Suite (pictured above) is a perfect space for your next romantic getaway. Not only will you have a private deck area with seating to take in the exquisite sweeping views of the vineyard and coastal range, but this corner unit is also full of light from extra windows. Spend your evenings sipping Youngberg Hill wine by the cozy gas fireplace and enjoy a steamy shower in the large, double unit. This room exudes peace and quiet; it's the ideal place to reconnect with your special someone.
Join us in Willamette Valley for your next romantic getaway, and book your room today!