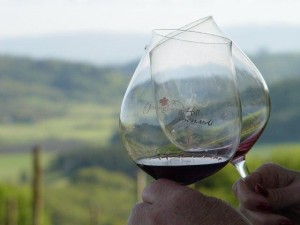 Wine drinkers often drink wine as a celebration.  I like to think of it as a holistic celebration of life.  First comes the growing of the grapes.  This process requires us to work in concert with nature (and we choose to do this organically and holistically) for approximately nine months, to produce the best possible fruit.  During that process, there are dozens of workers using their eyes, hands, minds, and feet to work the vines and nurture the soil.  We must dance with the weather and sing to the sun.  And thus we celebrate the harvest of the fruit we have toiled to grow all summer long.
In the winery, it is a concert of activity mostly performed by the fruit itself; fermenting, fermenting again, and then growing and aging in barrel.  And there are many of us performing different activities to ensure a safe environment for the grapes to do what they do best.  So it is a cadence and movement that are performed in the winery to evolve the wine into something new.  At the time of bottling, we again celebrate the completion of another stage in the evolution of the wine.
With the wine in bottle, there is a dance and song that many individuals perform as the wine is marketed, transported, and sold throughout the world to the end consumer.  Everything that goes into grape growing and winemaking and wine selling, I do not view as many individual businesses just doing their jobs.  We are all working in concert, in the celebration of life, as family.