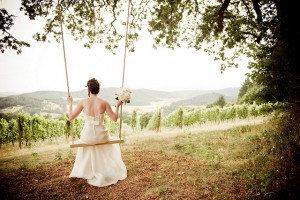 A wine country wedding is always gorgeous. You have wonderful wine, fabulous scenery, and those you love. However, it can be tough to decide what design ideas to incorporate into your special day. Here are twenty ideas to help you make your Oregon wine country wedding uniquely "you."
1. Celebrate nature. Use your natural surroundings by making them your inspiration for your wedding theme and decorations.
2. Include a nod to wine country in your invitations. Use paper with a handmade feel, include grape vines as a part of the invitation design, or incorporate a picture of the winery.
3. Use barrels and corks as props. Two things every vineyard has a lot of are wine barrels and wine corks. Use this to your advantage by using corks as place holders or including them in your centerpiece. Wine barrels can hold signs, display flowers or be utilized as a cake stand.
4. Make wine part of the ceremony. Both of you are passionate about wine. You can bring that passion into the ceremony by using wine to celebrate your love.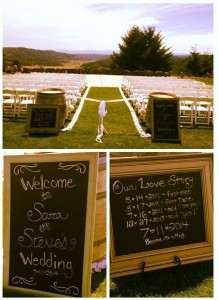 5. Go vintage. Often an outdoor wine country ceremony feels vintage or rustic. Go with this feel by utilizing found or vintage items. A found window can be written on and used as a sign. Vintage wood fruit crates can be flipped and make a great cake stand. A vintage box may be used to receive gift cards and notes of congratulations from guests.
6. Decorate with wine bottles. Wine bottles can hold anything from candles to flowers to wine. Utilize wine bottles to help you stay on-theme.
7. Save special moments. Save the bottle from the first bottle of wine you and your partner enjoyed. You can decorate it later or use it as a display at home.
8. Incorporate local flowers. Your wedding bouquet can be made even more beautiful by using flowers local to the winery. You aren't stuck with local blooms, but try to use a few as accents.
9. Use a bottle as your guest book. Allow guests to sign a special bottle just for your wedding.
10. Set aside special bottles for your wedding party. While you may not be able to afford a bottle of wine for each guest, give a bottle of your favorite vintage from the winery to your wedding party. They will think of you as they savor their special wine.
11. Look at the local area for guest gift inspiration. While wine may not work as the gift for your guests, take a look at local goodies for gift inspiration. There may be anything from wine-inspired jam to personalized wine stoppers available.
12. Go for a formal feel. While outdoor weddings will never be a completely formal event, think about giving your wedding a classic feel. Perhaps the groom could wear a tuxedo or the wedding colors can reflect more classic jewel tones. These colors can be set off beautifully by the natural surroundings.
13. Consider serving local and seasonal foods. Wine country is often filled with locally grown foods like mushrooms, asparagus, or strawberries. Take a look at what is available locally before deciding upon your menu. By serving fresh, local foods you can buck the tradition of bad wedding food.
14. Instead of serving a full meal, go for a wine and cheese reception. If you are having an afternoon or late morning wedding, skip the full meal and take advantage of your winery location. Serve local wine along with local cheeses. Your winery can likely give you pairing ideas.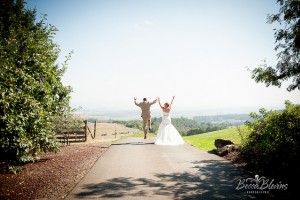 15. Make sure your photographer takes advantage of the location. Wine country photos are always gorgeous. Make sure your photographer gets all of the shots you would like for your special day.
16. Use wine tones in your color palette. Your wedding party doesn't have to wear wine colored dresses, but you can use wine tones on napkins, have flowers with wine tones, and even use wine-colored ink in your wedding invitations.
17. Accent your wedding with wine boxes filled with flowers. The boxes used to carry bottles of wine can be repurposed to hold anything, including lovely bouquets.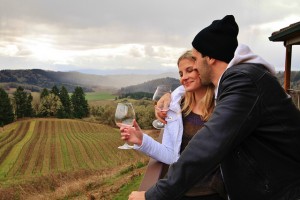 18. Sign an engraved large format wine bottle. Not only can you drink it on your Anniversary, but you can make it into a lamp or vase to remind you of your special day.
19. Stay in wine country for your wedding night. After your wedding, stay in a local Inn or Bed and Breakfast so you can enjoy a stress-free day in wine country on the day after your wedding day. We happen to know that our Inn is fantastic for any Oregon wine country wedding night!
20. Don't lose your personality and style. No matter where your wedding is, make sure you include things that reflect your sense of style.
Your wedding is a display of your love and relationship. Try to make it as unique as your love for one another!