When tr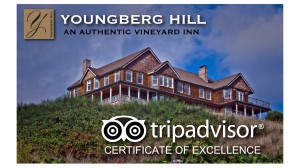 aveling through the Willamette Valley in Oregon, a bed & breakfast might not be your first lodging choice, but here are four reasons why it should be number one.
Let's start at the beginning: breakfast. Nothing starts a day better than a delicious homemade breakfast, and that is exactly what you'll get at a bed & breakfast.  Wake up to the wafting smells of freshly brewed coffee and breakfast being prepared by hand and with love. The breakfast you'll enjoy is unique and different from that which you might normally prepare at home or have at a hotel.  Even if you don't normally start your day with a full breakfast, while in the Willamette Valley, you may want to enjoy the morning meal.  After all, it is important to wake up your taste buds, and fill your stomach, prior to a day of wine tasting.  It will feel like home, but taste like a restaurant.
The second reason to stay at a bed and breakfast is for the serene experience. Unplug, and detox from all the hustle and bustle of your everyday life in a beautiful Willamette Valley bed and breakfast.  Located in rural locations, these establishments provide spectacular views, quiet and serene environments, limited light pollution, easy access to nature, and the relaxation of not having to do anything but drink wine.
Reason number three on why you should stay at a bed & breakfast is the people.  Bed and breakfasts are congregation areas for people that are passionate about good wine, good food, and enjoying both while relaxing and taking in the beautiful surroundings.  You'll have unique opportunities to meet new people from all over the world. It is always amazing how many connections are made, new friendships established, and storie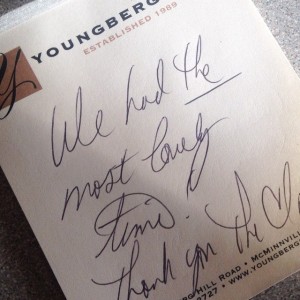 s shared by people from different places and lives. At Youngberg Hill, you have multiple opportunities to meet with your fellow travelers not only at breakfast, but also during the exclusive wine tasting reception hour; just another opportunity to taste great pinot noirs of the Willamette Valley!
The final reason you need to stay at a bed & breakfast is the service.  Guests have exclusive access to some of the most knowledgeable people around: the owners and innkeepers.  These people are your built-in concierge service, there to help you navigate the innumerable wineries, dozens of restaurants for lunch and dinner, and other activities during your time in the valley. Knowing the local scene, logistics of getting around in the valley, realistic travel times, and where to have the best experiences are all worth their weight in gold when it comes to making your Willamette Valley experience remarkable.  They are there to make your trip as effortless and enjoyable as possible.
So the next time you think about visiting the Willamette Valley in Oregon, treat yourself and stay at a bed and breakfast.