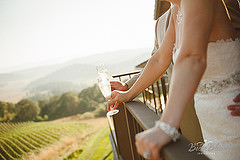 Let's face it, destination weddings can be tough to plan. You aren't at the location nor are you  interviewing people and discussing options in person. However, these barriers can be overcome. You can plan a really wonderful and gorgeous wedding out here in the Willamette Valley.
Tip #1
Come visit before you have paid out anything that is non-refundable. If you have never been to Oregon wine country or the Willamette Valley, it would be smart to pay us a visit before you give any wedding venue anything non-refundable. This will allow you to understand a few things:
How far the destination is from your hotel and the hotel in which your guests are staying.
What you will need when it comes to decoration and theme.
Which vendors might be your best options when it comes to cake, food, flowers, and more.
The logistics for transporting anything you are bringing from home.
Additionally, coming out for a visit will allow you and your significant other to feel assured in your choice of destination location.

Tip #2
Expand your view on hiring help. Because you are traveling to your wedding location, you have additional options when it comes to hiring professionals to help you. There are local options, which your destination location will likely recommend. There are also professionals like wedding planners and photographers who may be able to travel with you or travel to your location for you. It may even be a fun idea to hire a professional photographer to document not just your wedding, but your journey to the wedding location.
Tip #3
Coordinate with your wedding location. Long-distance wedding planning requires about the same amount of coordination in advance as a local wedding. However, this coordination is usually less hands-on than a wedding closer to home. To solve this problem, you can often get your destination wedding venue and long-distance vendors to complete the smaller tasks that make up a wedding.
For example, you should discuss setting up the wedding venue, your final guest numbers, seating plans, and placement of table cards with your wedding location. Additionally, get your florist, baker, photographer, caterer, DJ, and other vendors on the same page by giving them all the location and your planner's information.
Tip #4
Research local wedding law. That sounds daunting, but it really isn't. All you need to know is what it will take for you to get a marriage license in the state in which you are being wed. You can likely find out with a quick Google search.
Tip #5
Plan in advance so your wedding is stress free. Get all the heavy lifting planned out beforehand. That way, on your big day, all you and your partner have to do is meet at the top of the aisle and say "I Do."
Planning a destination wedding? Share your tips and experiences with us!