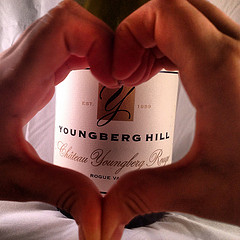 This Saturday is our wine pick up party for wine club members visiting us here in the Willamette Valley. Members who wish to pick up their wine can swing by anytime between 10 AM and 4 PM on April 11th to receive their spring shipment… and the traditional fresh batch of baklava.
The wine club here at Youngberg Hill is a close knit group. We think there are many reasons for this. Here are just a few:
1. Because we are both a vineyard and winery, we can offer more when it comes to wine club membership. For example, our standard club membership provides wine as well as savings on additional wine purchased.
However, membership also provides access to private events, library wines, limited releases and exclusive bottlings. Pinot Club membership not only gives the member additional bottles of wine, but provides them with complimentary attendance for two at a select winemaker dinner as well as a vineyard/winery tour for four.
2. We both grow and create the wine right here at Youngberg Hill – and we have a large number of events and dinners every year. This means our members get exclusive access to activities whenever they are visiting the Willamette Valley.
3. Exclusivity allows our members to meet each other and become friends with all of us here at Youngberg Hill. So, our wine club members not only receive the wine they love all year round, they have access to the winemakers, special events, and limited-batch wine. All of this creates a close-knit group of wine lovers.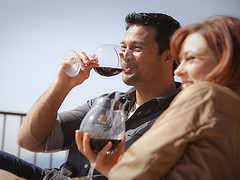 This is what we feel a wine club should be. There are larger, more corporate-type wine clubs out there. These provide members with wine every few months along with a newsletter or discounts. This hands-off approach may work for some, but for those who care about the terroir and want to delve into the winemaking process, the corporate approach leaves them out in the cold.
We take the personal approach to all activities here at Youngberg Hill. From growing the grapes to hosting winemaker dinners. From music on the deck in summertime to the annual grapevine wreath making party in the winter. Each activity allows us to deepen our connection with our community, the land around us, and the wine we create.
What is your opinion of wine clubs? We would love to hear from you!