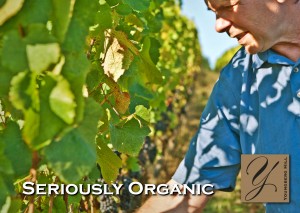 Winemaker, Wayne, and his 12-year-old daughter, Natasha, each wrote about their own experiences as farmers and winemakers. Below is Wayne's version…
When we began this journey of growing grapes at Youngberg Hill in Oregon, we did so with the vision of keeping the vineyard in the family for decades.
In fact, when discussing our move to organic farming practices and our evolution to  biodynamic farming, one of the reasons we did so was for the earth and the vines to be healthier 50 years from now than they are today. As in many endeavors, our goal is for our daughters to some day desire to be a part of the business.
Some of our fondest memories as kids were growing up on the farm, and we hope our girls will develop those same memories.  Growing up on the farm is a great way to grow up, to be close to nature, learn from nature, and to explore. Our girls get a lot of chances to do that every day.
We spend time with the girls in the vineyard to educate them on what is going on in the vineyard. At each stage of the vines growth during the summer, we walk the vineyard and discuss what is going on. As the fruit is ripening, we take the girls out to measure sugar levels and Jordan and Natasha have become very good at using the spectometer to do this.
When harvest time arrives, and we choose a date to harvest some fruit, we keep the girls out of school to help. They get clippers and a bucket to pick fruit along side the other workers.
Once the fruit is picked and we take it to the winery; the girls get on the sorting table and clean fruit with everyone else. They get a good appreciation for what needs to be done to get the best fruit to make the best wine.
During fermentation and barreling, they also spend time in the winery learning the process and the evolution that the wine goes through.
 What are your hopes for your children? How do you connect with them? What challenges do you face in instilling them with the same types of experiences you had? I'd love to hear your thoughts.