Adding a visit to the nearby art galleries and museums in Oregon to your itinerary is a lovely way to support local artists and learn more about this area during your stay. You'll find the majority of these options in downtown McMinnville. The Evergreen Aviation and Space Museum is one of the most well-known destinations for museum buffs, as it's one of the largest museums in Oregon dedicated to preserving important aviation history and aircraft.
One of the biggest draws to downtown McMinnville is the historic Third Street—a beautiful tree-lined drag with charming shops, art galleries, tasting rooms, cozy cafes, and restaurants. As a guest at our Willamette Valley Bed and Breakfast, you'll soak up our luxurious accommodations and be just about ten minutes from McMinnville's action and the nearby attractions. Our Inn boasts nine artfully appointed guest rooms, beautiful en suite bathrooms, and a long list of complimentary amenities.
Before planning your itinerary filled with the best art galleries and museums in Oregon, get your lodging on the books today!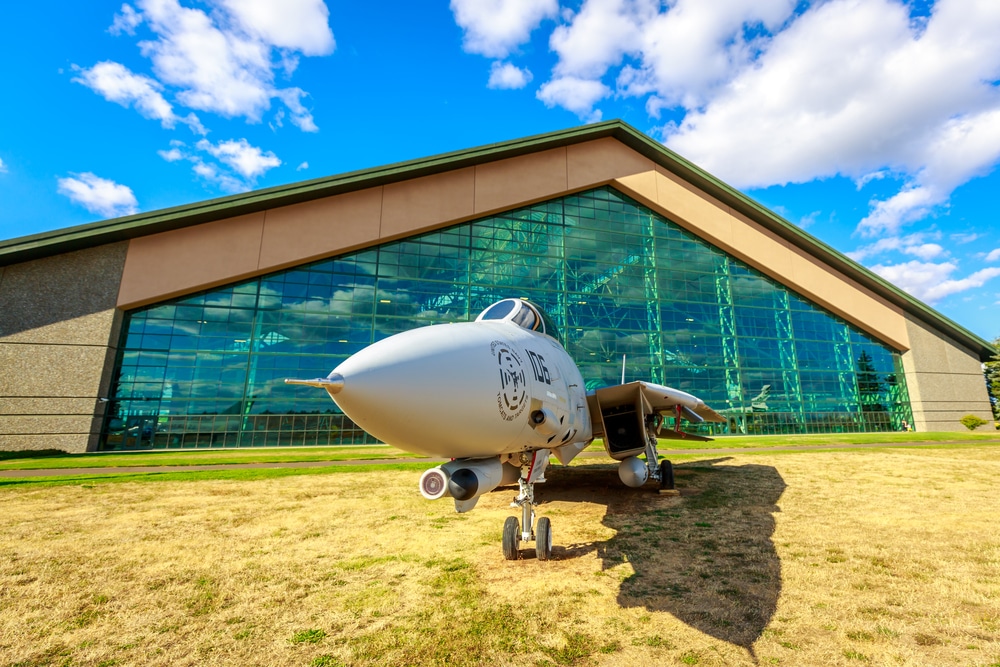 Head to these Galleries and Museums in Oregon
Art galleries and museums in Oregon are some of the best places to get a feel for our local community of artists and the area's history. You'll love spending a quiet morning at the Inn, joining us for a delicious breakfast, and then heading out to explore the nearby attractions.
Here are six art galleries and museums in Oregon to consider visiting during your stay:
Evergreen Aviation & Space Museum: This museum is dedicated to showcasing the history of flight with a vast selection of exhibits and interactive displays. Meandering through the airy hanger-esque space is the perfect way to spend an afternoon navigating the large aircraft—some parked on the museum floor and others suspended from the ceiling.
The Gallery at Ten Oaks: This local art gallery covers two floors of a 1908 Craftsman-style house. The gallery represents about 35 artists whose work ranges from oil, acrylic, watercolor, mixed media, digital media, ceramics, glass, sculpture, and photography.
Mason-Rivera Sculpture Garden & Art Gallery: This three-and-a-half-acre sculpture garden and outdoor art gallery is home to works by Cristi Mason-Rivera and Joe Rivera. Take a peaceful stroll and ponder the abstract cement and metal installations, all with a pretty garden backdrop.
Currents Gallery: Head to the historical downtown district in McMinnville to this art gallery showcasing fine arts and crafts from more than 70 local artists.
The Erin Hanson Gallery: Celebrate the works of the famed Oregon-based oil painter Erin Hanson. She's known for her vibrant colors, bold compositions, and modern and classic impressionism.
Yamhill Valley Heritage Center: The center complex features over 40,000 square feet of displays showcasing the area's agricultural history, including a collection of more than 100 antique tractors, horse-drawn equipment, and autos from the early 1900s. It's one of the best museums in Oregon for those interested in how farming evolved in the Willamette Valley.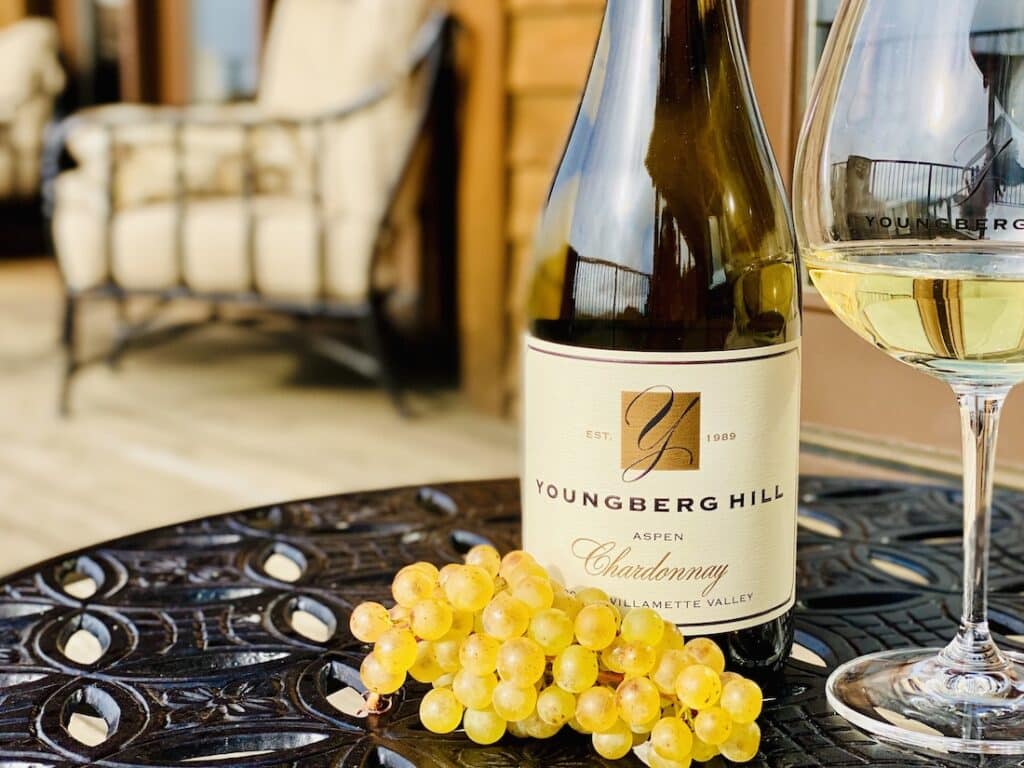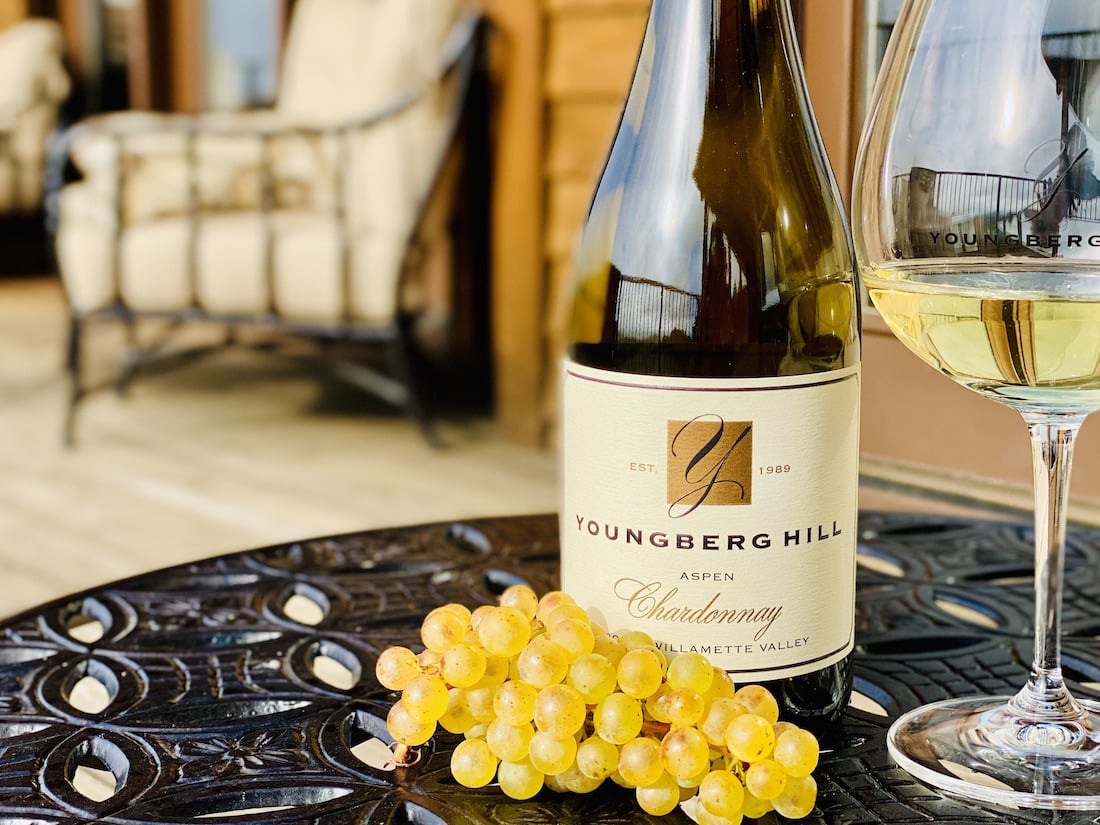 Join us for Wine Tasting at Youngberg Hill
After a visit to the nearby art galleries and museums in Oregon, the best thing to do is a wine tasting back at our on-site tasting room. You'll enjoy a flight of our Youngberg Hill wines (complimentary for overnight guests at the Inn) or select a discounted Bailey Family wine tasting—our reserve label. Choose from casual experiences to more in-depth seated options paired with local cheeses and bites and led by one of our kind and knowledgeable wine ambassadors. We can't wait to host you at the tasting room!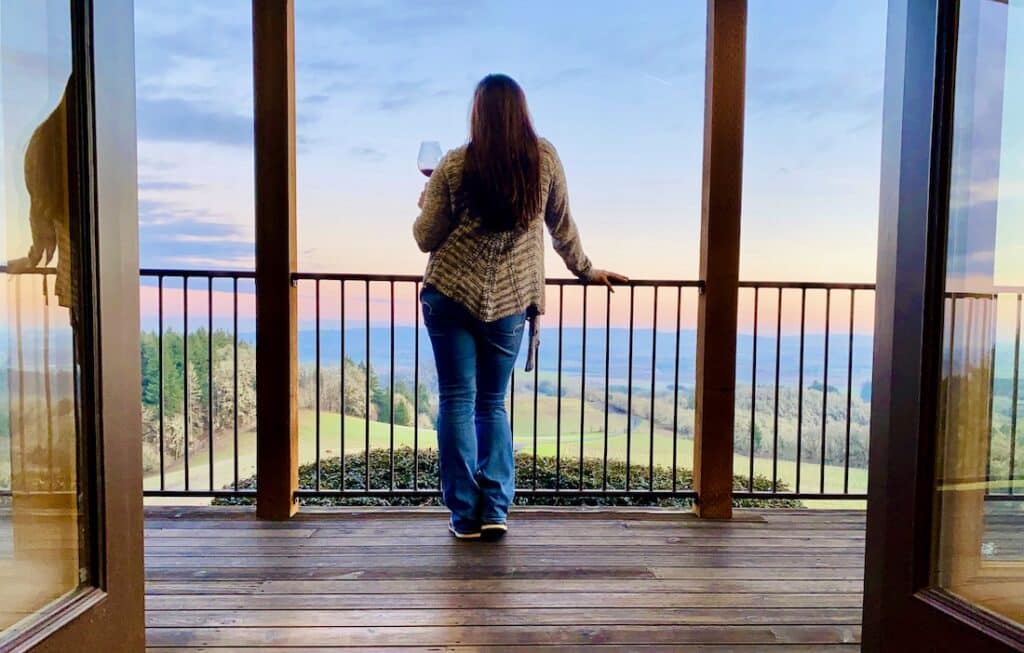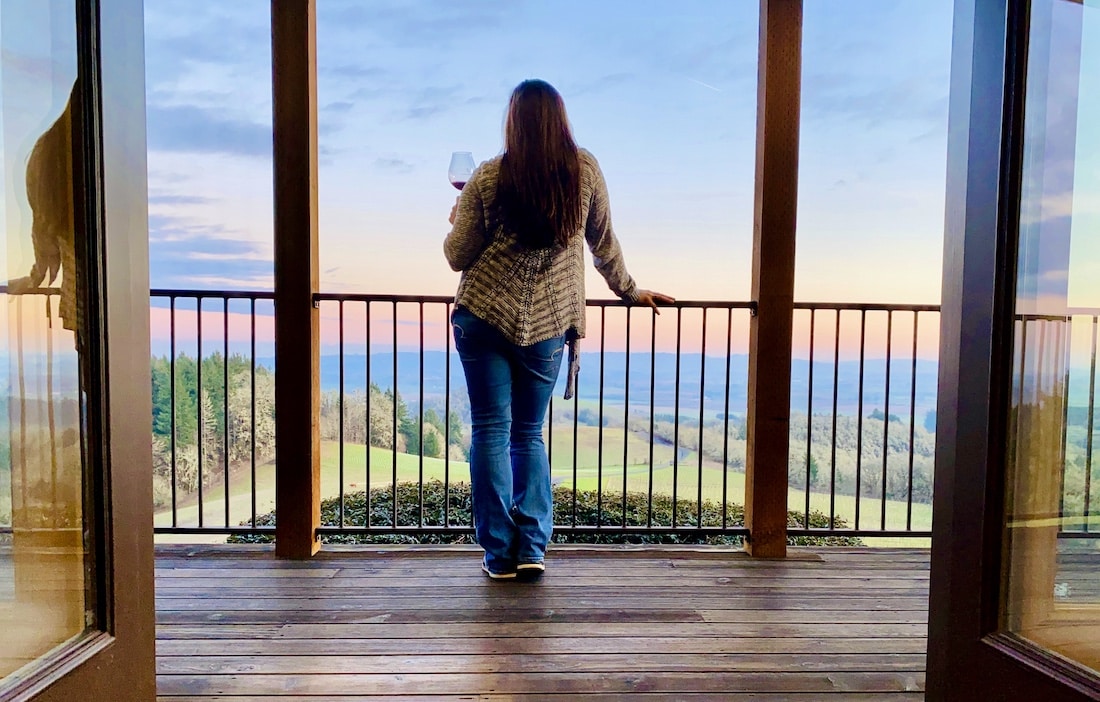 Imagine Waking up to this View!
One of the most memorable elements of any stay at Youngberg Hill Inn and Winery is the spectacular view. This breathtaking vista is the first thing you'll notice as you drive up our hill, surrounded by acres of vineyards. It really does whisk you away and create a magical atmosphere for your romantic getaway, anniversary trip, or special vacation for two. It's hands-down one of the most beautiful views in the Willamette Valley—if not the whole state of Oregon! Choice rooms offer private balconies, but you'll have access to our outdoor verandas off the Inn's common areas.
We can't wait to host you in the Willamette Valley; book your next stay today!