While one could say the entirety of the Willamette Valley has a beautiful landscape, there are a few Oregon scenic drives that offer exceptional views of the vibrant vineyards, majestic mountains, lush forests, and rushing waterfalls that all make the Northwest such a magical destination. Thankfully, many of the best places to visit in the Willamette Valley will include this gorgeous scenery along the way—either by car or bike, be ready to take in the natural splendor!
For those lucky enough to have discovered our Willamette Valley Bed and Breakfast, you'll take in one of the most awe-inspiring views from your guest room, balconies, and our Youngberg Hill tasting room. It's truly a sight to behold and best to be seen with your own eyes. Our luxurious Inn sits atop a hill overlooking sweeping vistas of vineyards, fields, and mountains—on a clear day; you'll even see Mount Hood and Mount Jefferson off in the distance.
Plan your next getaway to the Willamette Valley and book your room today!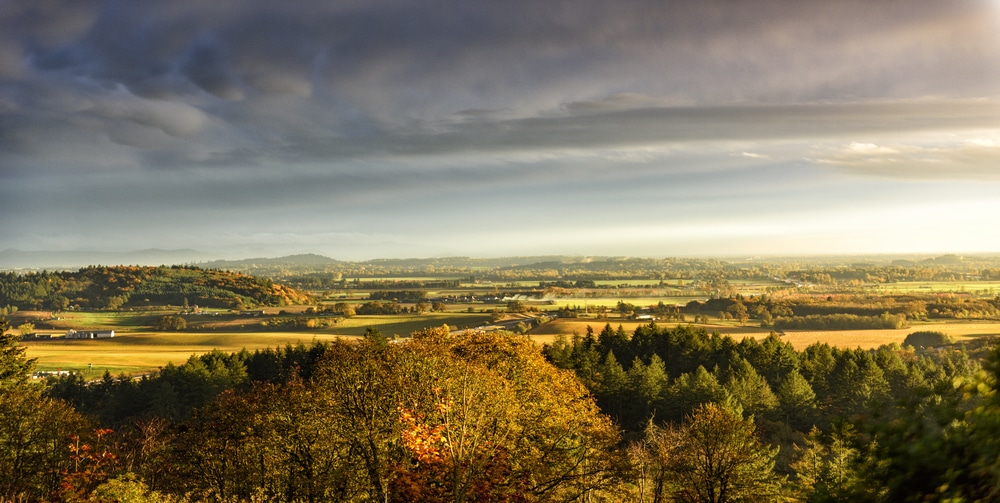 The Best Oregon Scenic Drives to Take in the Valley
The Willamette Valley is home to more than 700 wineries with an expansive 27,000 acres of planted vineyards—with the majority dedicated to Pinot Noir. Our Bed and Breakfast is located just fifteen minutes from McMinnville, just over an hour from downtown Portland, 40 minutes from Salem, an hour to the Coast (one of the most beautiful Oregon scenic drives), and four hours from Seattle.
After you've settled into your guest suite, here are a few Oregon scenic drives with lovely destinations to explore during your stay:
Downtown McMinnville: There's much to explore in the downtown area of McMinnville. The historic Third Street to home to charming shops, tasting rooms, and award-winning restaurants. Just a quick 15-minutes from our Inn, this is one of the Oregon scenic drives that will offer fantastic views of the rolling hills covered in vines.
Silver Falls State Park: A well-known destination for locals and visitors alike, this state park is a must for nature lovers and waterfall enthusiasts. The 9,000 picturesque acres of Silver Falls include 24 miles of hiking trails, with the main trail that leads you by and (under a couple) ten unique waterfalls. From our Inn, the route will guide you through the vineyards of the Valley, the state Capital Salem, and fields of farmlands.
Lincoln City on the Coast: If you've never been to the Coast in our beautiful state, you've been missing out! The interesting rock formations, white sand, and dark blue water is a landscape like no other. It's also one of the most charming Oregon scenic drives from our Inn. You'll watch the environment change from lush green forests to rugged coastal tree lines and vast open water.
Wine Tasting Tours: One of the best ways to enjoy the prettiest Oregon scenic drives is while someone else has the wheel—and even better is stopping off for wine tastings along the way. Better yet, these local touring companies pick you up and drop you off at our Inn!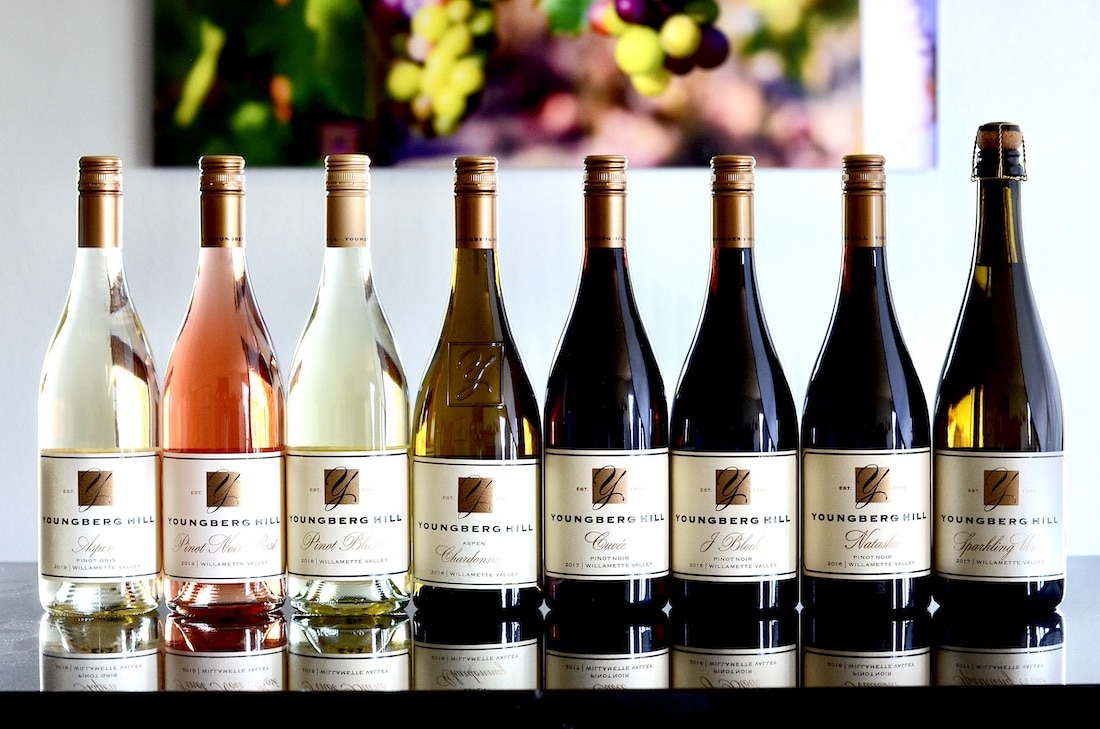 A Tasting Room with a View:
Aside from our guests fully indulging in our fantastic lineup of wines from Youngberg Hill and our reserve label Bailey Family Wines, the on-site tasting room is the best place to enjoy the spectacular view of the vineyards and the Valley beyond. Our overnight guests receive complimentary tastings of the Youngberg Hill flight and a generous discount on the Bailey Family offerings. We often host fun events, including live music and trivia nights at the tasting room, in which our guests often love to participate. There's something extraordinary about a getaway to the Willamette Valley—especially when choosing our Bed and Breakfast in Oregon Wine Country as your home base.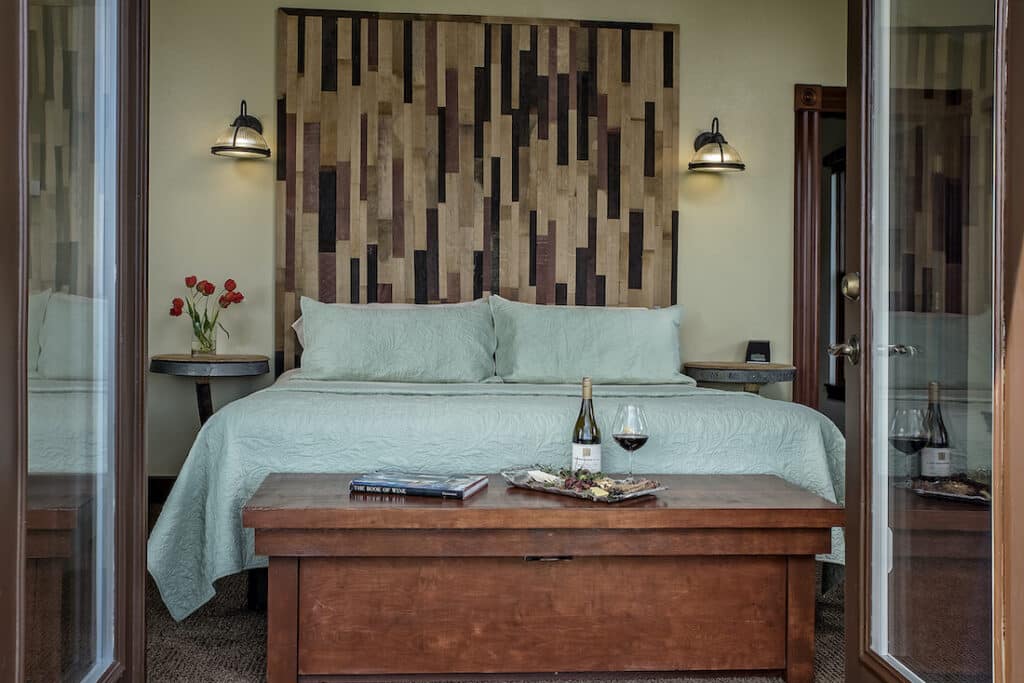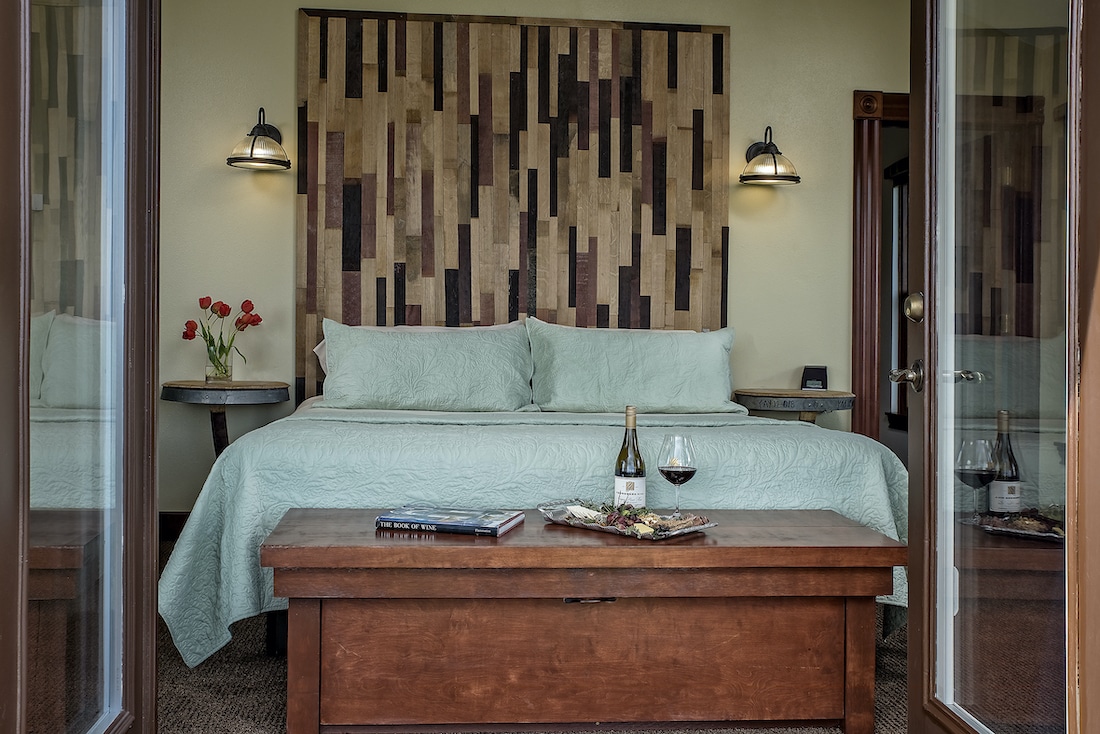 Elegant Lodging in the Willamette Valley
Upon return from one of your Oregon scenic drives near our Willamette Valley Bed and Breakfast, you'll be welcomed by the warmest hospitality and cozy and comfortable guest room accommodations. Settle in by the fire—especially pleasant during the fall and winter months and made even better with a glass of our locally grown Pinot Noir. In your suite, you'll love our big, comfy beds, seating nooks angled to take in the best views, and spa-like baths for long soaks and steam showers. Start planning your next getaway to the Willamette Valley; book your stay today!