While, more often than not, wine tasting is the focus of a getaway to Willamette Valley, you'll find some particularly stunning waterfalls in Oregon well worth your time. Some of the most beautiful waterfalls in Oregon are found in Silver Falls State Park, located on the edge of the Mount Hood National Forest. This part of the state is quintessential northwest, with lush green forests, moss-covered rocky gorges, and natural water features of flowing rivers and babbling creeks into cascading and impressive falls.
There's something so magical about a quiet hike through the towering Doulas Fir forests on the hunt for these hidden waterfalls. It's a welcome addition to any getaway to Oregon—especially when you stay at our Willamette Valley Bed and Breakfast near McMinnville. Our family has been operating our luxury Inn and winery for more than three decades, where you'll experience impeccable hospitality, romantic guest suites and rooms, and a lovely breakfast service each morning of your stay. Our location is not only ideal for wine tasting in the valley, but also for those hoping to find the best hikes in the Northwest.
Start planning your next getaway to the Willamette Valley and reserve your room today!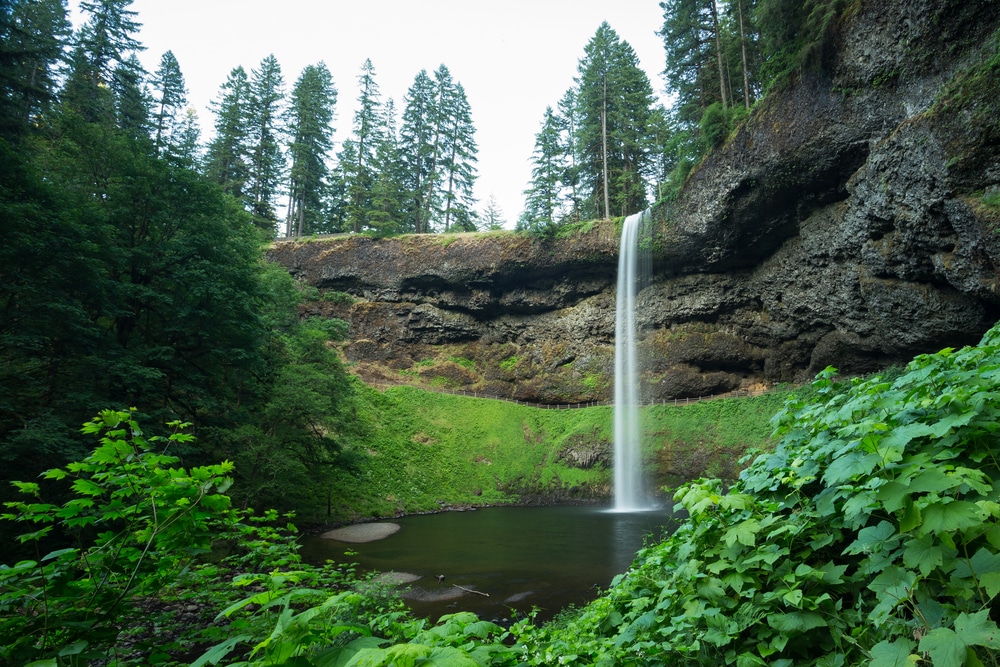 The Best Waterfalls in Oregon at Silver Falls State Park
As the largest state park in Oregon, Silver Falls State Park is a well-known destination for locals and visitors alike, especially for nature lovers and waterfall enthusiasts. The 9,000 picturesque acres of Silver Falls include 24 miles of hiking trails, with one trail in particular that takes you by ten (and even under a few) different waterfalls. The 8.7-mile Canyon Trail, also known as "The Trail of Ten Falls," weaves along the banks of Silver Creek, which meanders through the lush forests. Four of these waterfalls in Oregon offer natural amphitheater-like formations, creating a pathway behind the falls. There's no better way to add some romance to your time in the woods than with a kiss behind these cascading waters.
Another Oregon waterfall reached by a relatively easy, 2.8-mile round trip hike is Shellburg Falls. This route starts in an open, grassy meadow and heads through groves of Douglas fir and hemlock trees. Once there, step through moss-covered arches onto the observation deck. Or wander into the cavern that allows visitors to explore behind the waterfall.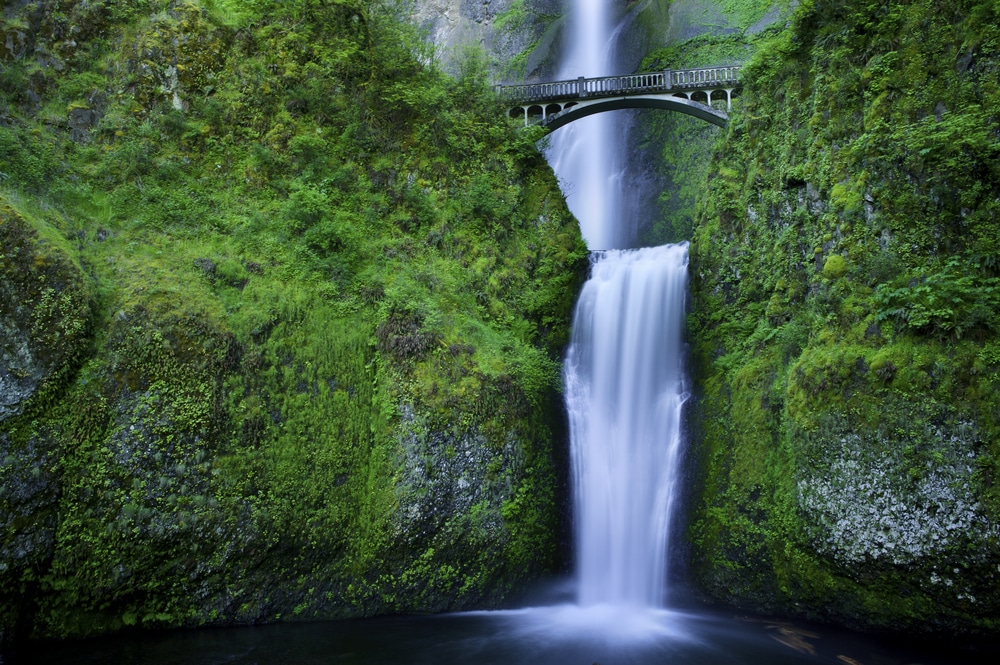 Day Trip out to Multnomah Falls in the Columbia Gorge:
Multnomah Falls—one of the most stunning waterfalls in Oregon—welcomes more than two million visitors annually, making it the most visited natural recreation site in the Pacific Northwest. Located in the Columbia River Gorger area, this waterfall is about an hour and a half from our Willamette Valley Bed and Breakfast, but many would argue that it's well worth the road trip. This is an ideal waterfall to check out for those who have accessibility issues or would prefer minimal hiking. Multnomah Falls can be seen from the road, and it's just a short walk from the parking area for impressive views.
Feel free to ask our concierge service during your stay for directions or more recommendations for waterfalls in Oregon to visit!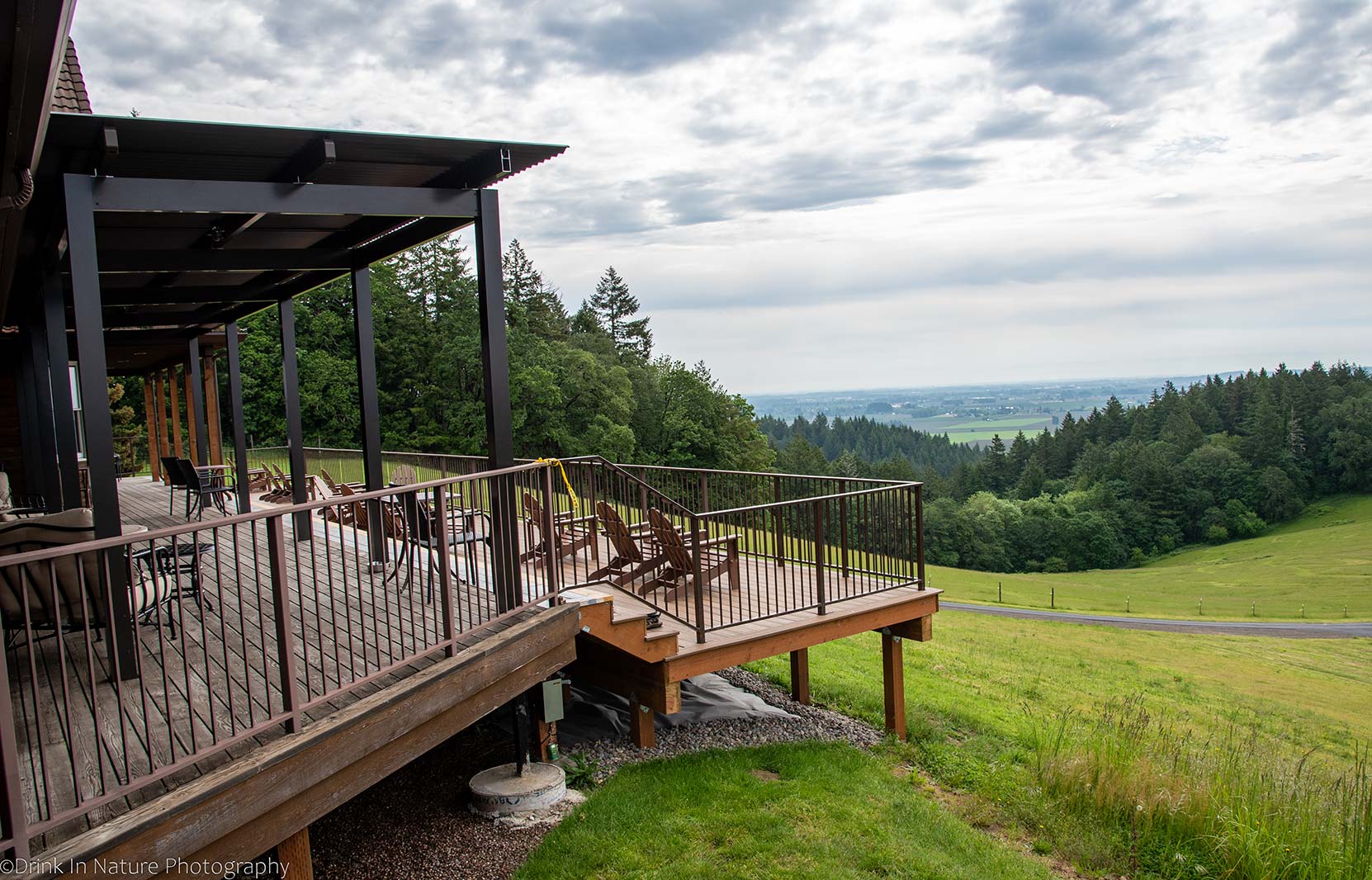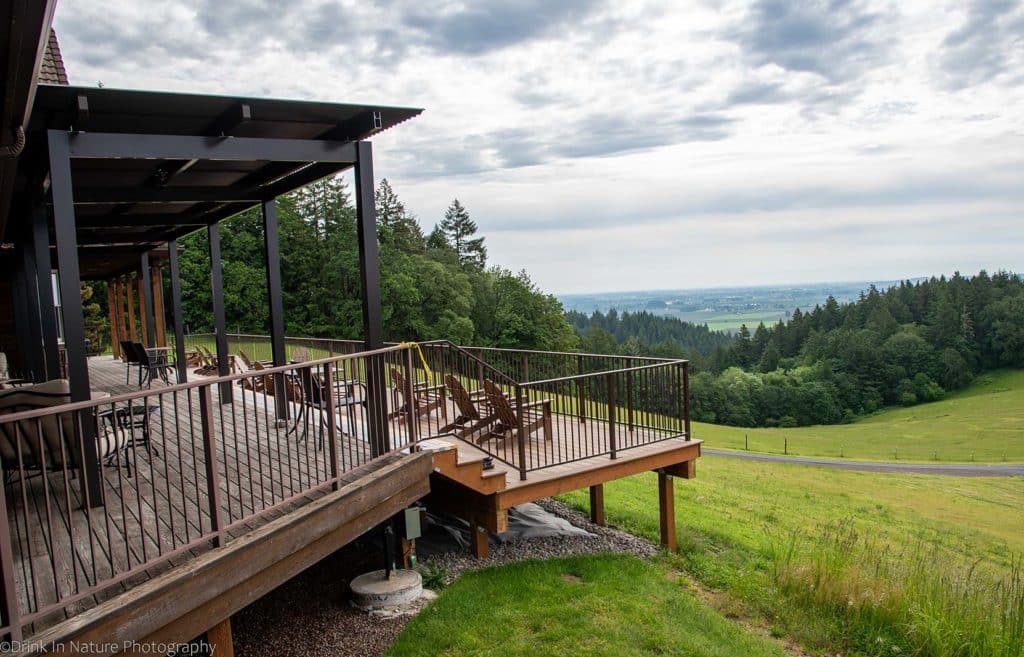 Stunning Views at our Willamette Valley Bed and Breakfast
Even on a grey, rainy day, the views at our Willamette Valley B&B are spectacular. You can watch patchwork clouds of white and grey move and change over the vast valley that lies below. Though summertime is a beautiful season of the year to visit Youngberg Hill Inn and Winery, the fall is one of the coziest times to curl up in your guest suite by the fire with a glass of Pinot Noir grown in the surrounding vineyards. And we've found from experience that avid hikers hunting for waterfalls in Oregon often prefer the cooler days of autumn.
Inside, our nine guest suites are equipped with high-end amenities, like gas fireplaces, en suite baths, elegant linens, and comfy chairs. You'll either have a lovely double state-of-the-art shower or a jacuzzi tub. Many rooms have private balconies facing the valley; you'll be hard pressed to find a better view in all of Oregon to sit with your morning coffee. Get your next vacation on the books and reserve today!