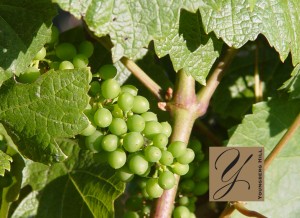 Oregon's 2012 fruit set is now complete in and we have our first idea of what our crop might be like when it comes time to harvest. The size and shape of the newly formed clusters suggests more even ripening and cleaner fruit than last season. A looser cluster, which we're currently seeing, allows air to flow through, keeping the fruit cleaner.
What else is going on in the vineyard? Removing leaves on the east side of the fruit zone. Shoot positioning. Raising catch wires. Hedging. Making a second pass with the in-row cultivator. And mowing.
The vines are now slowing down vegetal growth and focusing more of their energy on the fruit itself. The next month will see the growth of little green BB's, which will bloom into full-sized grapes prior to ripening.
Mother Nature is right on schedule!