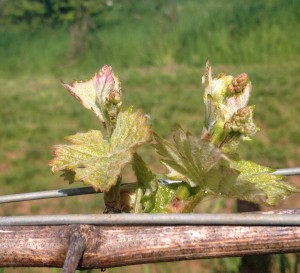 We started seeing budbreak on April 15th this year.  We haven't had budbreak this early since 2005!  Why are we excited about this?  Budbreak is the "official" beginning of the seasonal growth cycle of the vines.  Although weather and temperatures may have a slight impact on the speed at which the vines grow through the season, everything hinges on and calculates back to the number of days since budbreak; whether it be the timing of bloom, fruit set, veraison, or harvest.
Why is this so important for us here in the Willamette Valley?  We are in a cooler climate than most grape growing regions and therefore do not get as many degree hours of heat per day.  So it is important for us to get as many days above 60 degrees as possible.  An earlier spring and later fall both help in providing those additional days.  Regardless of the weather, it still takes the vines about 180 days from budbreak to harvest (full ripening of the fruit).  It is approximately 110 days from bloom to harvest.
We consistently are pushing against the envelope in October to get fruit ripe before the rains start in earnest. So the more dry time we get, the better.  And an earlier budbreak helps to give us that time.  We hope we are blessed with equal good fortune throughout the summer months!