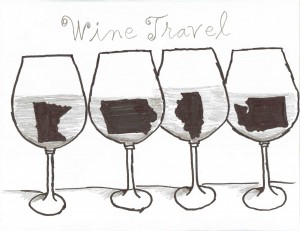 Not all wine enthusiasts have the opportunity to travel to Oregon's wine country to explore the wonderful valley where grapes are grown and wine is made.  Therefore, it's important for us as winemakers to travel to markets across the country to share our life's work with others.  We have had the opportunity over the last couple of weeks to do just that.  You might ask: "why travel to the midwest this time of year?"  The answer is simple – right now is the slow period in the vineyard.  In April the vines will begin the new growing season and there will be work to do.  Most of us are farmers first, and without close attention to the vineyard, we are not able to produce the quality of Pinot Noir that is expected from the Willamette Valley.
So we found ourselves in Minnesota, Iowa, and Chicago during one of those late winter snow storms that reminds us that spring is still a ways off.  But fortunately the storm passed quickly and travel carried on.  We are very excited about the increased awareness of Oregon Pinot Noir in Minneapolis.  It seems to align with Minneapolis' recognition as the "foodiest city" in the country and its new-found love of holistic culinary eateries.
Chicago continues to be one of the best restaurant cities in the country, and where there is good food, there is good wine.  Chicagoans are beginning to discover the great versatility of Pinot Noir with food pairing and that Oregon's more elegant and higher acidic pinots are a perfect match for the foods they love.
We had great success in both markets, with new retail placements and glass pours at many of the top restaurants.  We look forward to returning next year, to rekindle friendships and cultivate new ones, over a glass of Oregon Pinot Noir.