Downtown McMinnville is full of life in the summertime. Outdoor patios and rooftops are full of eager diners and wine enthusiasts. The historic Third Street sidewalks are bustling with tourists eyeing the local boutiques and wine tasting rooms, and the weekly farmers market is a hub of farm-fresh goods and crafts. As the largest town in Yamhill County, visitors from all over Oregon and beyond love visiting the downtown McMinnville area, especially during the perfectly temperate summer weather season. 
Surrounding downtown McMinnville, the Willamette Valley has more than 600 wineries and sweeping acreage of vines. As you navigate the winding roads, take in the beautiful rows and hilly landscape. There are plenty of tasting rooms to stop off for a flight, snacks, and tours. We suggest heading out to Youngberg Hill Winery first to get a comprehensive tasting of some of the most delicious wines grown in the McMinnville AVA using biodynamic and sustainable farming practices. 
For those looking to extend their time in Oregon Wine Country, there's no better place to stay than our Willamette Valley Bed and Breakfast. Our elegant Inn sits on a picturesque hilltop surrounded by our 50-acre working winery. You'll wake up in your elegant guest suite each morning to jaw-dropping views, a gourmet breakfast, and wine tasting options on-site. Our warm and welcoming staff is happy to make the best recommendations for exploring Downtown McMinnville and the surrounding areas. Reserve your room today!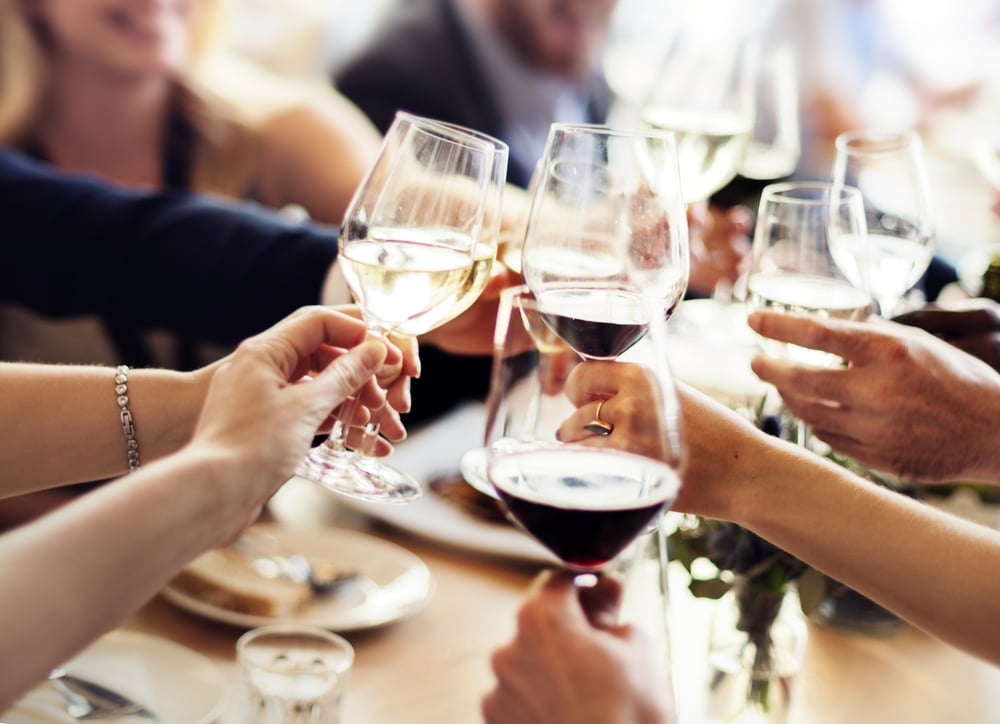 Best Things to do in Downtown McMinnville
From award-winning fine and fast casual dining and beautiful Willamette Valley wine tasting rooms to lovely boutiques and museums, you'll find plenty to do in Downtown McMinnville during your stay. It's the perfect distance from our Willamette Valley Bed and Breakfast for a day trip filled with delicious meals, Pinot Noir, and shopping. 
Here are the top then things to do in downtown McMinnville during your stay: 
Downtown Tasting Rooms: While staying with us at our Willamette Valley Bed and Breakfast, you'll have the opportunity to taste some fantastic wine from Youngberg Hill and Bailey Family Wines, but wine tasting in downtown McMinnville is a must. We recommend Brittan Vineyards, The Eyrie Vineyards, Willamette Valley Vineyards, and Goodfellow Family Cellars.
Fine and Fast Casual Dining: Due to our plethora of seasonal ingredients and nearby farms, local produce and proteins shine on the menus around town. We've recently welcomed a few big culinary stars, including two-time Michelin Star Chef Matthew Lighter with his restaurant Okta. Some stalwart favorites are Bistro Maison for authentic French, Nick's Italian Cafe for homemade pasta, and La Rambla for Spanish tapas. Many have outdoor areas perfect for summer dining! 
Check out the Craft Cocktail Scene: While we do wine the best, you'll also discover our craft cocktails scene is impressive too! Find seasonal drinks at Thistle Restaurant, Conservatory Bar, and The Oak in downtown McMinnville.
Tour the Evergreen Aviation and Space Museum: As one of the largest and most popular attractions in the downtown McMinnville area, take the time to view more than 50 exhibits of military and civilian air and spacecraft, an IMAX theater, and a water park. 
Treat Yourself: Stop by one of the local salons or spas for a mani-pedi, massage, or facial. We suggest Urbanbliss Luxury Salon, Breathe Body & Spa, or Spa Bliss. 
Farmer's Market: Every Thursday from noon to 6 pm from May to October, more than 60 vendors pop up in downtown McMinnville next to the City Hall building for the seasonal Farmer's Market. Find everything from fresh flowers and produce to homemade local products, jewelry, and artwork.
Third Street Art Galleries: Along this historical tree-lined stretch in downtown McMinnville you'll find six fantastic galleries and studios within walking distance to explore. It's always a treat to explore the beautiful grounds of our local university at Linfield University, and the campus's art gallery is often open to the public.
McMinnville City Parks Tour: There's a 17-mile loop for city hiking and biking route for nature lovers at the local parks! If you follow the whole path, you'll hit ten different parks along the way. It's a great way to get a lay of the land of our little historic city of McMinnville.
Shop 'til You Drop: Find unique gifts, local hand-crafted pottery, antiques, boutique clothing, and shoes, all in the downtown area of McMinnville. 
Summer Events at Youngberg Hill: We host lively outdoor events at our tasting room, including "Wine Wednesday" to live summer music sessions. And the wine is always flowing!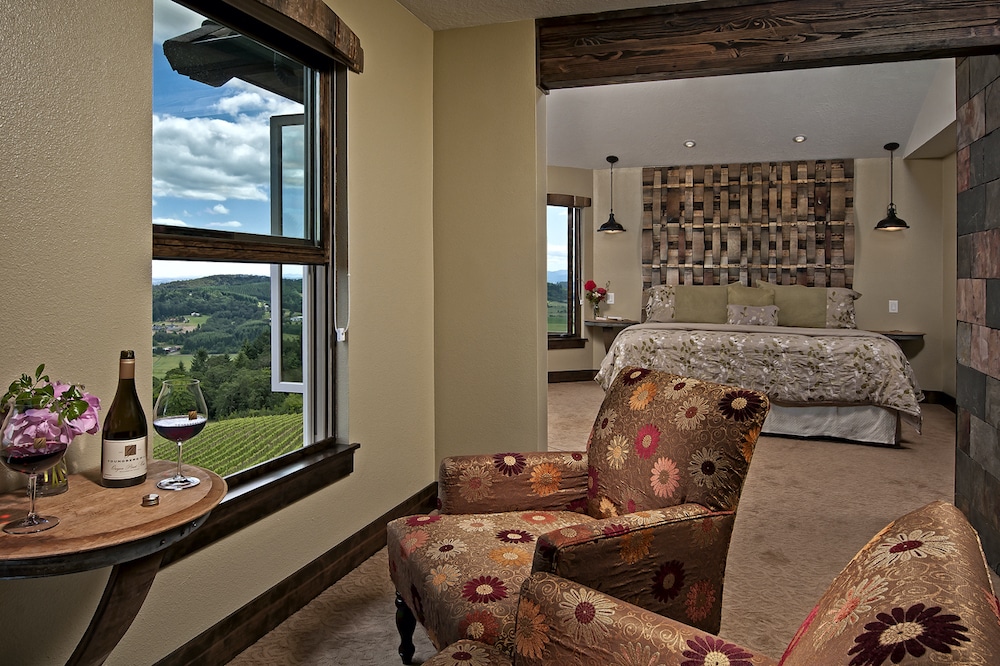 Elegant Lodging at our Willamette Valley Bed and Breakfast
While downtown McMinnville offers visitors a long list of activities, award-winning restaurants, and entertainment options, there's nothing better than retreating to our Willamette Valley Bed and Breakfast after a day full of adventure. We're in the ideal location, just about 15 minutes from all the action, but set back on our quiet hilltop overlooking the sweeping vineyards of the valley. In fact, the view from our Inn takes people's breath away, creating a magical and serene atmosphere for your romantic getaways, couples trips, or solo wellness retreats. 
While sunsets are best enjoyed with a lovely glass of wine in hand, our Willamette Valley Bed and Breakfast is also the working winery for Youngberg Hill Wines and Bailey Family Wines. Our tasting room is just steps away from the Inn, and our overnight guests always receive complimentary tastings of our Youngberg Hill lineup and generous discounts on our reserve label. It's the perfect place to end your day before slipping away to your peaceful and beautifully appointed guest room. With only nine elegant suites in our spacious Inn, you can expect quiet and calm throughout the property during your stay. 
Each morning a delicious and homecooked breakfast is included with your room rate. It's one less thing to plan for on your vacation, and you can rest easy knowing you'll start your day with a healthful and seasonally-driven meal at our Willamette Valley Bed and Breakfast. Take advantage of our concierge services, available to our guests 24/7. We're happy to make reservations at nearby Willamette Valley wineries or restaurants in downtown McMinnville for you—we have a wealth of knowledge about the area. We are delighted to pass along our best recommendations. Check out our upcoming summer availability and reserve your room today!