Looking for a great idea for pairing wine for the holidays?  Try Michelle's recipe that works perfectly with both our Holiday Wine Packages. This will be served along with other wonderful items every Saturday & Sunday in our tasting room for the month of November.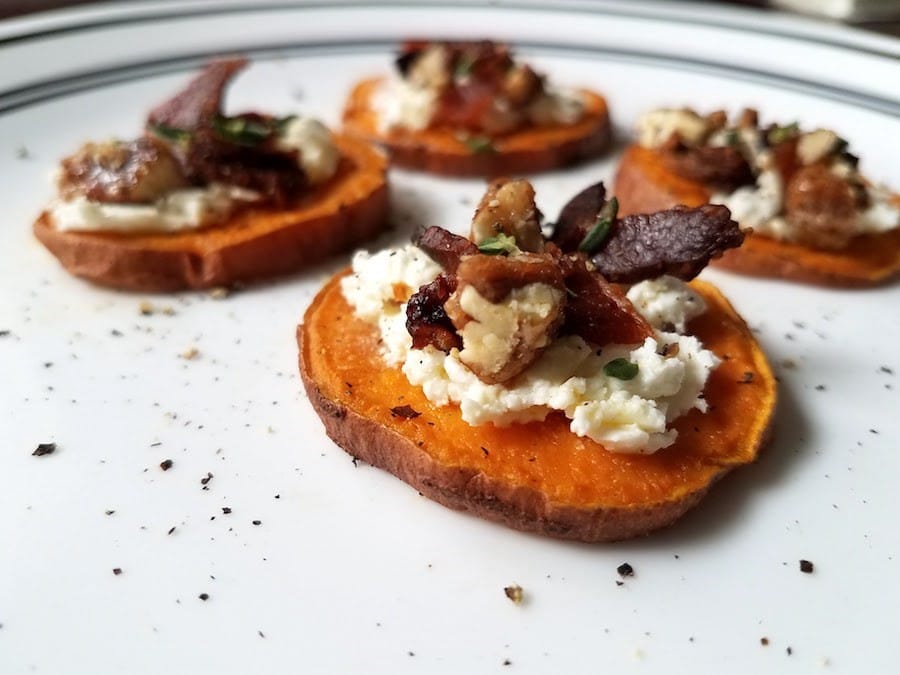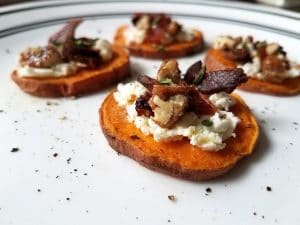 Sweet Potato & Ham Crostini
Prep Time: 10 min. Cook Time: 40 min. Total Time: 50 min.
1 Large Sweet Potato
3 tbsp. Olive Oil
1 tsp. Sea Salt
5 oz. Goat Cheese
3 tbsp. Youngberg Hill Organic Honey
2 slices Honey Glazed Ham cut into small pieces
1/2 cup Candied Walnut pieces
3-4 Sprigs of Thyme
To Roast the Sweet Potato: Heat oven to 400 degrees. Wash sweet potato and dry with a towel. Slice sweet potato into 1/8 – 1/4 inch slices. Mix together Olive Oil and Sea Salt and lightly coat sweet potato slices. Place on baking tray making sure that they do not touch each other. Cook in the oven for 20-25 minutes.  Flip the slices, and cook for another 15-20 minutes until they are cooked through and crispy on edges.  Note: cooking time may vary based on size and thickness of slices. Let slices cool a bit before topping
Toppings:
Place a small dollop of Goat Cheese
Drizzle on Honey
Add pieces of Ham.  Note: You can add the ham cold, heated or fried.  My 1st choice is fried.
Top with Candied Walnut pieces and a sprinkle fresh Thyme leaves