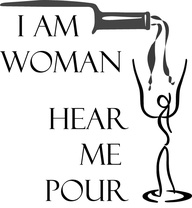 As we all know, women get better with age, just as wine does.  But there are many more reasons to talk about wine and women. They are both important to men.  Women make over 80 percent of wine purchasing decisions. It is suggested that women have better wine tasting abilities. There are more and more woman wine makers across the world.
Woman winemakers in the Willamette Valley are making their presence known and influencing the industry as it continues to grow.  As the list below attests, women are playing a significant and leading role in the Oregon wine industry.  And it's not just about wine, but includes all the periferal businesses associated with wine and wine tourism in the valley.  Women are significant influencers in many wineries in the valley, if not the key decision makers.  Women are making decisions in label design, packaging, brand building, and marketing. They are involved in glassware, gifts, and wine paraphernalia of all types.
The next time you raise a glass, you may be toasting the work of a woman.
A to Z: Cheryl Francis
Amity Vineyards: Darcy Pendergrass
Antica Terra: Maggie Harrison
Ardiri Winery and Vineyards: Gail Lizak
Archery Summit Winery: Anna Matzinger
Chehalem: Wynne Peterson-Nedry
Coeur de Terre: Lisa Neal
De Ponte: Isabelle Dutarte
Domaine Drouhin Oregon: Veronique Drouhin-Boss
Helioterra: Anne Evenreiter Hubatch
Hip Chicks Do Wine: Renee Neely and Laurie Lewis
Honeywood Winery: Marlene K. Gallick
Kelley Fox Wines and Scott Paul Wines: Kelley Fox
Kramer Vineyards: Kimberly Kramer
Laura Volkman: Laura Volkman
Momtazi: Tahmiene Momtazi
Noble Pig: Cathy Pollack
Orchid Heights Winery: Carole Wyscaver
Patricia Green Cellars: Patricia Green
Ponzi: Luisa Ponzi
Phelps Creek: Alexandrine Roy
Privè: Tina Hammond
Penner-Ash Wine Cellars and Alexana Estate Vineyards and Winery: Lynn Penner-Ash
Redman Wines: Cathy Redman
River's Edge Winery: Yvonne Landt
Stoller Vineyards: Melissa Burr
Stone Wolf Vineyards: Linda Lindsall
Sweet Cheeks Winery: Lorrie Normann
Tyee Cellars: Merrilee Buchanan
Westrey Wine Company: Amy Wesselman
Winter's Hill Vineyard: Delphine Gladhart