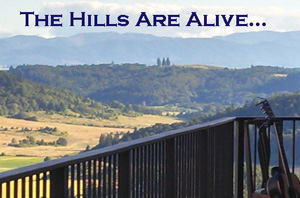 As a small, local vineyard, we love to stay connected with and give back to our community.  One of the most fun ways to bring people together is through music, and we are excited to be hosting a number of benefit concerts on the Hill this summer, along with free, live music up on the Hill every Wednesday night through mid-September!
We are featuring both local McMinnville and Portland-based musicians, who have been making waves state and nationwide, at our events. Some of these artists include The Djangophiles, who are among the world's masters of Parisian Swing and Gypsy Jazz, singer/songwriter Sara Jackson-Holman, whose powerful compositions have been featured on a number of television shows including "The Ringer," "90210," "Castle," and "Grey's Anatomy," and pianist Mike Strickland, whose music has appeared on CBS Sports PGA Golf for multiple seasons, along with NBC, FOX, ABC, and in the major motion pictures "This Christmas" (2007) and "Obsessed" (2009).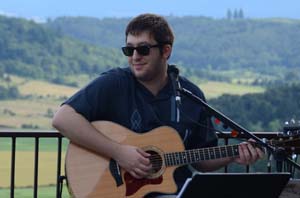 One upcoming concert will raise funds for Linfield College Lively Arts , a program launched in 2008 that sponsors a music series at Linfield each year.  The vision of the program is to invite outstanding guest artists to perform concerts at the college which are open to students and to the broader community. The concerts are held in an intimate setting, and audience members are encouraged to meet the artists after the performance.  Youngberg Hill is happy to provide the setting for the Linfield Lively Arts benefit concert on August 15th, and will be donating proceeds from wine sales to the Lively Arts program.  Ticketing information for the August 15th benefit concert along with a full schedule of the music events that will take place on the hill this summer can be found on our calendar of events.
Oregon Winery Live Music makes a wonderful combination, and we are proud to say that we are not the only ones in the Willamette Valley who value this duet of sensory experiences enough to host live music!  Portland's Vie de Boheme sports an extensive wine selection, a fantastic food menu, and live music six nights a week.  Enso Urban Winery  in Portland hosts live music every other Wednesday.  Troon Vineyard in Carlton is hosting the Carlton Courtyard Concert Series, which runs every Saturday through August 31st.  The Horse Radish restaurant and wine bar in Carlton hosts live music every Friday and Saturday evening year round.  Many more wine country music events are published monthly in the Oregon Wine Press, a magazine that focuses on vineyards, wine, and events specific to Oregon and the Willamette Valley.
Whether you are passing through the Willamette Valley on a vineyard and wine tour this summer, or whether you are a resident who is looking for a fun, romantic, and memorable way to spend a summer evening, we hope that you can join us at Youngberg Hill for wine and live music, and we hope that you are able to visit some of our fellow wine purveyors for their events as well!
Three cheers for Oregon, three cheers for wine, and hip, hip hooray for the enjoyment of music!
-Melissa Davaz
Youngberg Hill Music and Event Manager