The Oregon coastline produces a beautiful mix of all four seasons. Whether you're looking to make snow angels in February or unwind with a glass of Pinot Noir underneath the warm summer sun, the Willamette Valley weather does not disappoint. Find out what you need to know about planning the perfect Willamette Valley vacation during your favorite time of the year.
For additional recommendations and tips on where to eat and what to do during your visit, be sure to access our exclusive Vacation Guide. Our guide simplifies your travel planning, and best of all: it's free!
Everything You Need to Know About Willamette Valley Weather
Spring, summer, winter, fall—the Willamette Valley hosts them all. There is no lack of diversity in our seasons. It's one of the reasons the region is lush with award-winning grapes. Start planning your trip around your favorite time of the year today!
Visiting the Oregon coast shakes off the cobwebs of the winter with a brisk walk and wonderful views. Highs usually reach the mid-60s with morning lows in the high 30s or low 40s. You'll want to pack a rain jacket and boots for touring the vineyards and strolling the streets of historic downtown McMinnville.
Make sure to organize a stop at the Wooden Shoe Tulip Festival when planning your spring stay. The timeless festival allows visitors to slow down and smell the flowers with 40 acres of colorful tulips.
Enjoy the Warmth of Summer
Oregon boasts a nearly perfect summer with temperatures that typically don't surpass the mid-80s, and a morning dew which rises off the vines in a delicate fog. Averaging only 8-10 days of rain throughout the entire season, summer leaves plenty of time for outdoor recreation, and the Willamette Valley doesn't disappoint.
Experience wine country from the back of a horse, indulge in a farm-to-table dinner in the vines, or travel west to Mary's Peak and take in the vast views of the Pacific. Summertime in the Willamette Valley brings a little something for everyone to enjoy.
Experience Fall's Harvest Season
Surround yourself with the colors of autumn in the heart of Oregon Wine Country. The Willamette Valley absolutely bursts with fall foliage starting as early as mid-September. Temperatures can vary throughout the season ranging from the high 70s in early September to low 50s come November.
One of the most exciting parts of autumn is Oregon's harvest season. Depending on the weather that year, harvest can take place for a few weeks between mid-September to as late as mid-October. Experience an immersive walk through the vineyard with our award-winning winemaker, Wayne Bailey, by booking our one-of-a-kind Winemaker Tour and Tasting.
Winter in the Willamette Valley
Winter's weather in the Willamette Valley tends to air on the side of chilly and rainy with the occasional dusting of snow. Wintertime is the Valley's quietest season and allows vineyards to press pause and unwind. Likewise, winter is one of the only times you may have the opportunity to enjoy a tasting with the winemaker. If you're looking to relax during your wine country tour, winter may be just the time for you!
Enjoy the Weather From Youngberg Hill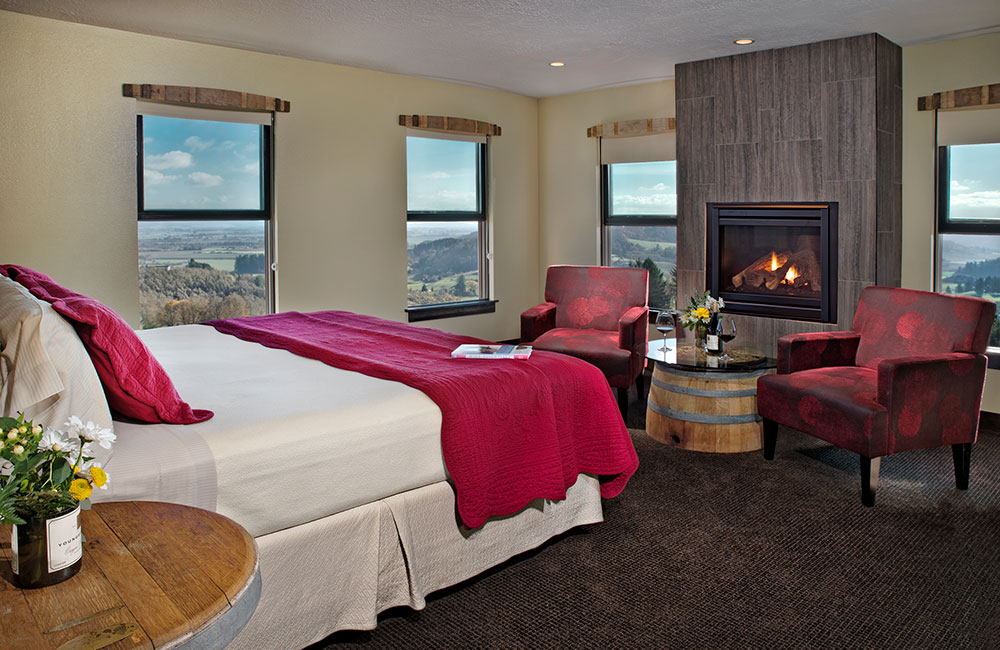 Regardless of when the Willamette whisks you in, you'll want to plan your stay at Youngberg Hill. Come back to the Mariafeld Suite and enjoy a king-size bed, gas fireplace, two-person double shower, and stunning view of the vineyards below. Relax with a glass of Youngberg Hill Chardonnay while overlooking the snowy summits of both Mt. Jefferson and Mt. Hood.
It's always perfect weather for romance. Whether you're snuggling up fireside or taking a quiet stroll through the vineyards, we have just what you need to impress your better half. Add our Romance Package to your stay and be welcomed by a bottle of Youngberg Hill Estate Pinot Noir, two Pinot glasses, and a decadent tray of cheese and crackers. And, to top it all off, wake up the next morning to a private breakfast in our private dining room. We can't wait to welcome you to Youngberg Hill!